How to Develop a Meditation App like Breethe and Headspace
Now, smartphones have affected every individual phase of our life, providing both positive and contradictory consequences. Negatively speaking, it is believed that smartphones lead to unproductivity.
On the flipside, the positive side of smartphones is that it lets us connect to the world better and faster. It relies on how you apply them in your everyday life. For instance, today, besides shopping, chatting or banking, people also use smartphones for meditation.
Meditation App Development has emerged as a new way to offer help to people who need to unwind and reduce stress. Several mobile application development services out there is looking more into this, so if you too are interested, read on.
People utilize the best meditation apps whenever they think they are troubled or have difficulty sleeping. Due to meditation apps such as Insight Timer, Calm, and Headspace that are providing Meditation App Services to millions of people to rest and decrease stress.
Delving deeper into Headspace, the meditation app, let's see more about this thriving mindfulness app.
Headspace – A Quick Look
Back in 2019, this app was created by Richard Pierson and Andy Puddicombe. Headspace has one central objective that is "to improve the health and happiness of the world". Based in Santa Monica, California, this meditation app has millions of happy customers in over 190 countries.
According to Sensor Tower, the Headspace app follows Calm—another popular meditation app—across all app stores in the United States with almost 348,000 installs. The app served a 39% jump from April 2018.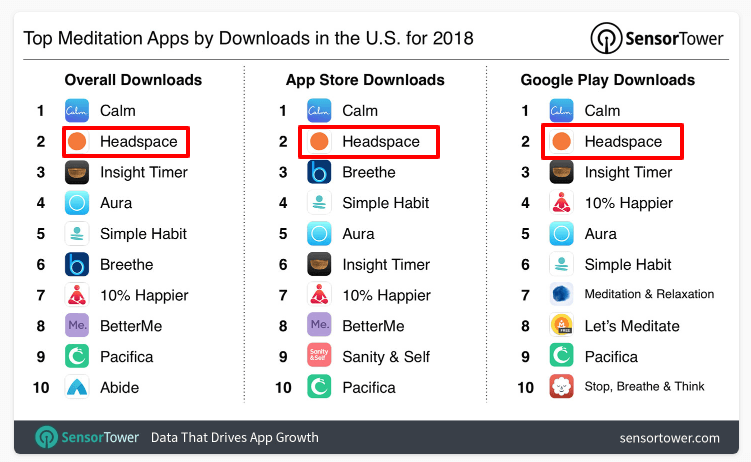 Sensor Tower also reports this stress mitigation app achieved total earnings of more than 20 million USD in the last 12 months. Furthermore, Headspace has raised funds of 73.7 million USD. In fact, there are over 250 corporations globally that extend subscriptions of Headspace app to their workers to provide a stress-free life.
Moreover, this app allows for a wide variety of meditations and helpful and supervised sessions for both veterans and beginners. Utilizing this app, users regulate the continuation of a session, explore meditations by theme, and arrange them in packages.
According to the latest news from Businesswire, Headspace declared it has formally launched an offering in the German language, recording the first time the organization has released a product that is for non-English speaking meditation enthusiasts.
What Makes Headspace So Successful?
Here are three major reasons why Meditation App Development offerings like Headspace work.
A Meditation App for Everyone
If you are reading this blog, then you may intend to develop apps like Calm and Headspace. The foremost thing to take into account is to produce a meditation app for both beginners to seasoned meditators.
Ensure that your app for meditation offers something for everyone – children, adults, newcomers or veteran meditators alike. Like Headspace, you can incorporate mindfulness and meditation training assemblies. The sessions should teach users everything such as how to meditate, breathe, and live attentively.
Besides meditation, you can also offer your users activities on everything such as sleep, focus, happiness, anxiety, and stress relief. When you make an app catering to all, you manage to target a bigger audience.
Furthermore, apply machine learning algorithms in your Meditation App Development to quickly examine what session a user has previously heard and suggest him or her comparable sessions to enhance their experience.
Understanding the Requirements of Meditators and Offer Solutions
Due to the stressful lives we live today in this 21st century, meditation apps are gaining popularity every year. Whether it is adults, youngsters, or kids, nearly all people are enduring stress in their life.
While children mostly suffer stress from their studies, adults often suffer the same from their work and career. Hence, everyone requires meditation direction during sessions.
So, it is essential that you start Meditation App Development only after understanding what your chosen audience wants and present them with a solution with your application.
Understand what kind of stress and worry people are suffering and give conducted mindfulness and meditation sessions.
For example, if users are suffering from sleep problems, you can add sleep sounds and sleep meditations that are chiefly designed to let people feel relaxed and sleep better.
Develop Meditation App Services encompassing the requirements of unquiet sleepers and depression, enabling people to instantly get hold of the guide. Actually, you can attempt to incorporate some special growth meditation sessions on kindness, patience, relationships, appreciation, happiness, etc.
In short, you can strive to satisfy the requirements of every meditator with your Meditation App Development Features.
Implementing a Reasonable Collection of Features
It is not sufficient to generate mindfulness apps such as Calm and Headspace. It is a requirement that you present your app users with a correct collection of Meditation App Development Features that are accessible easily. Incorporate some select features that attach importance to the lives of your users.
If you don't wish to disappoint your users, always make a coherent onboarding screen. Do not attempt to describe every feature at once as it can upset your users. On the Headspace app, they have put an animated video that is a minute long that provides a beneficial introduction to the app.
Top Meditation App Development Features:
1. Onboarding Block
An Onboarding Tutorial is a brief walkthrough that arrives when users start your app for the first course. Meditation displays more popularity with every following year.
Yet, for multiple people, it is still something possibly strange and even a little unfamiliar. If you don't desire to leave your users confused and irritated, you should design a coherent onboarding screen when you design your Meditation App Development.
2. Cool and Calm Design
Meditation exercises are all around making you relaxed and concentrated. Thus, the layout of your app should add to this end as well. Firstly, never use bright colors and choose colors such as blue, green, yellow, brown, purple or pink.
Secondly, never make the layout too cluttered; if you examine the most successful meditation apps you will notice that they normally have a minimalistic design. Lastly, consider some care for the animations; they should be mild and pretty simple.
Your purpose here is not to overwhelm users with some intricate layout features but to generate a particular sense, a feeling of rest that will serve to intercept the best flow and receive the best impact from your meditation courses.
3. Personalized Profiles
Personalization is an indispensable component of any iOS App Development and Android App Development but if you want to build an app like Headspace it's especially crucial for your design. Here are two principal causes why you should consider personalized profiles:
As mentioned, everyone has special incentives to meditate. Among the mainstays of Headspace's progress, as we discovered it beforehand, is that they have achieved offering relevant content to people of various gender, age, and requirements. Consider this aspect when you begin your Meditation App Development.
Everyone has their reasons to meditate
A personalized achievement system (example provided below) helps motivate people
4. Play Screen
This screen is among the most significant features in the app. It additionally has a fairly modest and minimalistic composition. The primary part is normally filled by a "play" button with fluid animation to produce a particular condition for a session.
Furthermore, don't overlook to put the right background picture. The best choices are some stunning landscapes in pale blue and green colors or gradients in summery colors.
Lastly, you might also attach some background music. But it is not necessary; for instance, Headspace just has Andy Puddicombe talking while Calm contains nature sounds.
5. Discover Screen
To maintain user engagement on your app you require them to check your app at least one time in a day. And nothing can induce them to perform it as significantly as the discover choice. Essentially, this is a distinct screen where users can search the latest meditation applications, private sessions, and other relevant content.
6. Engaging Through Push Notifications
Lastly, don't neglect to include push notifications when you Develop Apps like Breethe and Relax and Headspace. It is a great tool for retargeting that will assist you to retain the users close to your app.
Along with these, you can incorporate other Meditation App Development Features after studying and interpreting your users' requirements.
Cost of Meditation App Development:
We have provided a crude estimate of the central features. Don't disremember that the calculation for your design will be modified depending on your personal record of features and other constituents.
Yet, the Stormotion team's evaluation of the Headspace app will serve to create a prevailing conception of the potential Cost of Meditation App Development: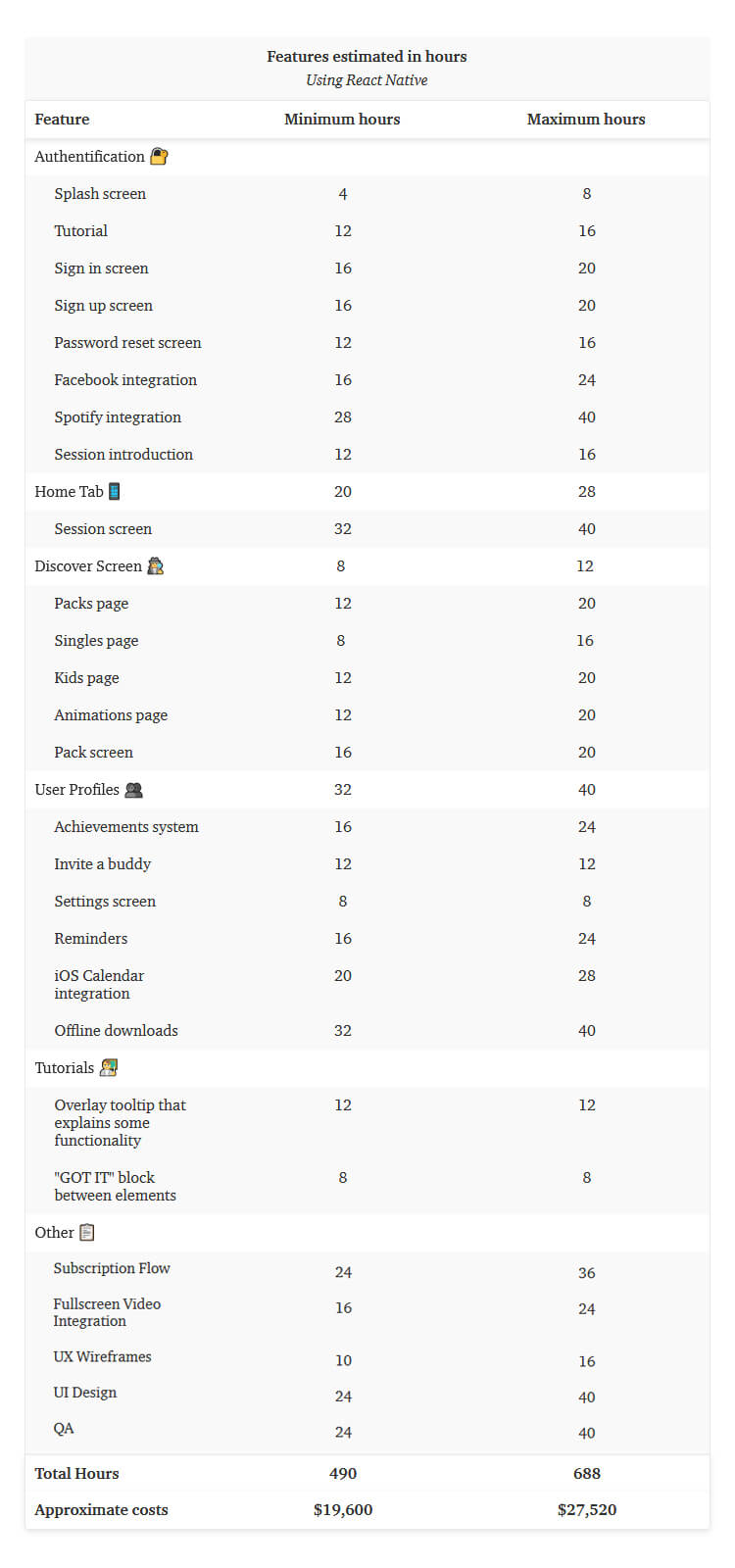 Conclusion
Generating a meditation app such as Headspace looks like an excellent idea in this growing self-care industry. Studying data and statements from various app store data firms show us that the self-care apps section is witnessing striking growth.
Therefore, if you want to offer something unique to your users and tap into this growing industry, Hire App Developer today and start development on your meditation app.
How much does it cost for Meditation App?
Developing an instructed meditation app like Headspace and Calm will cost somewhere between 28000 to 33000 USD.
How much does headspace Cost?
Headspace costs 12.99 USD per month.
Is Breethe App Free?
Breethe is free but you need to subscribe if you want to unlock all of its features.
Is headspace or calm better?
Both apps are great at helping you relax, but many experts think Calm offers better value at lesser costs.