Popular Online Food Delivery Apps
With the world getting busier day by day, people are shifting to online applications for ordering clothes, shoes, and now even their food from such services. And Gloria Food has observed that almost 46% of users prefer ordering food on their doorstep rather than going out. Also, the users who choose online food delivery option over dining and takeouts have a higher possibility to order food again from the same source in about 60 days.
Online food delivery apps are becoming a continuous rage among the youth and the older generation due to:
Fast service
Client support through chat which is based on artificial intelligence
Tracking of the food order through GPS or navigation
Rewards through cash-backs or points
Discount coupons and offer campaigns
Here are 10 best online food delivery applications around the world which are popular for their service and food quality across Android and IOS.
1. FoodPanda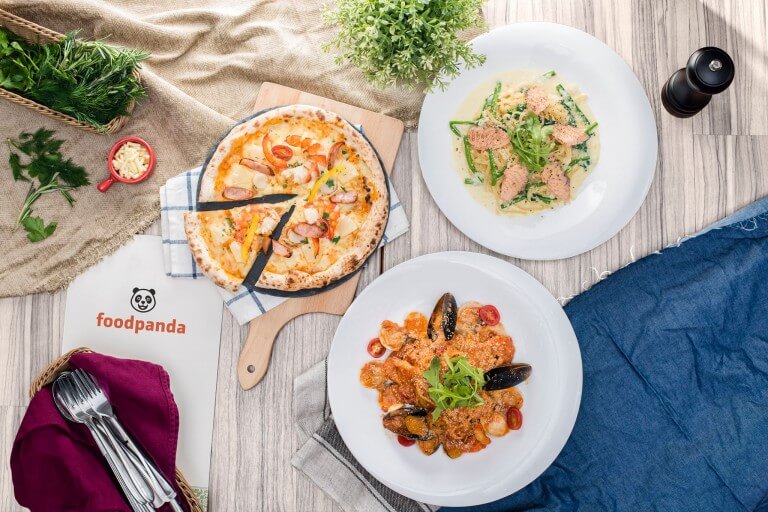 This German-based has been serving food online to more than around 43 countries worldwide and a variety of cuisines served from 40,000 restaurants located in various metros of the world since 2017.
With discounts and offers provided to its various users or subscribers this particular online food delivery app has been rated at around 4.1 on Google Play. And this is one of the best food delivery applications which serves food at the doorstep.
App features:
Location tracing through native GPS and navigation
Listings of the best restaurants in the vicinity along with cuisine categorization
Live-tracking of food order
Discounts, offers, and rewards
2. Swiggy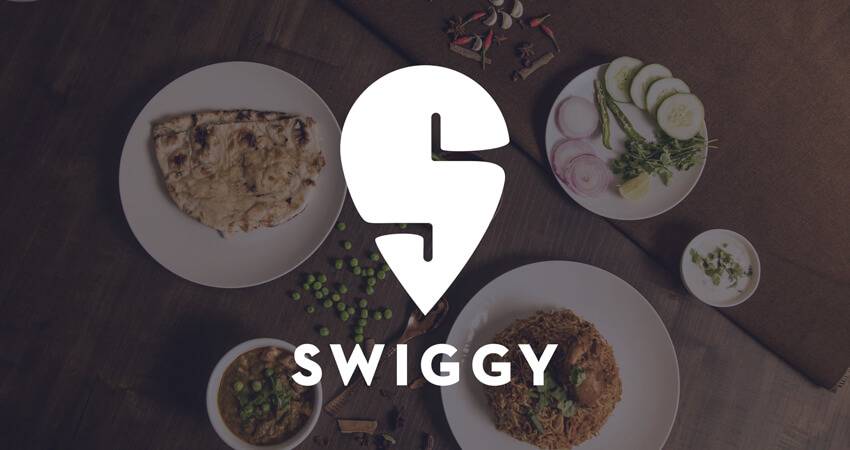 This online food order app is based out of India since 2017 and caters to roughly 8 cities and the reach is increasing gradually. With downloads of about 10 million and above, this particular application stands at a rating of around 4.2 on Google Play.
Swiggy does not only provide restaurant options or food ordering options from nearby restaurants or cafeterias but also provides urban eating options from far. This enables users to choose from a variety of cuisines according to their mood and appetite.
App features:
Speedy food delivery right at the doorstep
Supports food orders from restaurants away from the vicinity of the users
Food order tracking through live navigation and GPS
Discounts, cash-backs, and offers
Payment services including credit cards, debit cards, and pay later services for the ease of its users when they are hungry.
3. Zomato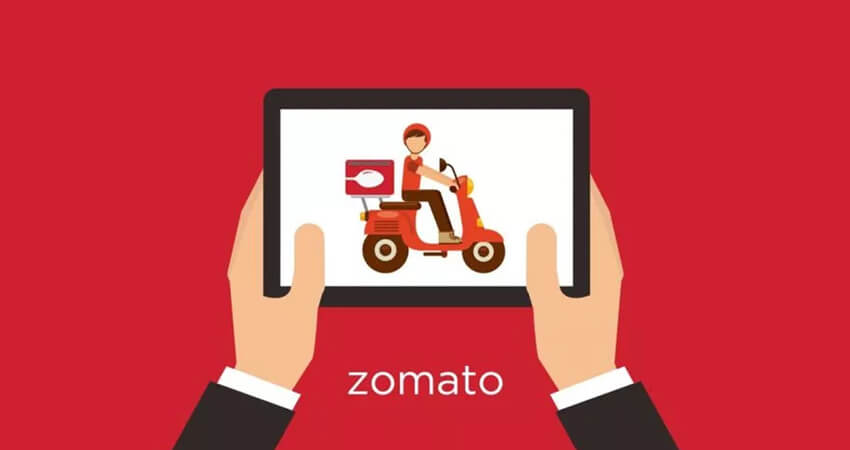 This particular food delivery app began as 'FoodieBay' in India in 2008 and has become a verb rather than a name in approximately 25 countries including Australia and the US. Also, the Zomato app has around 191 million visitors or prospect users every month making it yet another blockbuster food delivery application around the world.
Zomato provides the option of adding more than three addresses for food delivery and provides continuous chat-support for its customers in an endeavor to provide the best food and seamless delivery services.
App features:
Search toolbar to search dining options or cuisines
Suggestions for dining out according to the location of the user
Order tracking through live GPS and navigation
Push notification in case a particular order cannot be placed or the restaurant is not available for taking orders.
Rewards through coins and cash-back
Discount and offers through debit or credit card usage of certain banks
Pay later services and payment support
This particular food delivery application is rated as one of the best food delivery apps after a rating of about 4.3 on Google Play.
4. Uber Eats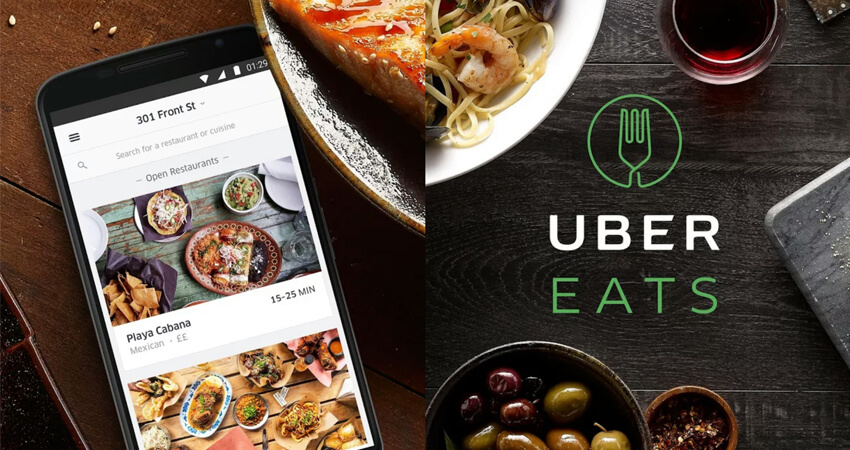 This particular food delivery app was developed in 2014 by Dara Khosrowshahi in San Francisco for the workaholic people who can enjoy their favorite snacks or cuisine while they ride with the Uber taxi service.
The Uber Eats application has its presence in about more than 20 countries including Brazil, Japan, Mexico, US, and India. This mobile application for delivering food at the doorstep stands at a rating of about 4.2 on Google Play. This application also gives the leverage to Uber users for ordering their favorite meal or snack from their favorite restaurant.
App features:
Payment through Uber wallet used for paying taxi fares
Live-tracking of order with chat support
Push notifications for order availability
Discount, cash-back, and rewards
5. GrubHub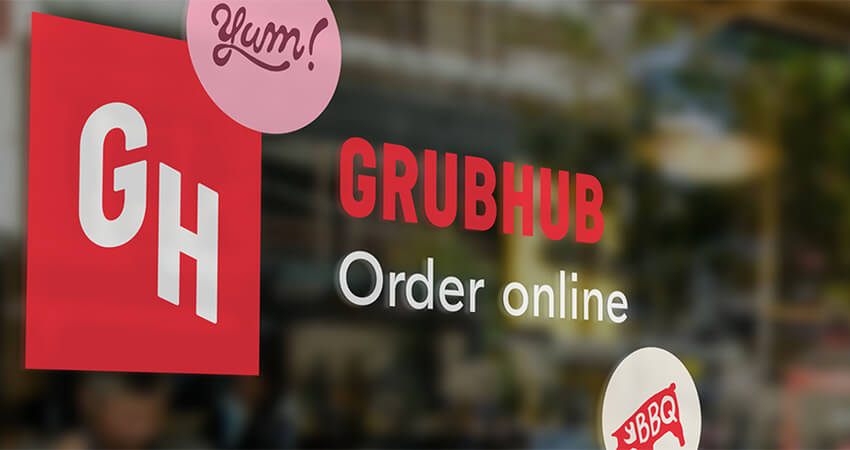 This is yet another food delivery application which has been developed by Matt Maloney in 2004. The headquarters of this app are currently situated in Chicago, New York, and London and have a tie-up with more than about 30,000 restaurants catering to more than 800 communities based in the US making it one of the best food apps.
This particular food delivery application stands at a rating of about 3.6 currently on Google Play and around 4.8 on the App Store.
App features:
Saving the history of previous orders in order to repeat them
Filter options according to preferable mealtime
Tracking option for the given order
Customer support through artificial intelligence or chat
Tracing of address or location of the user.
6. Deliveroo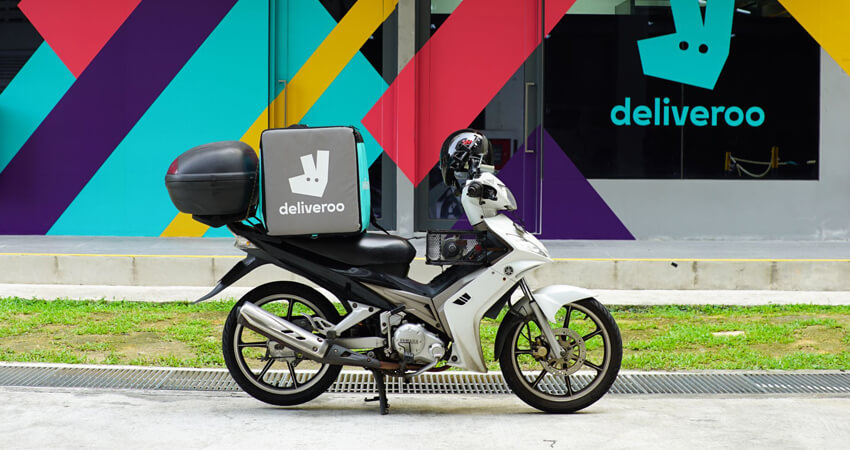 This is a British brand catering to fast food delivery services which were founded by Will Shu and Greg Orlowski in 2013 in London.
This mobile-based food delivery application currently caters to about 200 cities including UK, Netherlands, Germany, France, Australia, Taiwan, Belgium, Ireland, Spain, Italy, Singapore, Hong Kong, UAE, and Kuwait.
App features:
Payment gateway including PayPal, Citrus, Master Card, and Visa
Customer support through feedbacks, chat, and ratings
Tie-ups with more than 10 brands roughly depending upon the country
Speedy delivery on weekends and festivals
Push notification in case of the order getting delayed or canceled due to any circumstance
This particular application stands at a rating of around 4.2 on Google Play and about 4.6 on the App store makes it one of the best apps for food delivery.
7. Domino's Pizza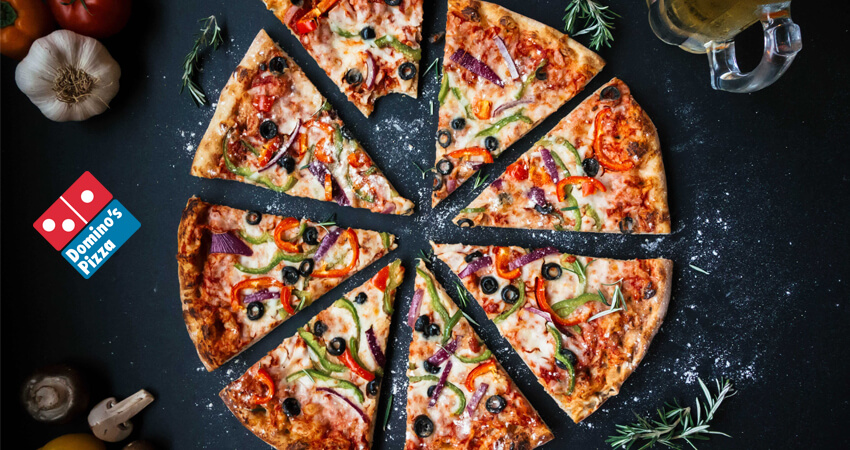 After serving pizzas around the globe from the 1960s, they began food delivery websites for Windows and Macbook in 2007 with mobile delivery applications for Android and IOS eventually.
Located in Michigan, it has expanded in the US, UK, India, Mexico, Australia, Turkey, South Korea, Canada, Japan, France, Netherlands, Taiwan, Saudi Arabia, and Germany. And also provides a customized pizza menu according to the food policies in these countries with special desserts and accompaniments.
App features:
Swipe feature for placing the order
Location of the nearest Domino's outlet available for delivery
Discount coupons, rewards, and offers
Hassle-free buying option
Order customization for food
Payment gateway and bank support by Visa and MasterCard
Live-tracking of orders with chat support
Push notifications on Home screen
Compatible with Android and IOS.
The Domino's pizza app has been rated at about 4.1 on Google Play and around 4.4 on the App Store making it one of the most robust and durable mobile applications for food delivery.
8. Just Eat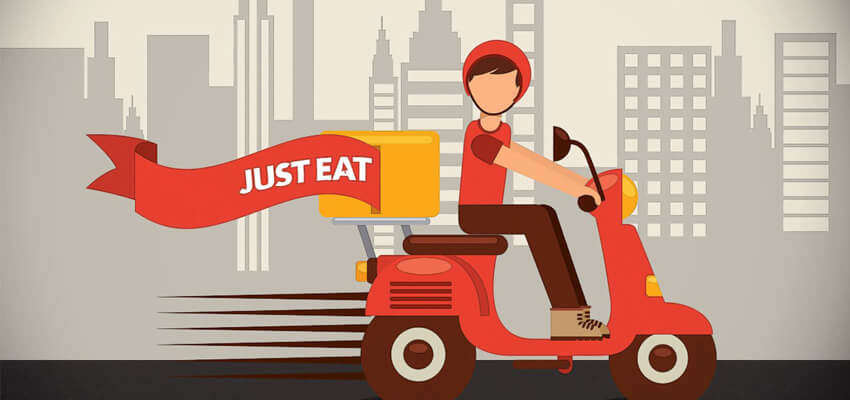 The fast food delivery services of Just Eat were introduced in Denmark in 2001 and then shifted to the UK in 2005. And expanded in the following manner
The Netherlands in 2007
India in 2011
Switzerland in April 2012
Italy in May 2012
Brazil in June 2012
France in December 2012
Canada, 2012
This particular food delivery application is rated at around 4.4 on Google Play and about 4.7 on the App Store making it a decent food delivery application for just ordering the food and eating it.
App features:
Supports payment gateway options like Google Pay and Apple Pay
Suburb detection through GPS and navigation
Tie up with an approximate of 82,000 plus restaurants worldwide for providing an adequate variety of cuisines to choose from
Live-tracking of the order from restaurant till home
Self pick up services are also available if the restaurant is located in the vicinity
Push notifications upon order confirmation
A unique feature of pre-ordering food for later
9. Door Dash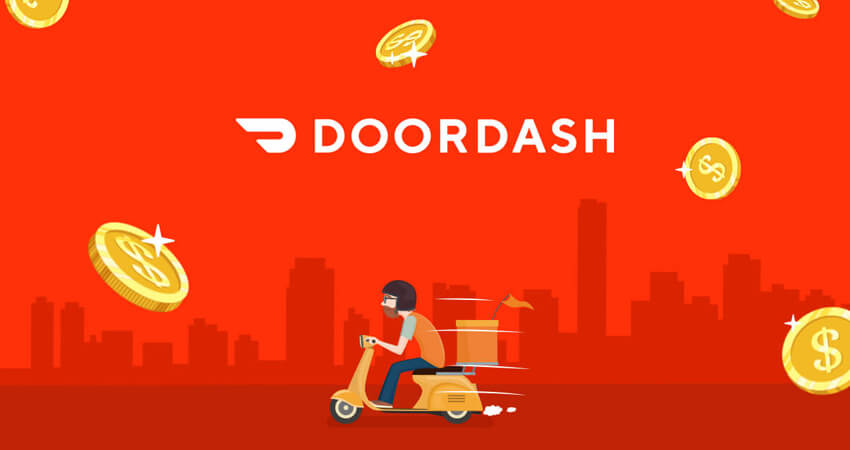 This particular food delivery app was founded in San Francisco in June 2013. The application provides food delivery services to around 1,200 cities including Canada and the US.
This particular food delivery application is currently supported by IOS and is rated at around 4.8, making it a very trustworthy application food when the hunger pangs strike the belly.
App features:
Push notifications for order acceptance or confirmation
Locating dining options for orders through navigation and GPS
Customer support with the help of chat-bots developed out of artificial intelligence
Live-tracking of orders right from the restaurant till the destination
Discount coupons, rewards, and offers make it one of the most reliable food discount apps
This particular application is more popular in cities like Vancouver, Seattle, Washington, Toronto, Calgary, Atlanta, Edmonton, Boston, Chicago, and New York.
10. Postmates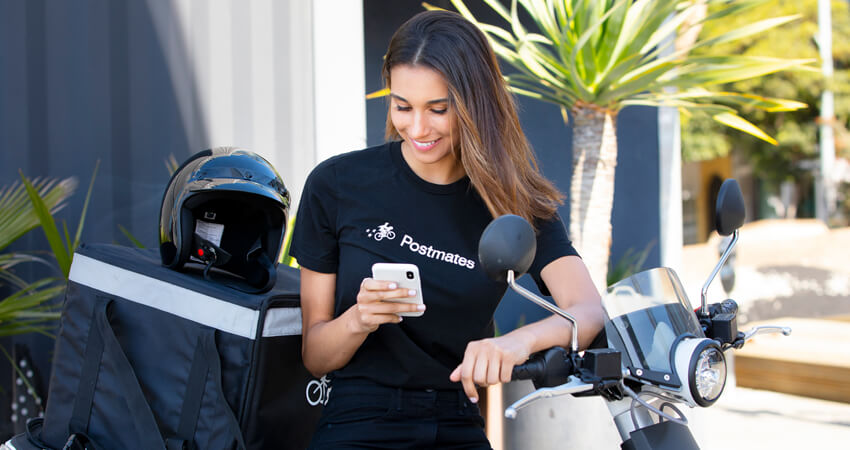 Sounds like a postal service but concentrates only on food delivery. 'Postmates' was founded in 2011 in San Francisco.
This particular application is actually a logistic service like its name which focuses on supplying food, groceries, and fine foods across 50 states approximately and around more than 100 cities.
Also, it serves all kinds of cuisines to its users including fast food, seafood, American specialties, burgers, and pizzas. Drool into food with Postmates.
App features:
Discount coupons, rewards, and offers
Push notifications for order confirmation or cancellation
Location services through GPS and navigation
Live-tracking of all orders with customer support
Speedy food delivery
Payment support with PayPal, Visa, and MasterCard
This application is not compatible with Android currently and has been rated around 4.3 on the App Store indicating that it is a trustworthy application for ordering meals and snacks when they are fresh and hot.
Summary
Apart from these applications, there are also a couple of more food ordering apps like Beyond Menu, Grab Food, Tasty, McDelivery, Bite Squad, LaLaFood which provide food delivery services to various cities and countries with immense customer support, food quality, and integrity. Some of these applications are compatible with Android while some others are compatible with IOS which deliver food on just a click, tap, or swipe on the mobile screen.
With a new restaurant emerging in every five seconds in the vicinity, it becomes convenient for a particular user to have them listed through a delivery app and order their favorite food according to their mood and appetite. For the same, these food applications charge the user as well as the restaurant a particular fee apart from the Goods and Service taxes to pay to their delivery personnel as well as to build revenue and profits.