Best 15 Secret Texting Apps For iPhone or Android to Test Now
Data privacy & security is a matter of concern in the current world given to the preceding scandals that have already taken place. Our Government implements its duty correctly by keeping a check on users' Internet & data logging for keeping invasions at bay. So people who thought data sharing on social media apps is private can redraw their ideas. If you want to keep things private, you might want to download Secret Texting Apps that are on the rise currently.
A custom mobile app development company can also aid you in promoting your own secret texting app that renders uninterrupted encryption services.
15 Secret Texting Apps in 2020:

Secure privacy & stump the hassle of hacking & snooping with these fantastic 15 best private messaging apps that can be your go-to option at all times.
1. Private message box; Hide SMS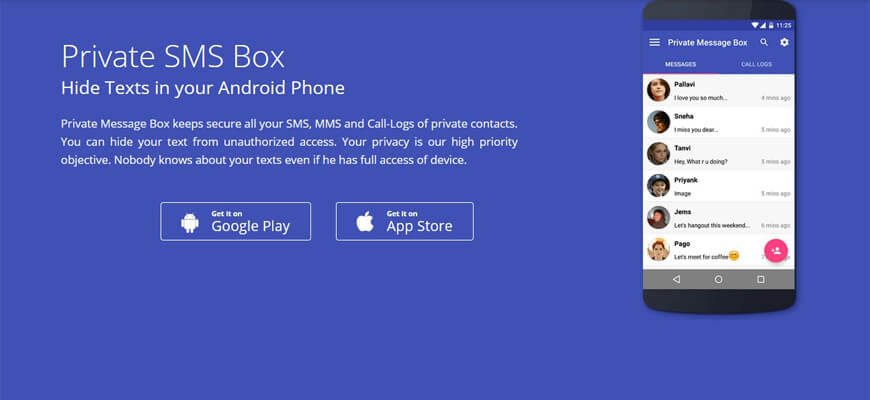 his secret texting app for android can conceal private conversations in the best manner. Saving MMS/Call Logs/SMS of undisclosed contacts beneath the PIN pad, this app lets you save specific contacts as a secret.
Just save those contacts as Private Contacts and you will be done. When those contacts call or text, they will be directed in the interior of the application.
More than 1 million users are already using this application currently.
Features:
With any web browser, you can open PSB
Privacy guard
Auto backup
There is a secret mailbox with no application icon. Other people cannot see it
Messages oscillate from stock application
Outgoing & incoming texts will be secreted automatically
Sending unrestricted free texts to other users is possible
Download link for Android | iOS
View Website
2. Threema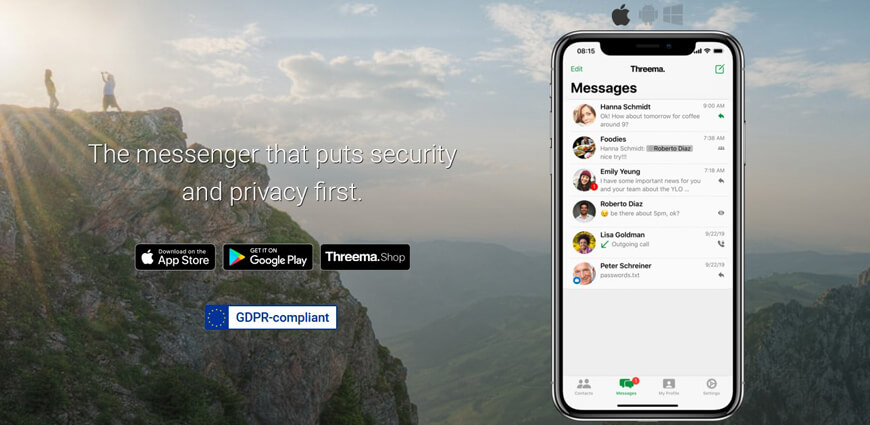 As the best app to hide text messages, you can utilize this anonymously and can also make some back-to-back encrypted voice calls. Use the app on PC as well as phone and keep all data secured from third-party developers & hackers.
With a whopping figure of 3.5 million, users are benefitting largely from this app these days.
Features:
Facilitates multi-file format
With the innovative poll feature, users can conduct polls
Send voice & text messages
Making voice calls is also possible
There are options for sharing pictures, videos & locations
Download link for Android | iOS
View Website
3. Signal private messenger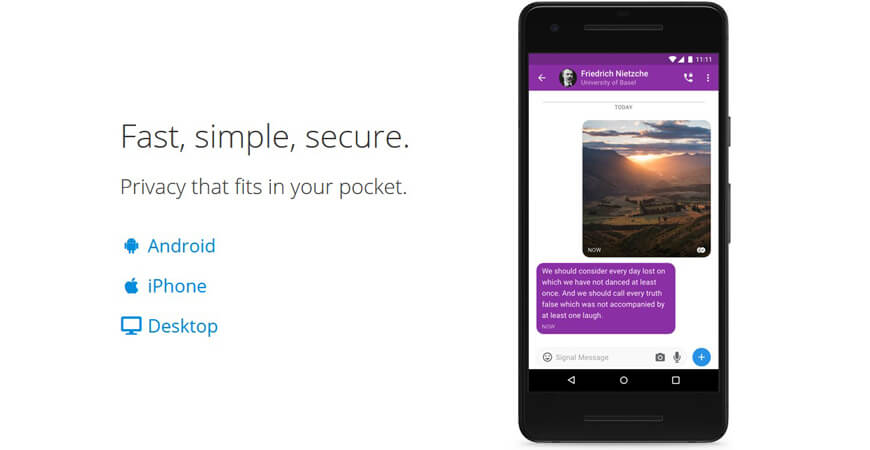 This private texting app is a highly useful one as the services of such Secret Texting Apps never accesses any of the communications. These apps never store data as well. Employing a high-end end-to-end encryption protocol, the app ensures complete privacy for users.
Presently, 1.4 billion people use this application that is absolutely privacy-centric.
Features:
Open-source cryptographic protocols
Renders audio call back up
Servers do not store messages
Encrypted group creation is possible for private conversations
Download link for Android | iOS
View Website
4. Kibo
The approach of this secret chat app for the iPhone is different as it hides in the keyboard. It encodes secret messages in normal messages.
As users press on disguise messages for long, they can see the contents on the keyboard and read hidden Kibo messages. This app to hide text messages iPhone guarantees complete privacy protection.
Features:
It comes for free
Kibo functions well with Facebook Messenger & WhatsApp
Touch ID & passcode setting available for added security
Sending non-secretive messages is also a possibility
Download link for iOS
5. Silence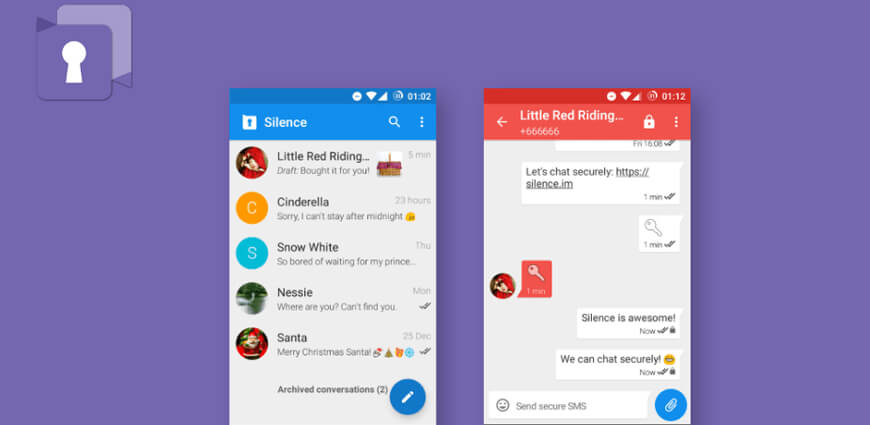 A very sound MMS & SMS secret texting app for android users can interact with their contacts freely without any fear of privacy breach.
Such hidden messages app for android let you share media in various formats via secure channels.
Features:
It is open-source & a free app
Communication executed via encrypted text messages
Internet connection not required as messages are locally encrypted
Download link for Android
View Website
6. Blur Chat
This secret chat app for iPhone comes with interesting features such as touch id & facial recognition. By this, only the receiver can read your secret messages after the receiver confirms their identity through the features.
Features:
Hide real information of your contacts by changing the picture & name of the contacts
Message and picture deletion possible both on yours and receiver's phone
Automatic destruction of messages is possible with prior scheduling
7. Viber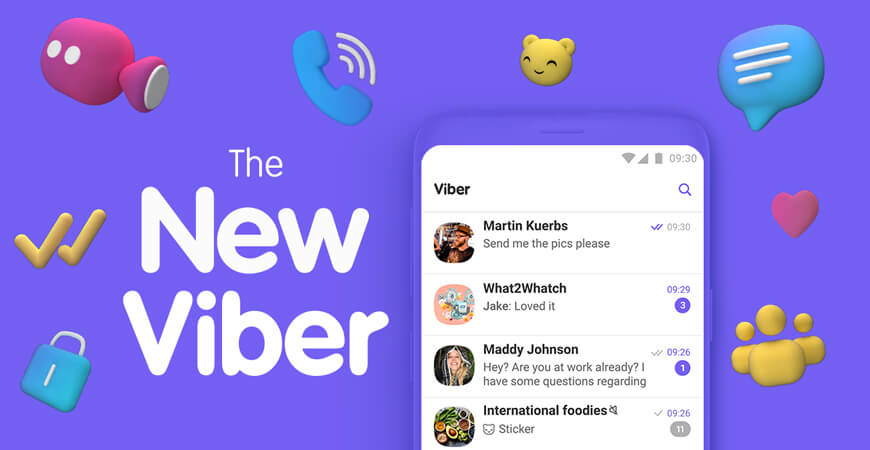 This is like secret apps that look like games that are secure & simple. Using such chatting apps lets you make high-quality calls and for free. A data plan or a Wi-Fi connection is required to use this app.
This best group chat app has 1 billion and more users worldwide.
Features:
Syncs seamlessly with tablets & desktops
Secret chats come with self-destruction feature
Create a Viber community with manifold members
Users can get hold of numerous stickers & GIFs
Download link for Android | iOS
View Website
8. Telegram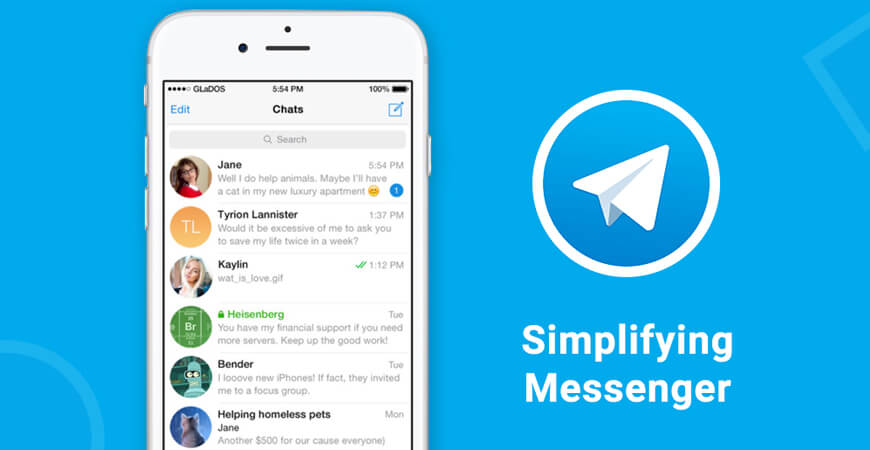 Connecting people over a disseminated data centers network all over the world, this secret chat app tops the list of sought-after Secret Texting Apps.
Facilitating data syncing over manifold devices, this app lets users access messages over manifold platforms. There is no limit on the size and kind when it comes to sending files & media.
This encrypted app has arrested the attention and interest of more than 200 million users who are very much active.
Features:
Unrestricted file-sharing & messaging
There are video & photo editing tools
Offers complete support for manifold accounts
A mixture of 256-bit symmetric AES encryption is utilized for making messages encrypted
Download link for Android | iOS
View Website
9. Wire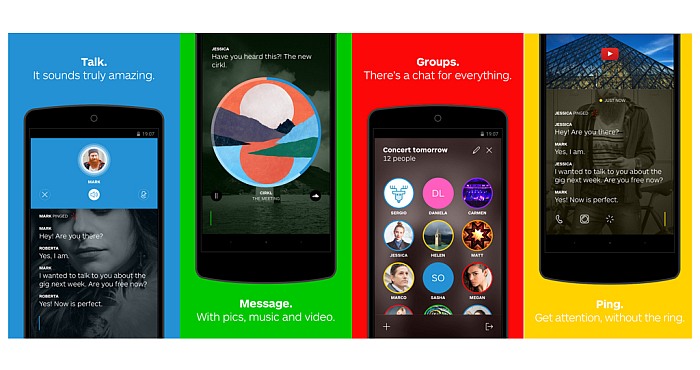 There are many brands & organizations that solely depend on secure communications. This secure chat app is the perfect option for them.
This private messaging app encrypts all data and European privacy laws protect all information. The app functions on every big social platform.
Features:
Offers protected file sharing
Uninterrupted encryption
Supports video and voice calls
Independently audited & open-source
Users can log in to the application with manifold accounts
Download link for Android | iOS
View Website
10. RingID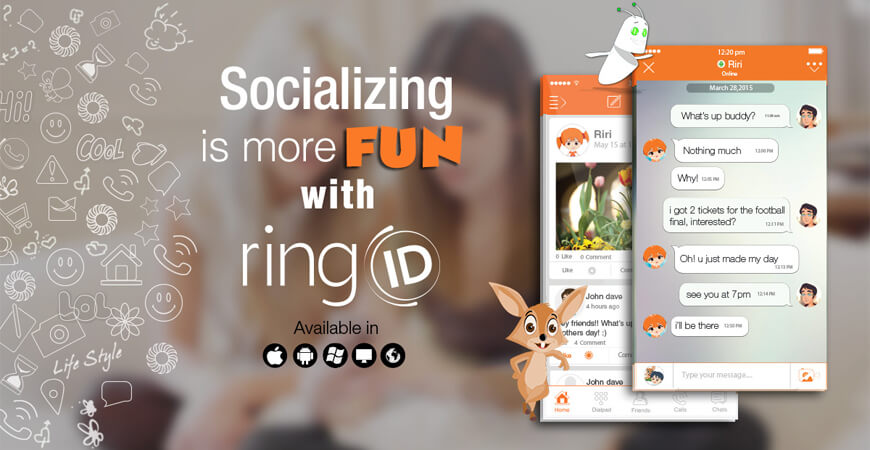 Falling under the category of top Secret Texting Apps, this app can make your social life extremely happening. This is mainly because there are options of media and music management where you can discover the global audience by utilizing the live features.
The number of registered users of this app counts to more than 300, 000.
Features:
There is individual friend permissions option
Fabricating & maintaining separate circles is possible by users
There is a timer option for self-destructing messages
Users can pick their favorite news providers with NewsPortal option
Download link for Android | iOS
View Website
11. KakaoTalk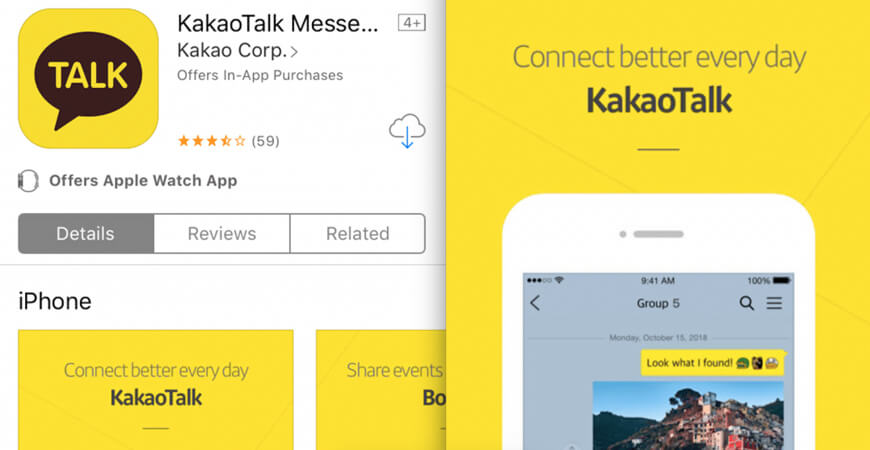 A multi-faceted secret text app, this encrypted private messaging app comes with a huge array of stickers & emoticons that makes chatting with one another a lot of fun. The app is compatible with numerous platforms.
With 400k downloads nationwide, the app has earned a revenue of $4m that is huge and impressive.
Features:
Location sharing with contacts is possible
Multitasking options are there such as texting during calls
Appointments can be scheduled with reminders
There are mobile games as well
Users can see the contacts who have read messages
Download link for Android | iOS
View Website
12. Wickr Me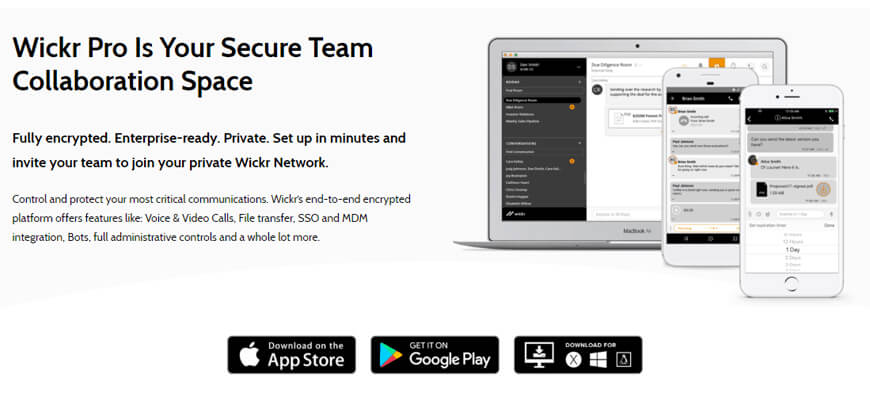 This secret messages app is equipped with encrypted voice & voice calling memos that let you connect instantly with friends. The app will let you decide who will have entry to view your content and the time duration of accessibility.
It works by encrypting messages with new keys and by utilizing vetted back-to-back encryption. The address book of users remains private as well and information is not stored in any server.
The end-to-end encryption services of this messaging app are quite robust. Perfecting backward & forward confidentiality for user content, this app is gaining much popularity in the current times.
There are more than 5,000,000 installations of this app to date.
Features:
The app never stores metadata linked to your communications
It comes with a configurable expiration clock
It maintains transparency with open-source code
There are options of making private groups where the limit is of 10 users
Download link for Android | iOS
View Website
13. Snapchat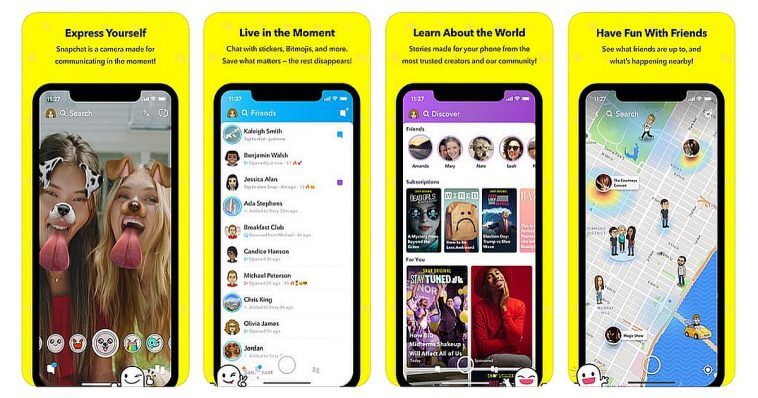 One of the best secret messaging app as it brings forward numerous secret ways of texting. When you take a video or a snap, you can add caption or text over it & then share it with others.
Approximately 50 million users are active every month in SnapChat and there are more than 1,000,000,000 downloads.
Features:
Security settings are customizable
There are zero third-party servers
The app provides free cloud storage
Message deletion takes place automatically after 24 hours
The company will not keep any data backup
Download link for Android | iOS
View Website
14. CoverMe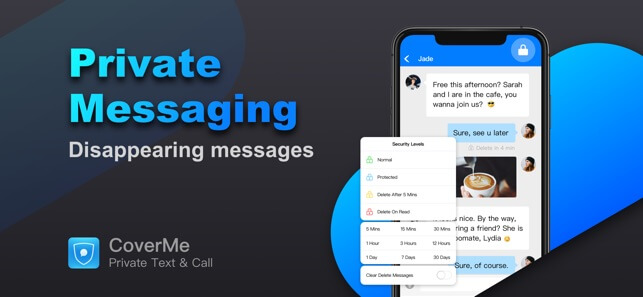 The best thing about cover my app is that there are privacy options for both calls & texts. There comes a file vault incorporating password protection with which oscillating files can be protected.
More than 1,000,000 have installed this application.
Features:
Self-destruction of messages possible
Remote wiping of messages sent to contacts is possible
Users can disguise the application as a news reading application
With the decoy password characteristic, you can enter fake passwords
Secret call making possible from private numbers
Download link for Android | iOS
View Website
15. WhatsApp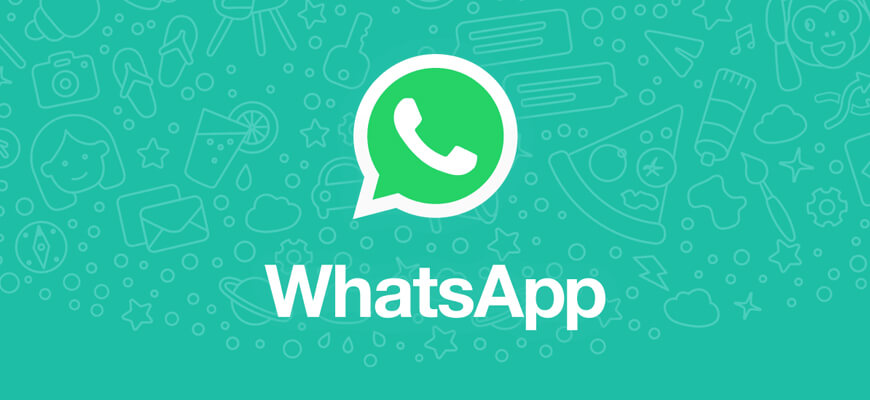 When it comes to Secret Texting Apps, there can be nothing better than this cross-platform private texting app. There is end-to-end encryption offered and hackers can never decrypt conversations. The server also does not store messages.
The user base of this app is huge with the amount reaching beyond 1.5 billion.
Features:
A group calling & texting possible
Facilitates numerous multimedia files on the platform
It is compatible with both desktop & Smartphone
Provides end-to-end encryption
Download link for Android | iOS
View Website
How to choose the Best Secret Messaging Application?
Chalk down the requisites from the app before deciding which chatting apps aptly suit your needs. You might require secure messaging or routine message removal after 24 hours, etc. From the perspective of a developer or a business owner, if you want to offer your target audience with highly secured Secret Texting Apps, you must mow forward in hiring advanced and first-rate developers.
They offer world-class android app development company & iPhone App Development services. With sound security apps, everybody can now save themselves from hackers.
Every application has its own set of strengths and weaknesses. Thus, it is vital to choose the secret app wisely in 2020 with technology growing and enhancing the most then ever.
Popular FAQ:
What is the best app for private texting in iPhone?
Telegram, Signal, CoverMe, Viber, and Kibo.
What are the Best Apps for Secret Texting?
Telegram, Viber, and Signal.
Can I text someone anonymously?
Yes with the help of Secret Anonymous Texting Application.
Can texts be Traced?
Yes, it is possible with apps like mSpy, Blurspy, GuestSpy, etc.