Top 30 WordPress SEO Tips to Get Better Ranking in Search Engine
Establishing WordPress sites is simple; correctly optimizing them for search engine optimization is not.
WordPress is suitable for SEO directly, particularly the latest versions. But there are still ranges to modify that 'suitable' bit into 'amazing'. SEO is not restricted to low-quality link construction and obvious keyword stuffing.
It has completely gone over a progression in the prior decade, and will nevermore cease growing.
If you want a valid place in the search engines, then you require practicing your SEO sincerely.
Therefore, just installing your website through WordPress Development Services are not enough, you need your website to attract attention.
Top 30 WordPress SEO Optimization Tips in 2019:
1. Download a WordPress SEO plugin
WordPress actually comes with some pretty robust in-built SEO features. But you can always keep upgrading your optimization by using a plugin for SEO. The best WordPress SEO plugin right now is Yoast SEO.
With Yoast, you can flawlessly optimize every post and page for your favored keyword. It has an analysis tool built-in that relies on the current algorithm updates. You can even produce an XML sitemap, and attach schema markup to your website.
2. Research Keywords
Keyword research can either break your SEO plans for your WordPress website. When you research keywords, it will let you know how to:
Produce content your users are actually looking for
Develop a more solid knowledge of market demands
Monitor the success of every piece of content written
Create relevant traffic for your website
There is a mixture of tools that will assist you with keyword research. Some of the best tools include Google Keyword Planner, KWFinder, and SEMRush. A tool for tracking how your keywords are being rates can also be useful.
3. Search Engine Visibility Should Be Turned On
Did you know there is an option in WordPress to hide your site from search engines?
This option usually comes in handy when you are still developing your site and you don't want anyone to find your work-in-progress. But this also makes a ranking challenge.
If you have been using every WordPress SEO Tips out there and still can't see your rankings improving, this can be a possible issue.
To check if the setting is turned on, move to Settings › Reading from the dashboard. Scroll down and you will find the Search Engine Visibility.

Just make sure that you keep this box unchecked. Then select 'Save Changes'.
4. Modify Permalink Structure
When you download WordPress for the first time, the posts and pages on your site will have a peculiar URL structure and this is by default but isn't very favorable for your SEO strategy.
The most reliable and search engine-friendly URL structure is the setting of 'post name'.
Make sure the WordPress Development Company you're working with changes this setting so you are enabled to include page or post title, or even keywords in the URL.
To modify the setting go to Settings › Permalinks.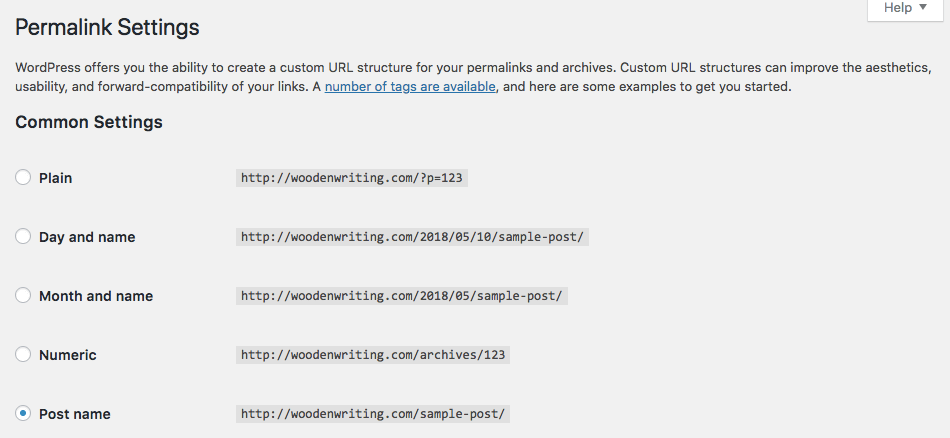 Below the 'Common Settings' part, choose 'Post name'.
Please note: If you are modifying this setting a long time after setup, then you might have to redirect any obsolete URLs.
5. Attach Your Website to Google Search Console
When you use Google Search Console, you are able to see how your website is doing in real-time on search engines, and it alerts you about any errors on-site.
To attach your website to Google Search Console, head over to this page and sign in with your Google account. Next, select 'Add a Property' and put your website's URL.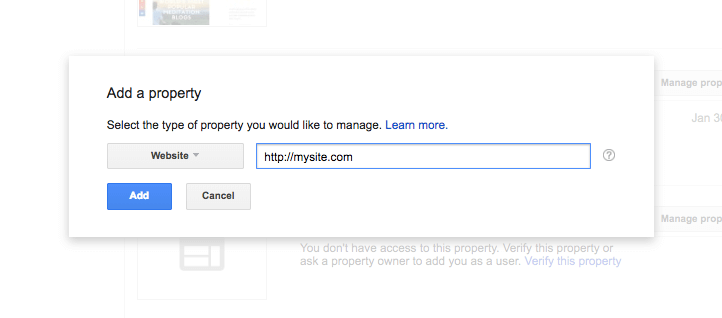 Select 'Add' and you will be taken to another screen where you will have to verify your site's ownership. There are several methods that you can employ to verify your website, but the simplest among them is by choosing Alternate methods, then select HTML tag.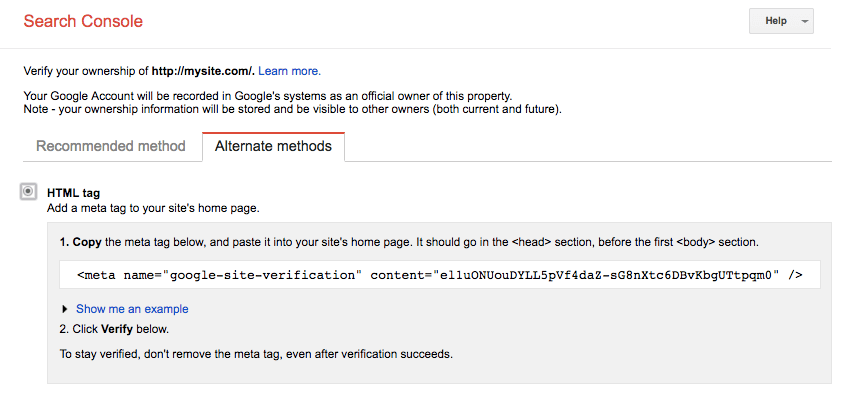 Copy the code, go to the dashboard on your WordPress. To attach this code to the header, you are going to use a plugin. Go to Plugins › Add New, look for 'Insert Headers and Footers'.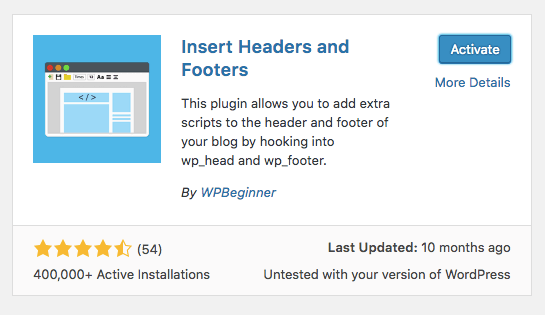 Download and activate the abovementioned plugin in the image. Next, navigate to Settings › Insert Headers and Footers to employ the plugin.

Now put the code into the box that is named Header and select 'Save'. Lastly, go back to Google Webmaster Tools and select the Verify option.
6. Incorporate Google Analytics
Another useful Google tool to have in your kit is Google Analytics. This tool shows if your SEO plan is working by providing you a breakdown of the traffic on your website.
To make your account, go to the homepage of Google Analytics. Next, you have to determine your tracking code. It should be below Tracking Info > Tracking Code.
Then, you have to copy the code that looks the same as this example:

You can directly add this code to your website depending on the theme you chose.
If that is impossible, use the Insert Headers and Footers plugin mentioned previously.
7. Present a Sitemap to Google
Sitemaps are utilized by search engines to crawl websites more efficiently. Your website still gets crawled by Google bots without a sitemap but developing one lets you tell Google the data you want to be crawled on.
You can make sure specific pages that don't add to rankings are not crawled as well as give priority to more important pages.
If you are using the Yoast SEO plugin, then creating and submitting a sitemap is easy.
Go to SEO › General › Features. Then move down and facilitate 'XML Sitemaps'.

Select the link that reads 'See XML sitemap' and this opens your sitemap to make sure it is truly there. Next, you submit it to Google by going on the dashboard of Google Search Console and select 'Sitemaps'.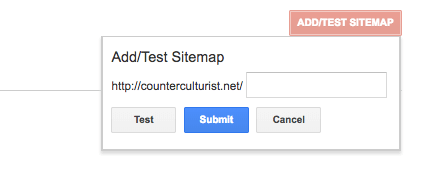 On the right corner, you will see a choice to Add/Test Sitemap. Select it, put your sitemap's URL and select 'Submit'. Now Google can crawl the sitemap frequently, which helps in post indexing at quicker rates.
8. Mobile Optimization
From last year, Google started testing its index for mobiles. This implies that they will begin to use the functionality and performance of pages on the mobile to identify your ranking.
So, if you are not using an un-interactive theme, this is the time correct it. However, more than choosing the right theme, you can check across the spectrum of mobile to know how your site is performing.
To do this, go to the mobile-friendliness test on Google and put the URL of your site.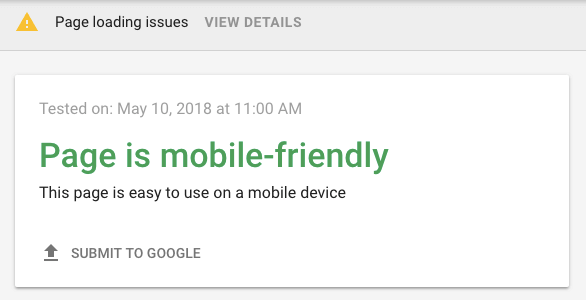 9. Speed Up Your Site
The speed of sites has always been critical. If you have a slow-loading site, it impacts your ranking negatively, and your UX suffers too. The same applies to the page loading speed as well.
Fortunately, the following steps ensure your SEO plan keeps running smoothly:
Obtain a baseline number
Update your host
Use a CDN
Utilize a cache plugin like W3 Total Cache
Enhance your media
10. Repair Broken Links
If there're a lot of broken links on your site, it negatively affects your ranking and visitors. Additionally, they also make it difficult for Google to crawl your website.
The quickest way to check your website for broken links is to go to Google Search Console and select 'Crawl Errors'.

Lastly, open every error and it shows you the places the broken links are, so you can repair it.
11. Focus Keywords for Every Post
Even though keyword optimization has changed over the years, they are still important in SEO. When you write a post on your website, you must have a focus keyword for it.
Here are some best ways to optimize a particular keyword:
Don't overstuff keyword, use them only when it's organic
Include the keyword in the first part of the copy
Use the keyword in your subheadings and headings
Attach the keyword to the URL and the meta description
12. Develop High-Quality Content
High-quality is loved by Google and if you look up top 10 results for any chosen keyword, you will see that the content meets two demands:
The content is usually longer and high standards of content
The content meets the search purpose
When you are performing any sort of content you must examine what is currently outranking, and attempt to know why it is ranking.
13. Produce Longer Content
Longer content usually ranks higher in search engines. Studies from Moz and Buzzsumo found that lengthy content gets more shares on social sites.
However, this doesn't mean you need to stuff keywords everywhere in your content. Instead, try to understand the purpose of the keyword because it tells you what people are looking for.
Then, solve the goal of the keyword in the most precise and helpful way you can.
14. Produce Evergreen Content
Evergreen content can be a significant way to pull traffic. The content style will always be on-trend as it. Whenever you have the opportunity, you should be linking to earlier content you have published.
Regular internal linking can bring you benefits doesn't depend on periodic information. This implies that you can constantly share, boost and select backlinks for this content.
This content style will usually have top-ranking spots for years. Though it takes some effort and time to create, evergreen content gives you results in the long-term.
15. Link Quality Sources
Linking to high-quality sources doesn't harm your SEO strategy. It may actually improve it. When you link to high-quality sound sources you're telling Google that the connected content is related to yours.
Plus, it improves the user experience, by giving readers with extra knowledge on the subject.
16. Inter-link Content Together
When you get the opportunity, you should link to earlier published content. Regular internal linking has many benefits and WordPress makes it easy to do this.
When you write a post, just pick up a text portion and select the hyperlink button. Then, choose the gear icon, pulling up your linking options.

In the window that pops up, you will find a list of earlier posts you have written. Just choose the most important content piece from the index.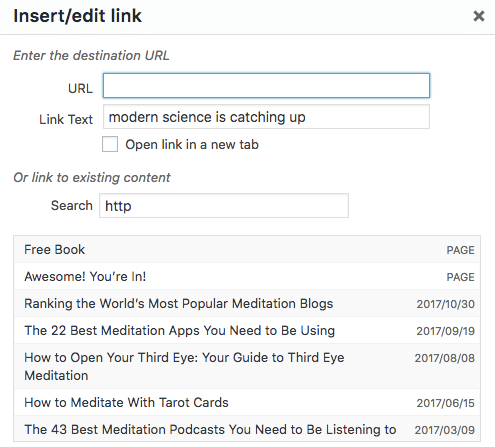 17. Optimize Page and Post Titles
The title tag is the most critical heading tag. It lets Google know what the page is about and will control whether visitors will select your site.
If you're confused about your title tag, it's the post or page's name. Changing title tags to something clickable and well-optimized is very simple, especially with Yoast SEO plugin.
18. Optimize Header Tags
The header tags give the crawler bots an impression of what the content is all about. Utilizing these tags everywhere in your content makes it more simple and well-optimized for search engines.
Inside the WordPress editor, you can add header tags through the drop-down menu effortlessly.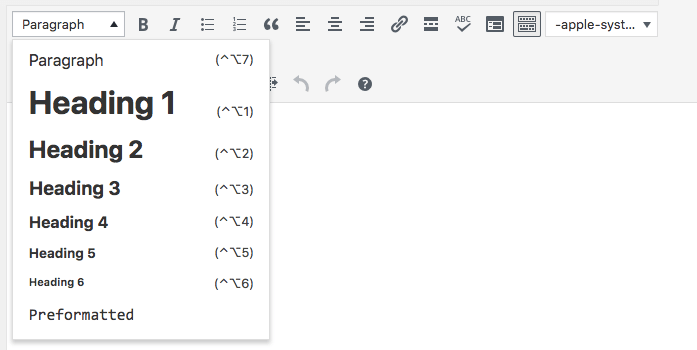 19. Use More Condensed URLs
When it involves your URLs, the smaller the better. Keep your URLs shorter, so they don't confer various sections or lists. Include only your focus keyword, and eliminate everything else.
A lengthy URL won't punish your rankings but it can make the link resemble a spam link.
20. Meta Descriptions Optimization
The Meta description is the text that comes below the title in the results on search engines. It gives users a concept of what the page is about.

Meta descriptions aren't direct factors to ranking but it does help to boost your search engine through Click Through Rate. An enticing and well-written description drives searchers to click on the post.
The data is based on correlation, but if you have high CTR, Google will consider your page more important, which can boost rankings.
21. Schema Markup
Basically, schema markup is an extra code that supports search engines properly delivers information to its searchers. By executing schema markup you can do your search engine listings more engaging.
This can point to an increased CTR and higher traffic for your site. Thankfully, WordPress already has this feature in it.
If you Hire WordPress Developer, ask them to run the site through this tool to check for schema markup.
22. Google SERP Optimization
You may have seen the boxes that show up a top of the search results on Google. They look something like this: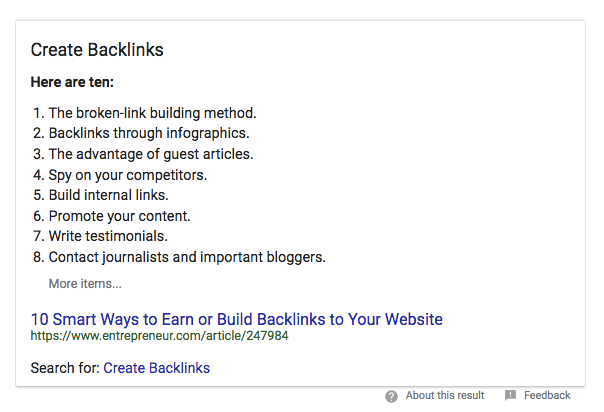 This spot is definitely spotted zero so you get higher traffic and more CTR. But, if you already rank on the first page, then gaining this position will get you two listings on the results.
There isn't a set way to get to the top, but optimizing the following increases your chances:
Attach schema markup to your website
Solve questions implied in keywords first in your post
Form your solution in the shape of an unordered or ordered list
23. Image Search Engine Optimization
Utilizing images everywhere in your content will generate a greater degree of the reading experience.
This helps maintain your user's engagement, which gives resolute site achievement indicators. But, images can be used for SEO too.
There are three elements to proper optimization:
The text on the image title
The alt text
The name of the file
24. Fewer Affiliate Links
Plenty of websites utilize affiliate links to produce revenue that is used to monitor commissions when you suggest a course, product or service.
However, putting too many of them are not liked by Google. So, when you use such links, disguise them while ensuring they are no-follow by using a plugin named Pretty Links.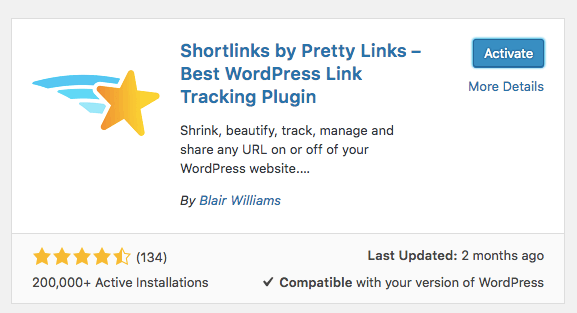 25. Attach HTTPs to Your Website
HTTPS is an authorized ranking factor, so websites that attach them have an advantage.
It lets your browser to create a connection with any site you're related to and does data encryption transmitted amid the two.
26. Create High-Quality Backlinks
Backlinks are still among the highest ranking factors. The better the quality of your links, the more chance the site has of higher ranking. According to a study, if a page has an increased amount of backlinks, it will rank higher in search engine results.
Since creating backlinks in an in-depth and technical process, refer to this blog for more information.
27. Do an SEO Review
If you are unsure if your website is correctly optimized or not, you can do an SEO review. But, instead of working through each action yourself, just work the site into an SEO review tool like SEOSiteCheckup.
The tools will check your site and provide you with a report of everything you're doing and need to modify.
28. Monitor The Backlink Profile
Monitor the backlink profile to check if your off-site SEO efforts are getting any better. Backlinks are an important factor of ranking, so it's something you do need to check often.
There are many tools that help you with this and one of the most popular ones is Ahrefs.
29. Make Google to Crawl Your Website
Typically, your site gets crawled by Google on the speed on which you publish content. But there is a way around this to get your content indexed immediately by Google.
Go to Google Search Console, then to Crawl and select Fetch as Google. Put your post's URL you just published and select 'FETCH'.

Next, select 'Request Indexing' and your current URL will be listed by Google.
30. Mark Long-Tail Keywords
Ranking on the first page of Google can be hard based on your niche for the primary keywords. Many of them are taken by older pages with content that has been run and made perfect for longer periods.
Here, you have to make your way to the top by marking smaller but particular keywords called long-tail keywords.
You can brainstorm to find the right keywords and then use KWFinder, a tool, to get a rough approximation of the challenges and search quantity.
Conclusion
Take your time, you won't become a WordPress SEO expert overnight, but here's hoping these WordPress SEO Tips help you.