7 Secret Techniques To Help You to Improve Mobile App Development
Mobile App development is an extensive and intricate process. It needs many efforts, correct synchronization, proper coders and a lot more than that. In the procedure, timelines severely face if you are taking the wrong track.
Although, Statista shows in a report that there is a submission of 30 thousand new apps to iTunes App Store every month and even more for the other platforms like Android and Windows.
Moreover, for the custom mobile app development company, it is quite difficult to follow the time limit firmly, particularly when they start.
Quality and speed – one has to face if you aren't using the correct ways of developing mobile applications.
Problem with Start-ups and Entrepreneurs
Businesspeople are very prone to endless fight and to standby competition; the only practical way is publicizing for which mobile apps are highly useful and therefore chosen.
Nowadays for the best mobile app developers, the mobile apps are utilized to target consumers and get acknowledgment.
Apologetic for being a little adverse, but if your app isn't able to collect the required crowd, then most of your hard work can go ineffective.
The reasons behind the damage can be countless, but the techniques to achieve the progress are a few. Let's have a look at how to organize a successful mobile application.
Why Speed up the Mobile App Development Process?
These days, the developing apps and augmenting projects are visible everywhere.
Slowing down the process might make you getting on implementer of the idea or the benefits reduce with the time. However, there is a problem!
While Mobile App development plays a crucial role in your business' success, on the other hand, you want your business app to protect your users. However, you have to deal with both these.
Read these seven remarkable ways to improve your mobile app development process, without touching the quality of code or functionality of your app:
1. Plan before you implement
Create the design of the app first. Each customer approaches you with a fixed mind; you need to build and develop an app that will direct him to what he wants.
If he doesn't obtain what is required, he will undoubtedly uninstall the app.
Thus, for the powerful mobile app development, get the design/blueprint done accordingly to the frame of mind of users.
Moreover, the process should comprise a daily feedback cycle, testing the user experience, and more for a positive result.
By planning a mobile app development strategy thoroughly, you will not adhere to the development process at top mobile application development companies in the world.
Likewise, if there will be no misunderstanding among the team of mobile application developers, the speediest organization will be possible.
2. Go with MVP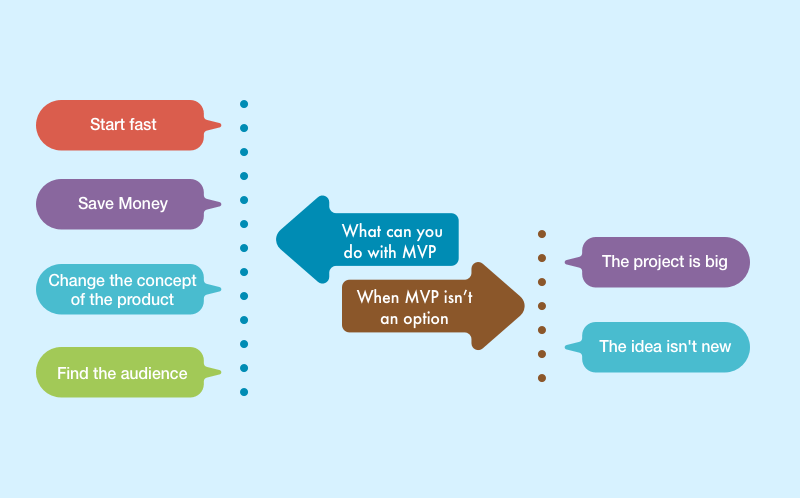 Image Source – cleveroad
Instead of organizing a developed app, go for MVP. Get the MVP done to set up your occurrence in the market.
Make a note of the comment of the users and make appropriate changes, therefore.
Please make use of tools to work for the preferred result, keep a check on user recognition, usability, their prospects, and download rate.
Adhere to exact methods for upgrading and release timely updates by making use of flexible systems.
From Airbnb to MailChimp, every of the popular idea was well-tested by MVP (Minimum Viable Product), before its actual execution.
Those business tycoons thrived as they didn't compromise on understanding the consumers' feedbacks before continuing. It's a fantastic technique as it focuses on the capability of your perception.
3. Believe in Hybrid App Development
Android vs. iOS – isn't it the significant debate you face?
If you are considering paying attention to both types of device owners, then it just means you will need the app execution for both of these.
However, distinct implementation is going to enhance the delays, as you are already aware. Why not go with the Hybrid applications in its scenario?
The solutions like Xamarin and PhoneGap can solve this problem.
With the native code, you can instantly takeoff your mobile app development for iOS and Android altogether.
Read more: Apply These 7 Secret Techniques to Improve Android App
4. Take help with what you don't know!
You choose in-house mobile app development company in India or the other nations over outsourcing but your team isn't skillful at every technology, that's a point.
It's not only with the team, but anyone can't be proficient with every technology out there.
When any of this task thrashes out during the development process, it is always best to outsource it to someone who is a professional at android app development services or an android app development company (if you opt for Android as your application's platform).
5. Assign Side-tasks to Less Experienced/ Outside Teams
Manage the main features as the user is engrossed in that only. Outsource the side fascination and deal with the basic framework.
It will save you lots of time, become appealing to users and can be used efficiently.
Include pre-made applets for your essential product which needs no coding.
However, it can be done by using shared tools, feedback tools, exclusive offer notifications, new features tours, and many more.
Also, it's better to hire a top mobile app development company that offers many mobile app development services along with help to speed up the mobile app development process.
6. Use Off-the-Shelf Component
It's not essential to crafting every constituent of your mobile app from scratch, although if it's a custom-made and never-executed idea.
The market is available with the immediate solutions for various tasks, which are well-employed and upon which one can rely.
By utilizing them, the development process at your hired android app development company can be improved, without compromising the product quality.
Thus, only the selected mobile app development company in the USA or the chosen nations can help you get this point to speed up the mobile app development.
7. Manual and Automated Testing – Mix it well!
100% manual testing is never a right concept. To err is human, after all!
However, now you have to wait because it is also not okay to make use of automated testing tools to make sure the app's quality.
The correct hack, thus, is to execute a flawless mix of both. By performing this, the application's quality and timely execution, both can be confirmed.
Conclusion
By applying the idea quickly, you can enhance the possibility of succeeding along with making it sure that you are improving faster.
In today's fast world, slow approaches are always rejected or get negative feedbacks from the funders.
With the execution of above seven ideas in your application, you will not have to undergo any of the deliberated problems if you choose to partner with a mobile app development company in India or your chosen countries that can provide you cheap app developers in India from your entire mobile app development companies list.
Just go through the top 10 mobile application development companies and hire the best and cheap app developers from India or the other nations those will surely make your mobile app development success.