Top 11 Best Charity Apps Helpful to Trust (Organization)
A worthy cause can lead people to give money to non-profits and non-governmental organizations (NPOs and NGOs), and charities. The scene of philanthropic donating has been affected by digital fundraising.
More foundations are examining online donating plans over online platforms to gain new contributors, communicate with younger patrons, build more appealing campaigns for fundraising, and conserve money and time.
Technology can support charities raise donations, gain new contributors, and increase the scope of their campaigns. Therefore, the Best Charity Apps can help in so many ways. If you wish to provide Mobile App Services to create a charity app, this blog is for you.
Some Tips for Success: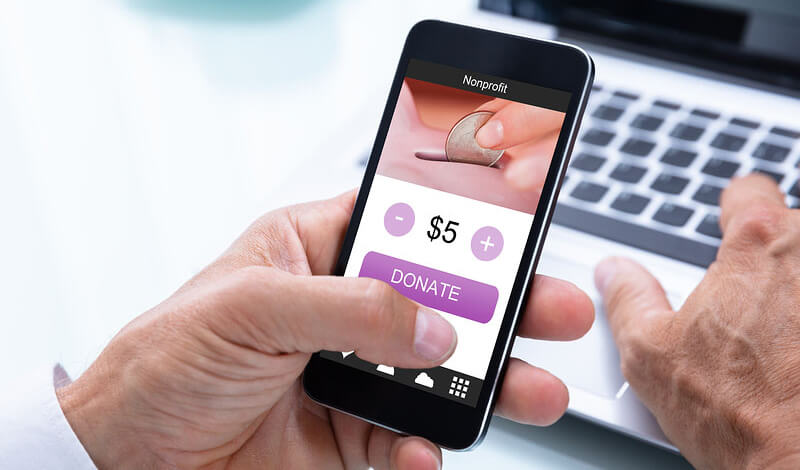 So, what differentiates between failure and success for your best charity apps? Here are some suggestions:
Charity apps must be developed about the user requirement – not just the capacity to give money.
Whether it is ideas for fundraising, advice, and help, or storytelling, it is important that charities present some sort of extra significance to inspire users to continually use the app.
It is rather self-explanatory, but if a desktop or mobile website is more straightforward to apply, an app is improbable to succeed.
It must continually extend users a purpose or motivation to pick it over another way, for instance, quick and secure access, more comprehensive personalization, or more valuable content.
Unlike e-commerce mobile apps, which attract users back with the assurance of new offers and products, charity apps show a higher risk of user apathy.
This is due to the fact that people could be more prone to believe like they've performed their part, with no actual obligation to proceed.
As a consequence, apps should try to formulate the requirement for an ongoing journey. This can be done by content and post-donation communication.
More foundations are examining online donating plans over online platforms to gain new contributors, communicate with younger patrons, build more appealing campaigns for fundraising, and conserve money and time.
Top 11 Best Charity Apps:
We know you have a lot going on. Between everyday meetings, routine naps, and grocery shopping, taking some time out to give back to the world can seem like a massive task. In a society fixed on material things, we usually don't remember that kindness can be discovered in personal, small pleasures – taking your dog on a walk, for instance, or taking a picture.
Here are 11 best charities to donate to 2020 that makes giving back simpler:
1. Donate A Photo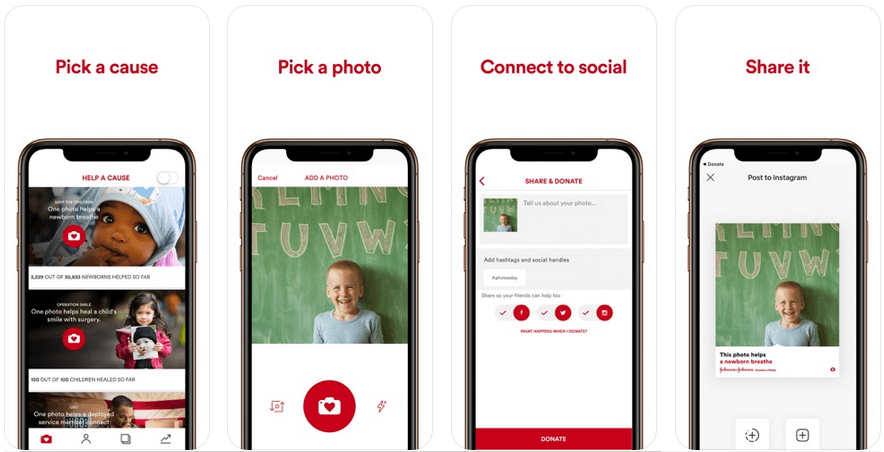 Even though taking everyday moments with your phone is a fairly contemporary routine, capturing pictures may as well be the most common job in the world because, after all, at its heart, it is an instinctual action of protection.
Donate a Photo, designed by Johnson & Johnson, enables you to return by bestowing your most treasured times with the world.
Just upload a photo from your camera roll (or take a fast photo via the photo app), and Johnson & Johnson will provide 1 USD to a donation of your choosing. It is a win-win position – your photos will encourage others to show off their best pictures with the world, all at no expense to you.
2. Walk For A Dog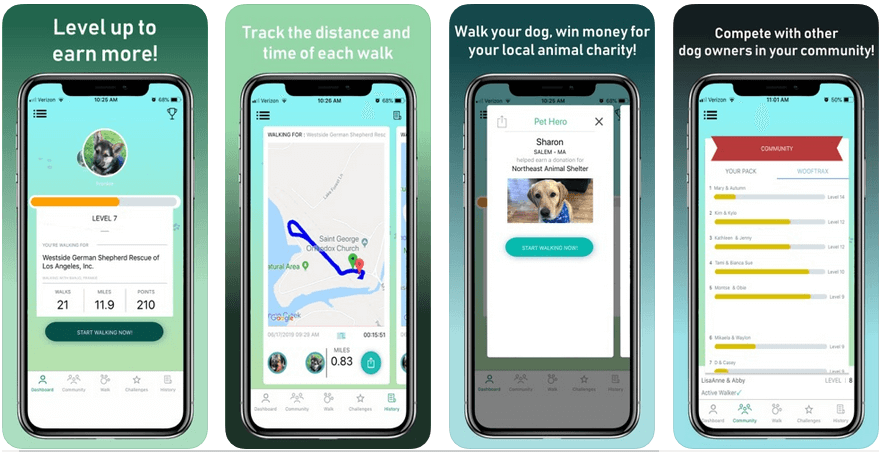 This app is for all dog lovers. This app makes daily tasks a fun act of donating. After you enter basic information on your dog into the app, you can monitor your everyday walking movement, develop fitness objectives, and share your development with your friends on social media.
Just pick your closest animal foundation, launch the app, and get moving! Ensure to talk about it – the more people join the app, the bigger the contribution.
We know you do not need an excuse to spend more time with your pet and best friend, but if you love walking them then you can do that and help other animals in need at the same time. It is the best charity to donate to if you love animals or are interested in animal conservation.
3. Be My Eyes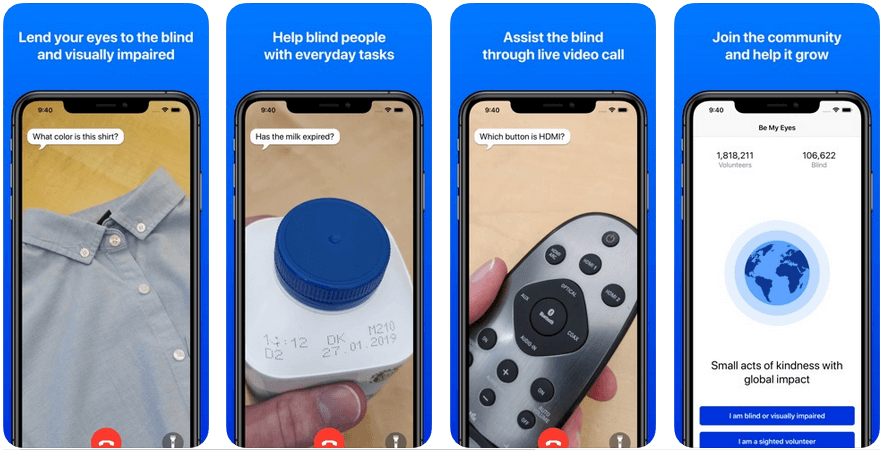 Be My Eyes controls your smartphone camera to assist visually-impaired people with common tasks. The app will tell you when someone asks for your help, at which period it will connect you with the person in need through video.
The opportunities are limitless: whether you are examining an expiration date or giving your judgment on an outfit, appreciate that you are applying technology in a clever, important way.
Additionally, this is among the best global charity apps and is accessible in over 150 countries and 180 languages. An innovative enterprise that traverses the earth that is for the greater good.
4. Charity Miles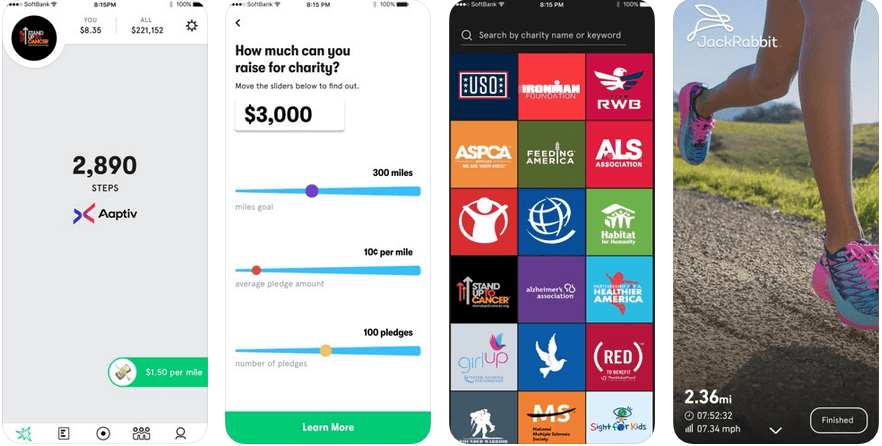 Join a movement – while you move. It doesn't matter if you are a devoted fitness buff or only an infrequent runner, you can now make your workout count.
Simply launch the app when you are about to do your exercise, and it will do the rest without you worrying. Increase the passion of that workout because the more you exercise, the higher the donation.
Charity miles app surely is not restricted to runners – it monitors all varieties of movement, such as cycling, weight-lifting, dancing, and dog-walking.
With over forty charities to pick from, Charity Miles proves what we now know: a worthy inspiration to get off from the couch and do something, for yourself and others. Since it links up with major companies, you can make money donating.
5. Coin Up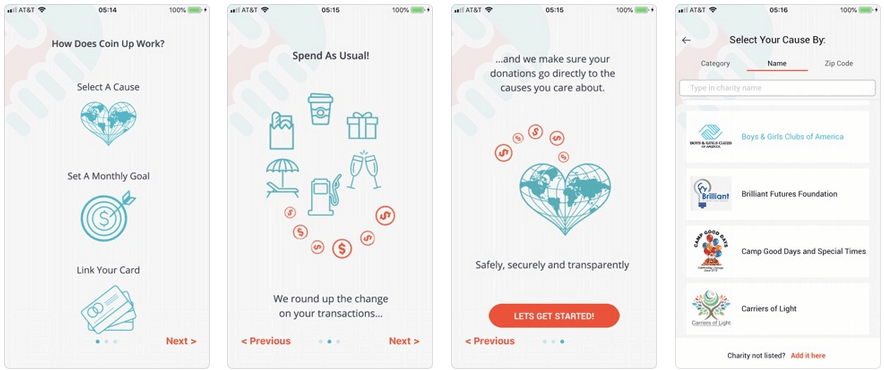 So, which do you prefer: heads or tails? Coin Up is among the Best Charity Apps "rounds up" the transactions on your credit card to the subsequent dollar, giving the extra money – the additional change, that is – to the foundation of your choosing.
Think about all the free coins clinking about in your wallet; now picture that in an online form. It's an easy, honest way to begin to Donate money for charity: not only can you arrange a cyclical donation goal, but everything you donate is tax-deductible.
6. ShareTheMeal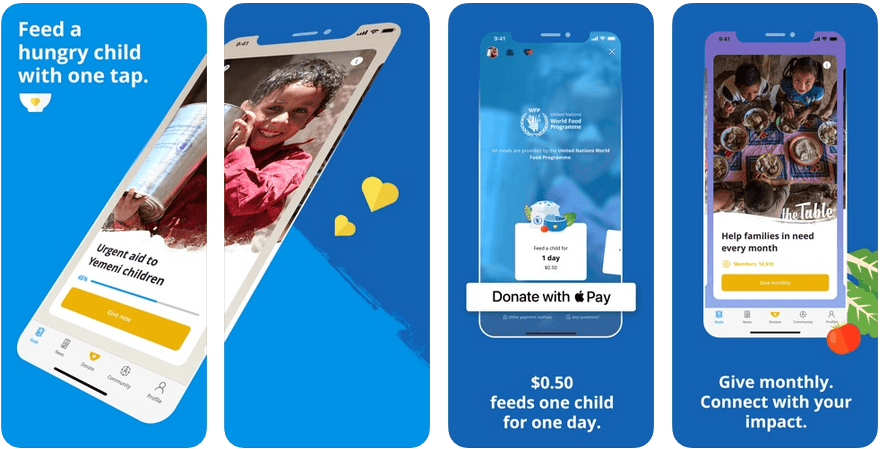 ShareTheMeal confronts global hunger with the United Nations World Food Programme (WFP). The idea is plain. Touch the app on your smartphone and donate 50 cents. That will support one child for one day.
Why not apply the app whenever you are about to eat a meal? Support feeding hundreds of thousands of starving people around the world. It is easy, and awards and associate organizations include the costs.
7. One Today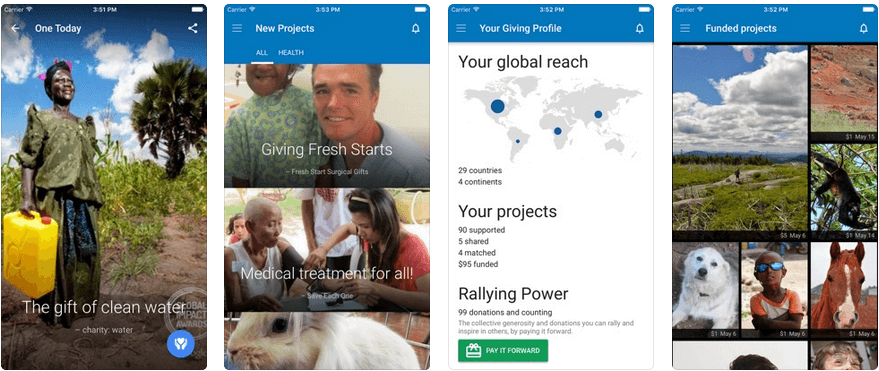 One Today originates from Google and is as sleek and elegant as you would assume. It can be utilized with Apple and Android products both. Contribute 1 USD every day to your selection of pre-selected foundations with this smartphone app.
Google checks the foundations so you can be assured your funds is in safe hands.  You can also establish a comparable provision and request your friends to give.  Sharing your philanthropic act with your social channels is simple.
Foundations get all of the funds given since Google includes the fee for the transaction. Contributions are processed via Network for Good. You can allow regular alarms so you will remember to donate.
8. Budge
If you consider contributing to charity is something of a burden, here is a game you will approve. Budge enables you to invite (make a bet) companions to do something, such as quit smoking, walk three miles, leap off a diving board, or lose weight.
If you win, your friends give it to charity. If your friends win, you donate. It is honest and entertaining and this is almost like a walk for charity app!
Budge prices five percent of the donation for transactions, and there might be fees for credit cards too.  Charges come out of the present, and the foundation gets the remainder.
9. GiveTide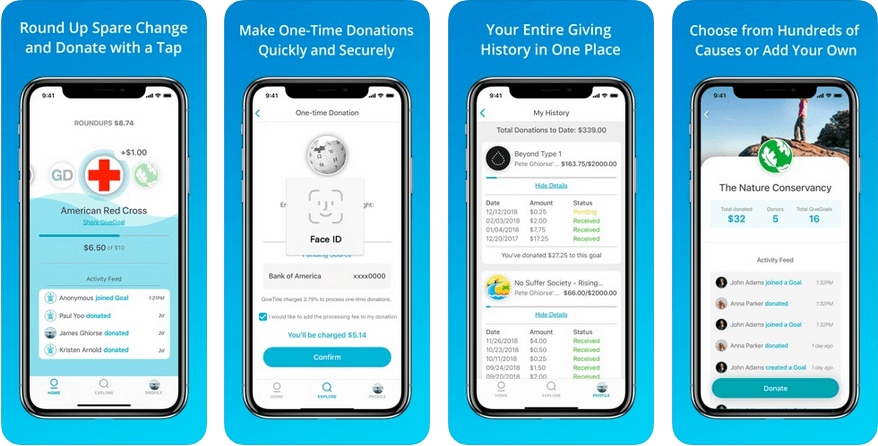 Donating to charity can be as simple as finishing a purchase and giving that price to a charity of your choosing. That is what this smart app arranges for you.  Just install the app, attach a debit or credit card, and begin shopping.
Each acquisition will be turned in to the most imminent dollar, and the difference donated. GiveTide takes the surge of interest in maintaining our capital the mobile way. The company is proud of its easy to use the app, meager processing fees, and total clarity.
Even though there is no charge to donors when you donate through this app, there is a charge for foundations that grows off the head of the contribution when installed. That is accurate for most contributions made via any third-party provider. However, GiveTide charges are among the most inexpensive in giving apps.
10. Thinking Of You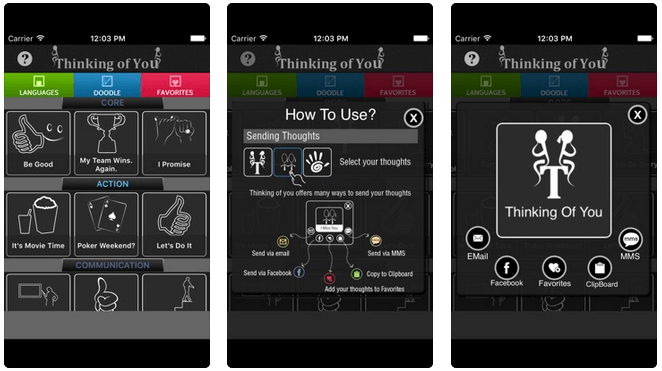 Did you ever want to give to charity but had no cash with you? Well, Thinking of You blends the power of thought with the comfort of mobile donation through amazing Mobile Application Development.
In a more cashless and busier society, it can get challenging to give to charity. Operating beside the most reputable charities and approved by the Charities Aid Foundation (CAF), the mobile app is the social network for donations.
Thinking of You enables you to give to a worthy cause on account of friends, plan fundraisers, and campaigns or just 'direct donate' to your chosen charity, all by some simple clicks on your phone. The app consolidates the act of donating and power of the words 'Thinking of You' in a sensible and smart way.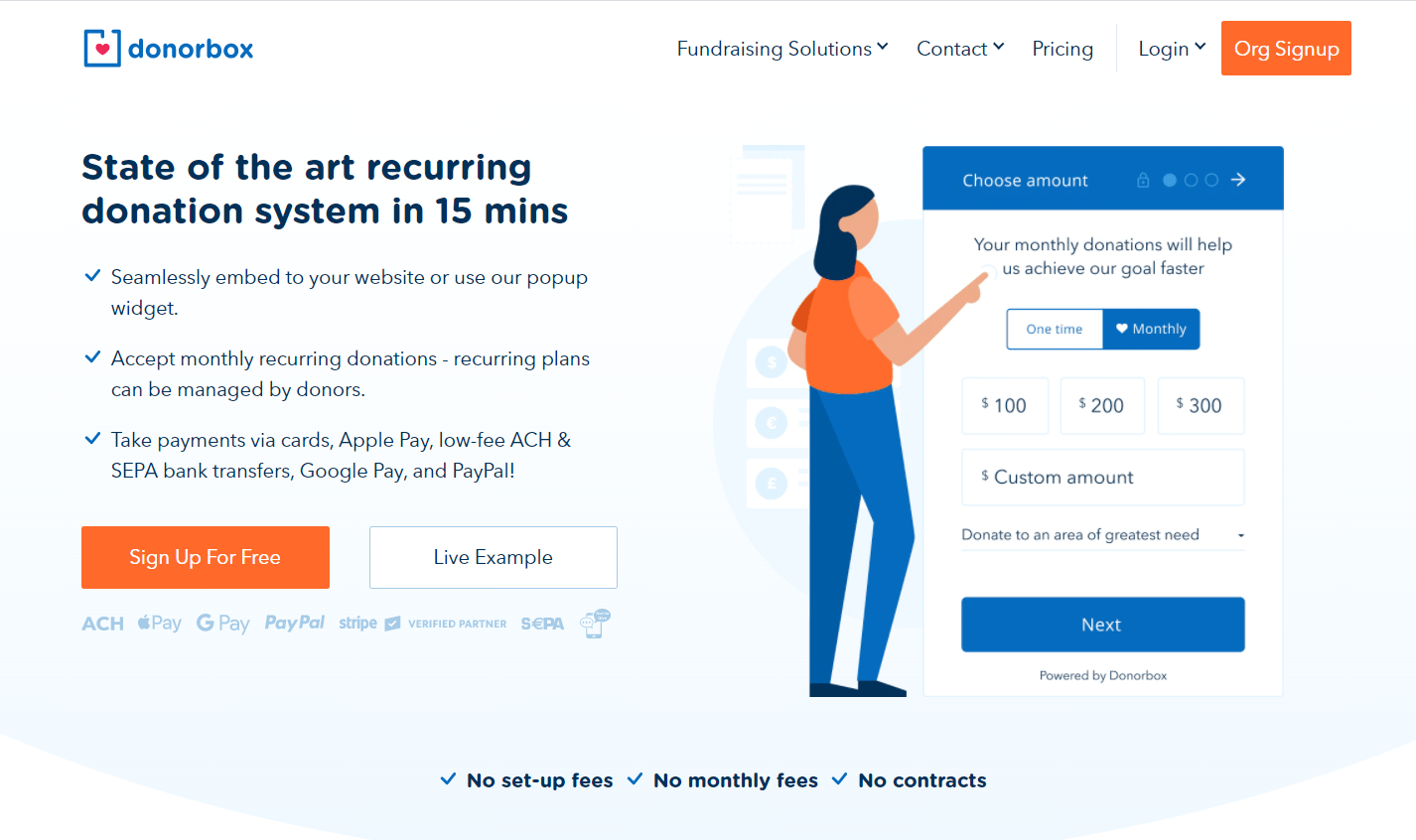 Donorbox is a state-of-the-art recurring donation system for nonprofit organizations looking to get regular donations online. With Donorbox, nonprofits can easily accept weekly, quarterly, monthly or even annual donations online. 
Whether you want to embed a donate button or install a donation form or donation page on your website, Donorbox has got you covered. You can easily customize your donation form or page that aligns with your brand scheme. 
Seamless integration with third-party applications, modern features like crowdfunding and text-to-give, a powerful donor management system, automatic donation receipt generation and a fast donor experience makes Donorbox one of the favorite fundraising platforms amongst nonprofits.
Conclusion
Due to developing technology, donating is now easy, quick, and nearly effortless. Contributors are scanning for approaches to donate to charitable purposes and are ready to give via digital channels. NGOs, NPOs, and people who desire to promote any objective can optimize online donating to allocate funds.
Online platforms reach contributors at a regional, national, and even global scope as people are inclined to receive calls for contributions on social networks or forward links with contribution information to friends.
Online fundraising can boost donations for individuals and organizations given that campaigns interest to the end audience or are of essential value.
So, Hire Mobile App Developer today to build the Best Charity Apps for you that runs properly and serves you to diffuse the information about those in shortage of assistance.
How can people donate in Charity?
You can donate to a charity via checkbooks, through a donor-advised fund, by joining a donation circle, finding intermediaries, giving online through websites, donating your clothing, car or food, or by giving your time.
Which are the best Charity App?
Budge, One Today, and Charity Miles are among the best charity apps right now.
How much it cost to develop a Charity App?
Since there is a lot that goes behind developing a charity app besides the technical aspects, it can cost you somewhere between 10000 USD to 15000 USD, inclusive of both a mobile app and a desktop website.
How does Charity Miles work?
As you bike, walk or run, the app monitors your range. Bikers collect 10 cents every mile for their foundation; runners and walkers collect 25 cents every mile. The money originates from the company and they acquire corporate supporters to back them in order to accomplish their marketing purposes.