How Much Does It Cost To Develop A Messaging App Like Snapchat?
Do you want to know what cost it will be taken to develop A Messaging App Like Snapchat?
Snapchat is one of the most engaging and interactive social media platforms that has garnered the attention of the users on a wider scale.
If you look closely, you may find that Snapchat is a popular video messaging app, that lets users take photos, record videos, add text, and drawings to them. And this does not stop here, but these creative snaps can further be shared with their friends and relatives.
In Q4 2019, Snapchat generated $ 561 million in revenue, with an increase of 44% year-over-year.
Do you still wonder how much is Snapchat worth?
To help you understand, we need to dig deeper into Snapchat's history, success story, and features.
Snapchat History Overview: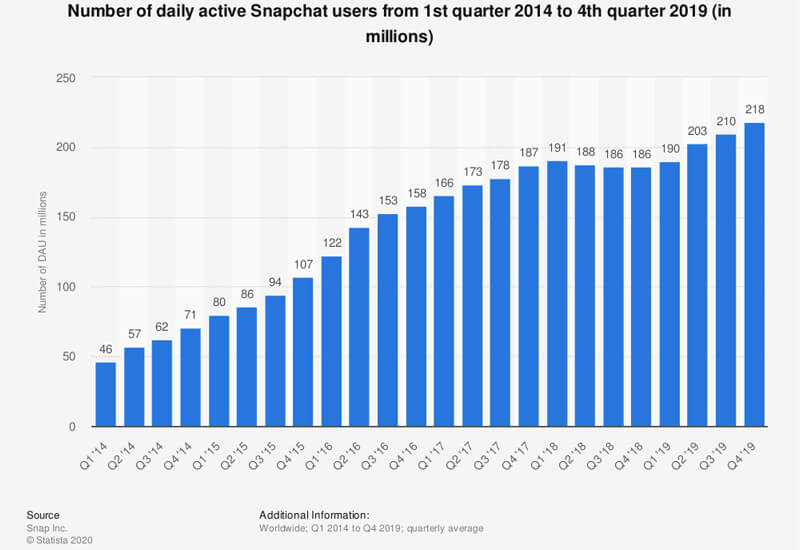 If you are thinking that when was Snapchat created? Then you must know that in the year 2011, Evan Spiegel and Bobby Murphy started Snapchat, when the social media market was already ruled by Facebook, Instagram, and Twitter.
Bringing an app in such a competitive environment was full of risks, but the concept of self-destructing pictures turned out to be phenomenal.
After a year of Snapchat launch, Mark Zuckerberg tried to acquire Snapchat for $3Billion deal. However, Spiegel turned the offer down.
By June 2014, Snapchat was recorded to be the value of $10 Billion and since then the constant evolution has helped it to grow insanely.
Snapchat's success has inspired a lot of entrepreneurs to try their hands in the app development like Snapchat.
But lack of information like how much does Snapchat cost plays a trick here and stops them to take the plunge.
But fret not, with this post we have got it covered for you that what is the Cost To Develop A Messaging App Like Snapchat. Also, every other essential that is required to create such an app, is covered further in this post.
Let's get on a quick tour to understand the magic that runs behind Snapchat and how much does Snapchat cost …
Top 10 features that let Snapchat grow popular: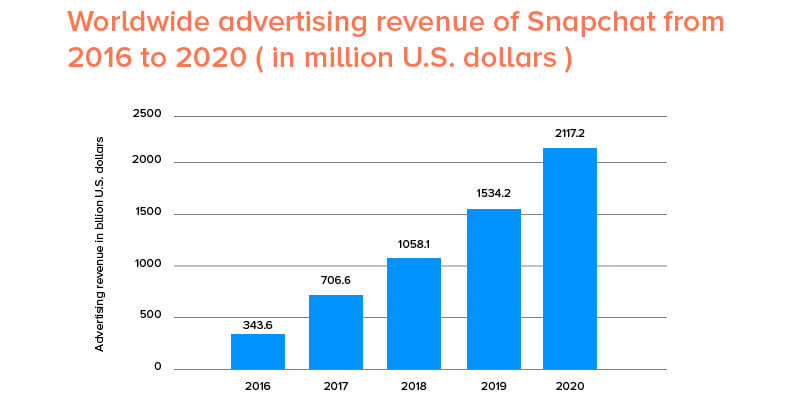 We all know that Snapchat is largely been used by Millenials and the sweet spot of user-engagement, is well addressed by Snapchat.
On average, users prefer to spend 49.5 minutes per day on Snapchat and send 34.1 messages a day.
What do you think must be the secret behind it? 
Do you think, what is Snapchat used for?
The Snapchat app is the messaging app, and its success has made it triple the number of daily active users, in just 3 years. And this could only be possible due to the engaging features included in Snapchat.
However, several features offer a basic but essential structure to the success story of Snapchat. To help you find out the MVP Snapchat features, we've brought you some features, mentioned further in this post.
1. Snaps
Snaps are the photos and videos captured in the app. Do you think how long are Snapchat videos' duration, actually these snaps get self-destructed and are short-lived? But this very feature has made Snapchat a very popular medium for interaction between users.
Further, in these snaps, users can edit the content with filters, text captions, drawings, and other aspects, to increase the engagement.
2. Lenses
Did I mention, that it is one of the most distinctive Snapchat's features?
Yes, you heard me all correct; actually, lenses are the funniest and visually impactful effect, that enliven any picture or video, to another level. Of course, how can you miss those highly-famous dog noses and ears or that sweet flower halos in the pictures?
3. Adding friends
Snapchat has showered its creative side onto this feature. A common social platform, lets the users to add new friends using their phone number or username.
But hey wait, this is not what Snapchat follows… but you can add friends with two engaging methods, such as:
Using a snap code, that can further be scanned from another user's device.
Users can add friends by locating nearby snapchatters.
4. Stories
These were originally invented by Snapchat in the app world. Stories are those videos and photos that stay available for you and your followers only for 24 hours. After 24 hours, stories prefer to bid adieu to you and get vanished.
5. Discover
Just like any other discover screen, this section provides a collection of stories from different editorial teams. Users can check CNN, National Geographic, MTV or any other. But don't forget, these stories would disappear in 24 hours just like ordinary Stories.
6. Stickers
Calling Stickers, as the main functionality of Snapchat would not be wrong. The Stickers are super engaging and can be added to photos and videos. This is hugely popular among youngsters, and even celebrities, love to use them often.
7. Video/audio calls
Yes, it is very much possible to use Snapchat as your audio/video calling platform. Also to keep the temperature high, this feature lets the users to send voice and video notes just like usual snaps.
8. Geofilters
Geofiltes, as the name suggests, is just another way to customize your snap. This feature lets the users apply something similar to stickers and lenses. Further, its offering differs, depending on the users' location and ongoing event.
9. Chatting
An app like Snapchat would be incomplete if it doesn't have the chatting feature. With this feature, users can exchange snaps, put filters and do several other activities using the app.
10. Snapcash
Snapcash is the newest and interesting feature, that allows users to send and receive money with this engaging financial addition feature.
How to make an app like Snapchat?
This question can be explained in much easier ways, with the steps mentioned herewith…
1 – Understand and research the market to figure out competitors
2 – Study your targeted audience and their requirements
3 – Set a list of features for your Snapchat-like app
4 – Define your budget and OS you want the app to be built on
5 – Hire an efficient app development company
6 – Conduct full-fledged QA to avoid any technical glitch
7 – Ensure to make an engaging marketing strategy
8 – Deploy and keep improving your app
Tip: To start with, don't create a bigger app. Even Snapchat started as a small messaging app. So in this run, keep the MVP features for your app, just ensure the UI/UX and features should be engaging for the users. So, Cost To Develop A Messaging App Like Snapchat, can be well answered.
Snapchat Tech Stack:
Application & Data
Language-Objective C
Framework (full stack)-Android SDK, Cocoa Touch (iOS)
Platform as a service- Google app Engine
Cloud Hosting- Google compute engine
Front-end frameworks
General analytics
Google Analytics
Transactional email
How does Snapchat make money?
Yes, this is the question that keeps staying intact in everyone's mind, and you want to know the source of monetization for Snapchat and the Cost To Develop A Messaging App Like Snapchat. Here is the secret revealed for you…
In-between Snap Ads- Snapchat users see the 10-second promotion of videos. They can swipe up to access more detailed content.
Branded GeoFilters- As per the geolocation, users can access highly-engaging AR filters that stay available for 30 days. Here Snapchat charges businesses $5 for coverage of 20,000 square feet.
Sponsored Lenses- This is quite similar to Geofilters. Here, businesses can advertise through their own customized lenses, and in return, Snapchat charges them.
Snapchat and its Highs & Lows:
Just like any other social platform, Snapchat is not escaped from the advantages and disadvantages of baggage. Just take a quick look at its pros and cons further…
Pros of Snapchat:
Snapchat is a great way to increase your brand awareness, as it has 210 million daily active users.
An ideal platform for time-sensitive promotions and pop-up sales.
Let's users send a story posted by a brand to a friend via direct message.
Cons of Snapchat:
Has a very limited set of the audience compared to other platforms.
The quick-view post is short-lived, and once gone, it doesn't leave a trace behind to be tracked.
The story stays active for 24 hours and chat, gets deleted after it's viewed by all recipients.
Cost To Develop A Messaging App Like Snapchat:
Cost is the main factor that can trigger or suppress your idea of building a Snapchat app for Android.
You know the question; how to make an app like Snapchat, is followed by cost.  But how much does Snapchat cost query is affected by different aspects such as type of technology, number of features, functionalities, locations, selection of mobile app development company, and many more.
But a cost range for an app with the MVP features would be around $30,000 and for both the platforms, the cost would be around $50,000.
You must remember this cost is only a rough structure based on the MVP features, and any further feature or technology integration can spike the cost up.
So don't wait any longer! Give wings to your concept and get in touch with leading Mobile App Development Company.
We will help you to start your project and make it successful.
Our team of experts will give you an idea of the time & Cost To Develop A Messaging App Like Snapchat and build a successful Snapchat clone app.
Most FAQ:
How much does it Cost to Develop a Chat App like Snapchat?
Once you have decided to make an app like Snapchat and you Hire iPhone App Developer, the first thing that troubles you is the cost to make an app like Snapchat. Considering its success, you must be thinking about how much did it cost to make Snapchat? Cost To Develop A Messaging App Like Snapchat would be around $30,000, and for both the platforms, the cost will spike up to $50,000. But remember this cost is just a rough estimation and can grow anything, depending on the features and functionalities used in it.
Are Snapchat ads worth it? What price will it take?
Snap Ads is the newest feature Snapchat, which are mobile video ads. To make it work for your business, you can add the choice of an interactive element to the ads. Although, the swipe-up rate for Snap Ads is 5X higher than the average CTR (click-through rate) of any other social platform. This makes it quite worthy. And the cost for Snap Ads varies by campaign, and the cost for Snap Ads campaigns starts at $3,000/month in ad spend and can go to any number.
Who is the most followed person on Snapchat?
The most followed person on Snapchat is the hottest celebs, including Ariana Grande to Kylie Jenner to DJ Khaled. You can watch them goof off, try out the newest filters, and share never-before-seen pics and videos.
How many active users are there in Snapchat?
Yes, it is a very interesting question. And you would be surprised to know that till Q2 2019, the active daily users on Snapchat were 210 million.