Learn How Much Does It Cost To Develop an App like Ubereats
Do you love to eat food at late night? Let's find out Cost To Develop App Like UberEats!
The growth of digital technology has showered its benefits not just in the various corporate and industrial sectors, but on the food sector as well.
The demand for on-demand food delivery applications is on the rise as ordering food online is convenient, comfortable & transparent.
GrubHub, Zomato, UberEats are the successful giants of the present industry. Such business ideas are ordained to success as a massive pool of mobile application users will always be using the apps irrespective of their demographic location.
The current app market is buzzing simply with one question – What is the cost to develop an app like UberEats? If done correctly, a food delivery app like UberEats can help you earn fortunes.
Get started with a Custom Mobile App Development Company today that will help you achieve your dreams.
The business model of Ubereats: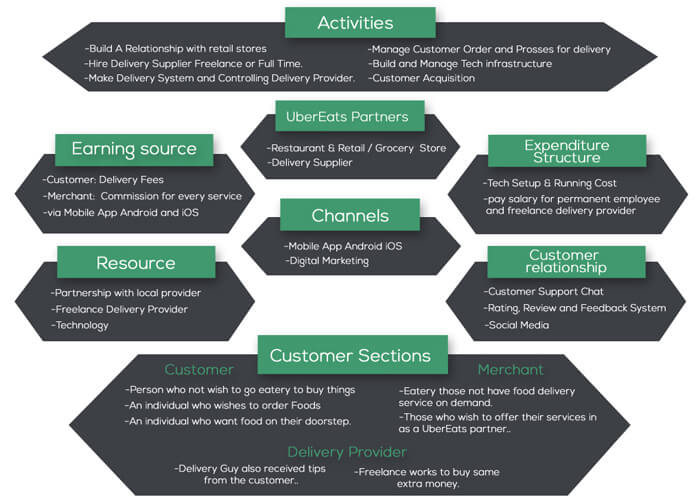 Gaining inspiration from UberEats for business accomplishment? In this competitive world, simply gaining inspiration is not adequate.
You must focus on the application monetization strategy for turning revenue as soon as possible from the app. In this case, go through the UberEats business model for understanding how it works.
Since the launch of UberEats in 2015, the app is highly renowned for playing dual roles – it is not just a delivery agent but an aggregator as well.
This online food order app provides access to numerous restaurants via a solitary online ordering application thereby integrating the conventional representation for food delivery.
In addition, the app has its very own logistics network as well; thereby rendering delivery for those restaurants that are not equipped with drivers. UberEats was launched as an unconnected app from the consumer application for the purpose of booking Uber car rides.
The following four components sum up the UberEats application business model. From this, you will also have a fair idea about how much does UberEats cost. Let us learn in detail.
Consumer – Synchronized Order Placing
Timelines, flexible menu and locations
In context to menus & restaurants, the offering list for customers is huge. In this scenario, UberEats functions similar to other food delivery enterprises. There is a massive amount of Uber cars accessible in numerous areas.
Consumer – Custom order placing
Preset delivery time, the specific location and specific product
This functions like custom ordering with anything resolute by the customer. Also, customers can choose the time in terms of the deliveries.
Here, you will find the Uber Drivers who have become a part of the entire delivery network by signing up or registering. The drivers are assigned orders by depending on the location they are currently at and also nearness to the restaurant & the customer is also kept in mind.
More than UberEats, the restaurants need to be in association with UberEats. A shift has occurred in consumer behavior towards the various on-demand foods delivery applications that are compelling traditional businesses to have an online presence on applications such as UberEats.
How UberEats Generate Revenue?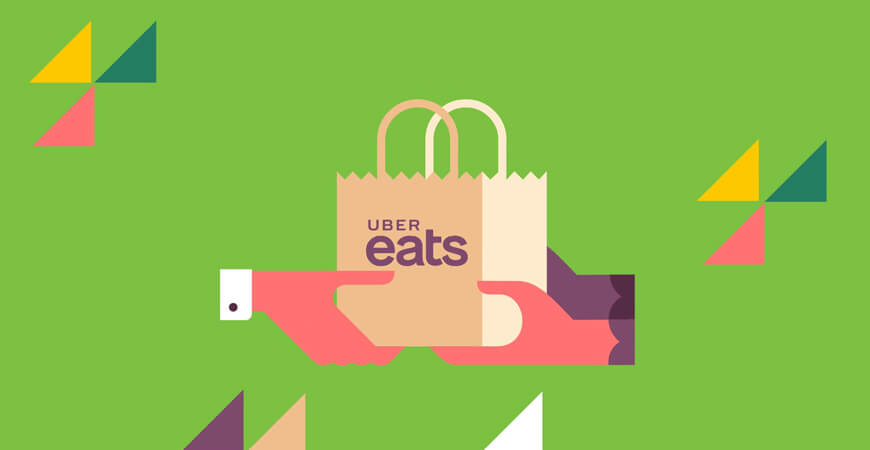 UberEats delivery charge from customers
UberEats pricing model goes like – Base price+Surcharges. The peak hours are lunch & dinner hours.
Revenue sharing with eateries
UberEats gets hands-on inveterate revenue sharing for all those orders that are accomplished by UberEats. 15% to 40% is the range & it depends on the market maturity.
Advertising profits from restaurant partners
UberEats charges an advertising fee from the restaurant partners for giving them the opportunity of appearing at the top searches. So whenever a user glances at listed restaurants, he/she will find those restaurants first.
In context to how much does UberEats charge restaurants, you must know that it charges a fee that ranges from $350 to $500 which is a one time fee. The fee will also depend on the extras the restaurants require, for instance, photography. The application will then charge a 30% commission on every order but sometimes few restaurants pay a fee that is slightly different.
Features that are a must-have for Food Ordering Applications: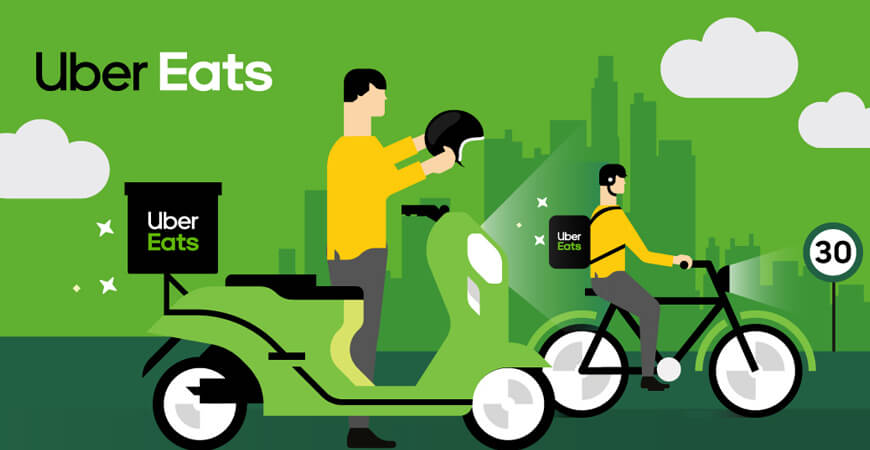 The reason why people will be interested to order food from an application similar to UberEats is because of the features included. So the only focus must not be the cost to develop apps like UberEats but the features incorporated as well.
Location tracking in a real-time manner
Users are so impressed with services like UberEats because of features like real-time tracking. Not only they can track orders but they can also learn about the approximate time of the order delivery completion.
This is useful for customers as well as restaurant owners as they will be then aware of the present location of the delivery executives.
While learning about how does UberEats work, you will also get familiar with the fact that the cost of food delivery apps like UberEats depends on aspects such as the features integrated.
The push notifications feature is a very important one as the customer receives notifications about everything starting from order acceptance, successful order delivery, etc.
This feature is powered by algorithms & DB infrastructure. With this, apps like UberEats are able to perform numerous analyses linked to business such as revenue reports, revenue projections, and driving trade by number.
With this app makers are able to control operational data that helps in offering shape to events that are time-sensitive.
A plethora of write-ups about the application is maintained and handed by admin. As an admin, you can manage the restaurants as well as your own write-ups.
When the question is How does UberEats make money, you can say by impressing its target audience with a number of payment options.
In scenarios when you are building your own app, you must integrate third-party services & applications as the payment procedure becomes simpler with this.
Pros and Cons
Especially when on-demand food delivery applications are concerned, if you move ahead with your own idea without knowing the pros and cons, then you might miss out on valuable information. Just getting familiar with the cost to develop apps like UberEats to get started is no longer enough.
Pros:
No need for moving muscles in order to get tasty cuisines right at your doorstep. Either at home or office doorstep, ordering food from an app like UberEats saves time and is very convenient.
Right now, for all orders, you just need to pay $5 as the UberEats delivery cost.
When you know how does UberEats work, it will be even easier for you to build your own on-demand food delivery app. The application has partnered with certain restaurants that usually do not deliver. So with UberEats, you can select your favorite cuisine from your preferred restaurant & eat it at the comfort of your home that otherwise would have required you to drive to the restaurant.
The customer service of the UberEats application is truly commendable. The tab called 'Issues' you can easily access in case you have any complaints. If you are not satisfied with any of your orders, the app will schedule a complete refund for the customer & that is something very impressive.
Cons:
The availability of restaurants is restricted. Sometimes restaurants listed might get orders wrong as well.
Late deliveries are something that many users have complained about to date. For instance, drivers do face traffic but UberEats is an advanced app & it enables you to witness the exact location of the driver, the route they are embarking on, how far the delivery boy is from you, etc. So it is expected that the deliveries will be right on time but it usually takes a little longer as compared to ordering directly from the restaurants.
Breakdown: Cost To Develop App Like UberEats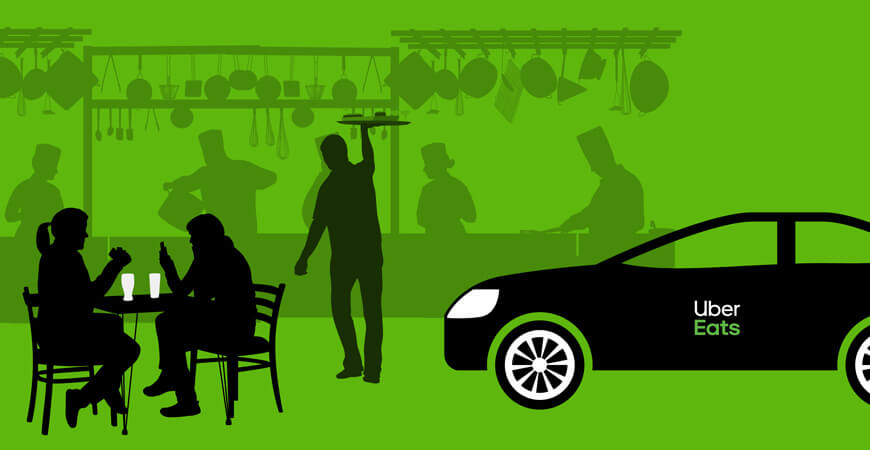 The cost of a food delivery app like UberEats matters a lot especially when you want to advance with the business idea of developing your own app.
To determine the correct cost to develop apps like UberEats, you need to take several aspects into account. It is best to learn from the experts or go through content like this where you can attain a fair idea of the entire development procedure of the application.
On average, if you want to learn about UberEats price in context to app development, you must know that it can vary from $12,000 to $20,000. Depending on the incorporation of other advanced features, the price can enhance up to $40,000 as well.
Indian Developer charges – $10 to $80 every hour
Eastern Europe Developer charges – $30 to $150 every hour
U.S. Developer charges – $50 to $250 every hour
If you want to learn specifically, the cost breakdown of the food delivery app like UberEats because of the technicalities included is as follows:
MVP testing ($2000 to $4000 – 80 hours)
Back-end & front-end development ($7000 to $15000 – 400 hours)
Bug fixing & polishing ($1000 to $2000 – 40 hours)
Technical documentation ($1000 to $1500 – 40 hours)
UX/UI design ($1500 to $3000 – 60 hours)
Conclusion
The current food delivery industry is a blooming one. If you want your online food order app to be a hit, gaining a solid market share in the industry is important.
This is going to be billion-dollar warfare that will get tougher with the increase in saturation. As you know the cost to develop an app like UberEats builds upon certain factors, how convenient you make the application for users also matters.
Starting from the signup, searching restaurants or dishes, placing orders, sending out payment, receiving on-time delivery; everything should be like a breeze. The customer should not have to struggle with any of the procedures.
Launching a food delivery app like UberEats that offers tough competition to all the big names in the industry will come with its own set of challenges. An Android app development company won't let you go through the challenges alone.
It will offer you an experienced team that will function in sync with your business idea & dream. Connect with us today.
Popular FAQ:
How much does it Cost to Develop food delivery App like UberEats?
It will cost $40,000 to Develop a food delivery app like UberEats.
What are the charges of UberEats Delivery?
Service fees are equivalent to 15% of the subtotal of order. It does not apply for restaurants that distribute their very own orders. The fees of small orders apply when the order's subtotal is lesser than a particular amount. The fees differ by cities but it will be either $2 for subtotals that are less than $3 or $10 for subtotals that are lesser than $15. However, the fee can be removed if you add more items.
Which one is better? GrubHub or UberEats?
UberEats is better as it offers very low prices to customers.
Which one is the cheapest Food Delivery App?
UberEats is the cheapest Food Delivery App.