iOS 13 Vs Android Q: Which Version will Impact more on Users?
Imagine if Android phones and iPhones didn't have the OS running them, then tech blogs all across the internet wouldn't exist either.
So, every year when Apple and Google declare any news related to their operating systems, every Mobile App Development Company, developer, tech blogger, and general tech enthusiasts pop out like meerkats on an African savannah.
And this year will be no different: Apple has proclaimed iOS 13 at the WWDC event, and Google has announced Android Q.
Apple is offering a dark mode that is system-wide, also giving users more control over their privacy settings and a whole other bunch of improvements developed to make iPhone safer and simpler to use.
Google, on the other side, is also offering dark mode, more security, and beneficial AI improvements.
Features of iOS 13 and Android Q
The four beta version is available for Android Q, while iOS's beta for their version is only currently accessible for developers.
A public iOS 13 beta will be launched in July and the final launch is probably during September.
The final launch of Android Q which will be renamed after some dessert by Google surely will also launch by September-October.
So far, this is all we know about the features of Android Q and iOS 13:
Android Q:
The following are Android Q features:
Foldable phone support
Sharing shortcuts
Multi-resume feature
Seamless access to notifications
UI rendering through Vulkan API
Dynamic Android, Android on Tap
Advanced Treble Support
Native screen recording
Android Q Dark Mode
Advanced smart locks
iOS 13:
The following are iOS 13 features:
System-wide Dark Mode
A new voice for Siri
Reinvented photos app
Latest reminder app
Sign in with Apple
Look-around map view
Position data limits
iOS 13 Vs. Android Q:
Comparison 1: Privacy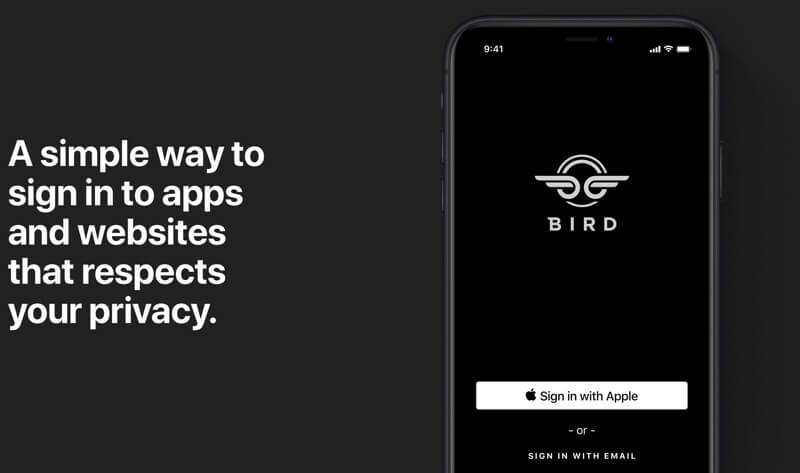 Privacy for Apple has been an important area to work on for years; unlike Google, business in Apple doesn't depend on user data-based targeted ads.
Apple, instead, makes money on the services, hardware, and apps it offers.
At WWDC, it was announced by Apple that it would provide users more power over location approvals with apps, opting to share that data once and then have the app ask again if it needs it.
Apple also revealed a new method of sign-in that allows you to sign into apps and websites anonymously without being traced. The feature is called 'Sign in with Apple' and every app will include this by the final launch.
Google is also taking measures to protect its user data better. Recently, Sundar Pichai, the CEO of Google, stated in an opinion piece in New York Times that "privacy cannot be a luxury good offered only to people who can afford to buy premium products and services."
However, the case for Google is tough since a primary source of its income is from ads, for example, based on searches and videos users watch.
They are taking a big step towards the right direction with the new version: Android Q will give users more power over what data they share via services and apps.
But the way Google and Apple approach privacy show up in various ways. For instance, Google is looking to update to Chrome browsers (according to some developers) with privacy and hobble-ad blocking extensions.
In comparison, Apple announced last year that Safari would block trackers from third-party from tracking user activity across the internet.
Winner: iOS 13
Comparison 2: Dark Mode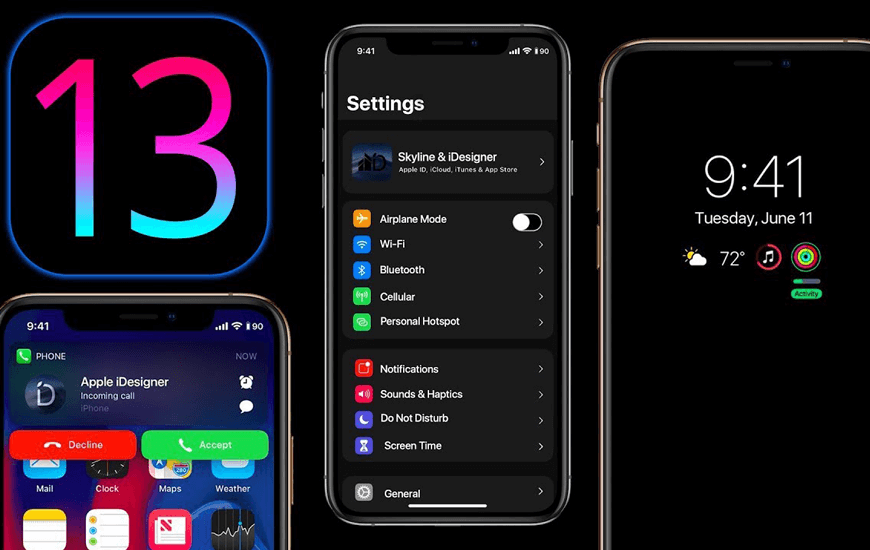 Dark Mode is going to do wonders for your battery life through lighting up lesser pixels on your screen and decreasing eye strain.
Google collapsed a similar mode into Android Pie last year, but the theme wasn't utilized everywhere. In the earlier Android Q Beta, the dark mode is distributed evenly across the mobile operating system.
However, in this version, Gmail and Chrome still lack the option of dark mode.
Apple is the one with more experience in this space. It went dark on the desktop first, and then followed it up with macOS Mojave's dark appearance in 2018. In the new iOS, Apple will put this mode to the mobile OS.
At the WWDC, Apple listed a wide selection of places that will have the theme of dark mode-from notifications to widgets to wallpaper and from messages to calendars. Therefore, the theme is going to uniform all over iOS 13 mobile devices.
Winner: iOS 13
Comparison 3: Capturing, Editing and Sharing Images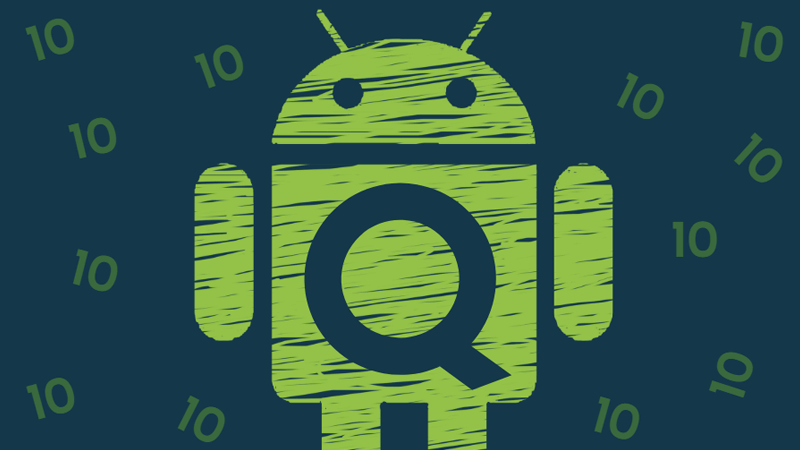 Google Photos provides almost anything you'd ever want from a photo service. It merges flawless photo sharing and backup with dynamic, simple editing tools to develop a basic photography tool for Android phones.
The Night Site mode on Pixel smartphones, for example, is enough to tip the favor towards Android. Since it is from Google, you can look for things, people and places to check all the tags Google Photos has assigned. Plus, the 15GB of storage is free online.
There are many amazing editing tools from Apple Photos and in iOS 13; the application will obtain more, additionally, the capability to modify portrait lighting intensity with a slider.
Recognizing scenes, faces, and objects are something Apple Photos excels in. The first 5GB of storage on iCloud is free.
Winner: Android Q
Comparison 4: Using Mobile Apps Elsewhere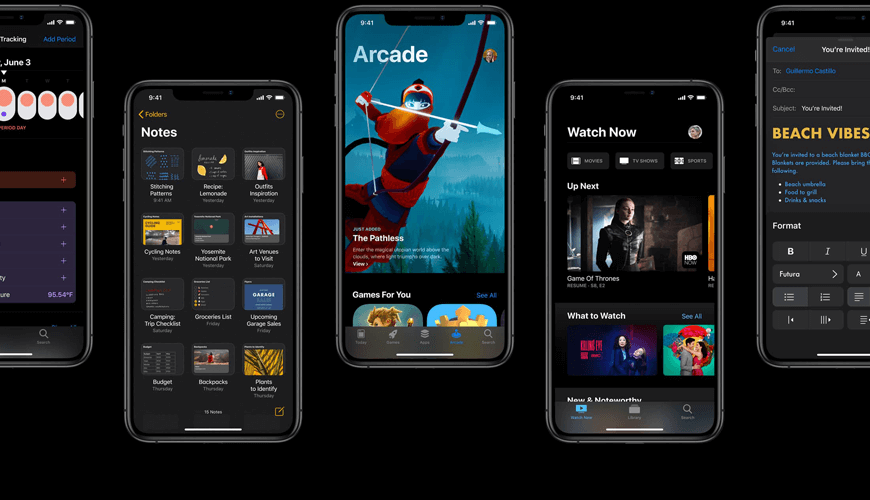 Apple had announced last year that they will be moving their iOS apps to macOS via a new tool called Project Marzipan (the name has been changed to Project Catalyst).
Apple is also going to allow iPad apps to crossover to Mac. This shift can profit every iOS App Development Company they can now develop apps that can run on both Apple's desktop and mobile platforms.
Google lets app developers do the same through access to Android applications by Chromebooks via the Google Play Store.
However, Chromebook has limitations-an internet connection is mandatory and they don't have popular MacOs and Windows apps like AdobePhotoshop and Microsoft office.
Winner: iOS 13
Comparison 5: Gaming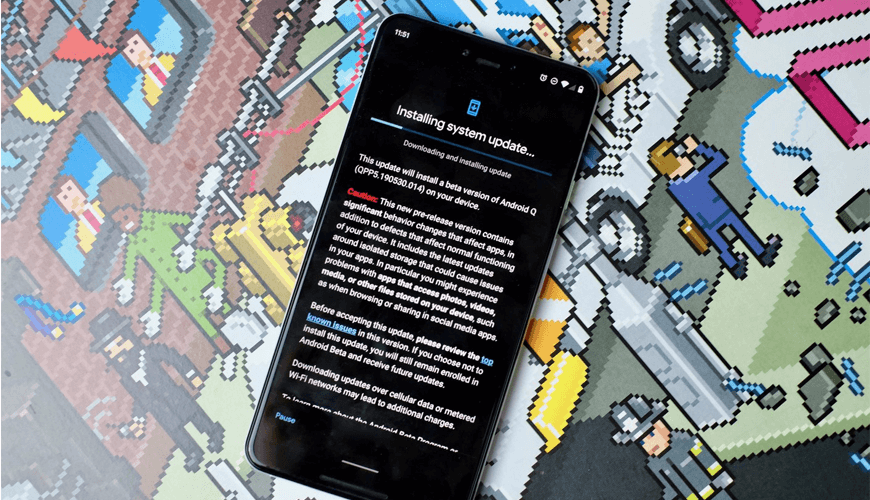 You will be able to play games on Apple TV, Mac, iPad, and iPhone with Apple Arcade.
In fact, Apple also announced at WWDC that Arcade will be compatible with PlayStation DualShock 4 and Xbox One S controllers.
Stadia from Google is mostly about game streaming and will allow you to play anywhere you can access a Chrome browser. Stadia will have its own and third-party controllers (Google promises Stadia compatibility with other controllers).
Arcade will debut later in 2019 while Stadia will launch in November, there are limited demos available for experts to study (Google Stadia was available for demo at the last Game Developer Conference) but if you have a steady internet connection and prefer console games, Stadia is a better option thanks to its service driven by controllers.
If you are an occasional gamer, Apple's Arcade might be more suitable for you.
Winner: Tie
Comparison 6: Facetime vs. Duo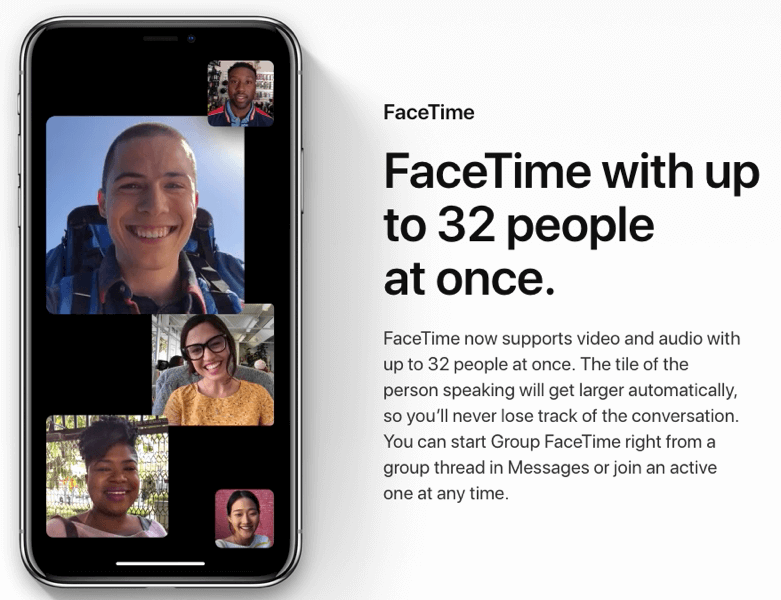 Apple is focusing on Messages and FaceTime, which are the best when it comes to optimal text and video chat. Every communication is encrypted end-to-end.
The messaging tradeoff between MacOs and iOS is flawless. And with the recent Memoji update on iOS 13, you can customize your avatars even more.
The messaging on Google is more varies. They have Hangouts and Duo for video and voice calls, Google Voice for voice calls only, Hangouts Chat and Meet for business correspondence, and Messages for texting.
You can utilize the Hangouts website to keep messaging on Windows and Mac devices, and you can store your Messages texts through the app's web version.
The web version may not be flawless and it sometimes can get disconnected from the service's mobile version, but it is useful.
Winner: iOS 13
Comparison 7: Voice Assistants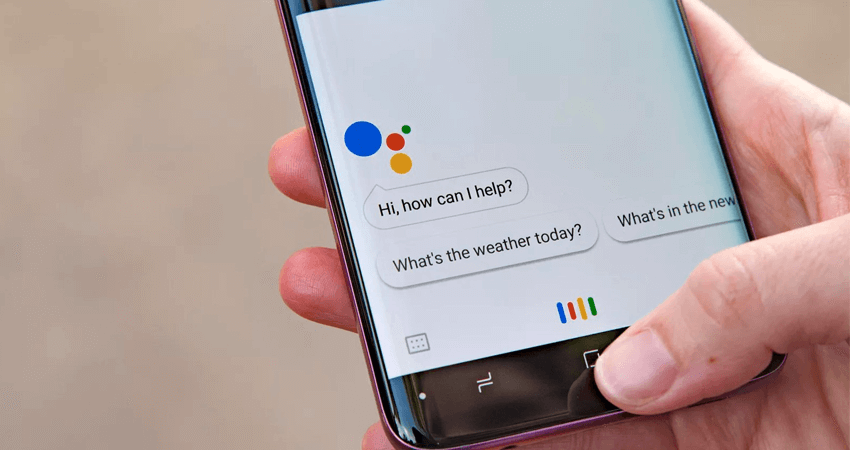 Apple may have been the leader when it came out with Siri in 2011, but Google Assistant soon trumped it, and throughout the years, Apple hasn't done much to update Siri.
In the iOS 13 version, Siri is getting a new robot voice and is supposed to better after learning a few tricks, like looking in Apple Watch for WatchOS and being capable to read and interact with incoming messages via AirPods and play radio stations.
iOS 13 is also going to come with Siri Shortcuts that will be preloaded.
However, Siri does not work as well as Google Assistant does at identifying and learning various commands and voices.
It is this simple functionality that is at the heart of Siri's problem, but Google Assistant has integrated this securely into everything your phone does, and can actively make suggestions by glancing at your Gmail account and calendar for future appointments and reservations.
Google has installed Assistant on all Android phones, in the Google Home Max, Google Home Mini and into automobiles as Assistant Driving Mode.
At the last Google I/O Developers Conference, they also announced a variety of personalization features of Google Assistant.
Siri is available widely on WatchOS, iOS, and macOS devices and HomePod. Shortcuts on Siri can develop personalized tasks that the smart assistant on Apple can do for you.
However, Siri isn't that impressive, mostly due to the limited database it draws from while Google has far richer sources.
Winner: Android Q
Comparison 8: Swipe Keyboards
If you don't like typing and enjoy swiping more, iOS 13 is obtaining a swipe keyboard, which is cool for iOS fans but also quite late.
Google has had its own swipe keyboard, Gboard, and several other Android smartphones introduce other applications like Swiftkey into their virtual default keyboards.
There are many things to enjoy about Gboard, specifically, besides its swiping abilities, you can use different themes, different language and insert GIFS easily.
Apple did demo its QuickPath typing, and it does look good, but it's not as good as its competitors. It is difficult to praise this feature when it came so late.
Winner: Android Q
Comparison 9: Maps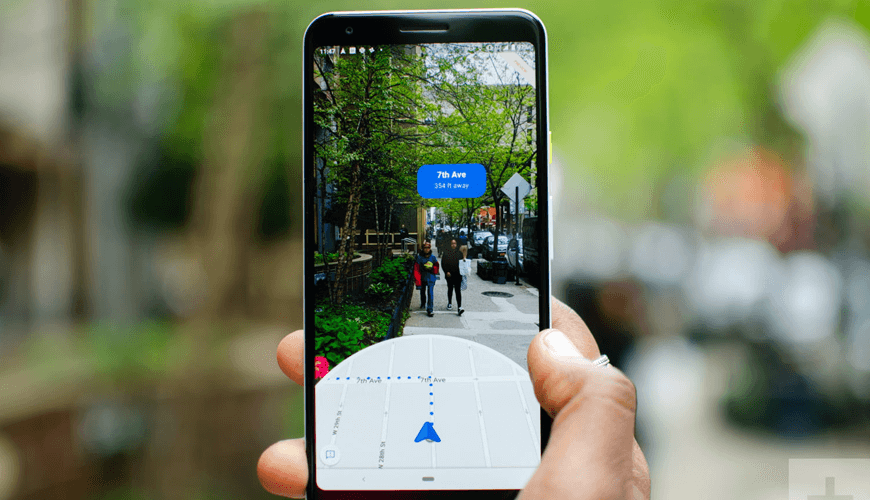 Apple Maps is great if you need to get from one place to another. Apple is using iOS 13 to rebuild Maps to introduce better pedestrian and road information and more accurate addresses.
Apple will also include a tool called Look Around in its Maps that will allow you to see any location in 3D.
Google Maps, on the other hand, has had this feature for quite some time now, including Street View, the 3D mode. And Google has so much more.
Additionally, they are consistently updating the Maps app to make even better to help you get around, in part by collapsing beneficial portions of its other map application named Waze.
The Maps app is also helpful after you have arrived at your destination. For instance, the Explore tab allows you to find virtually endless listings of establishments to eat and things you can do in your area.
Winner: Android Q
Conclusion
While the next couple of months are going to be exciting for users and professionals alike, we don't know how these will work in the real world until we have the final launches in our hands.
But so far, Android Q looks really impressive and iOS 13 is makings efforts to fill in the gaps and rise up to the demands and the increasing competition they are facing from Google.
This intense rivalry between the two, at the end of the day, promises some really awesome things for us!