How to Build a Mobile Survey App?
Data holds substantial importance in the digital world. And where does this data come from? The majority of the data that companies collect is by conducting surveys.
Almost every reputed business carries out a survey before launching a product or service in the market. As everything has become digital so have surveys! Therefore, it came into existence the concept of a mobile survey app.
We know a lot of questions just popped up in your head. For instance, is my survey mobile app even possible? Or whether a mobile survey app can be completely customized?
This blog is an attempt to clear as many queries as possible about survey apps. But the maximum technical knowledge, of course, can be gained only from a hybrid app development company.
What is a Survey App? Why Does a Business Need it?
A mobile app survey is a digital method adopted by companies to design and conduct surveys.
The platform will attract the desired audience to respond to the questionnaire and a company will then analyze that data collected. A survey platform can have a customized questionnaire.
Some of the most common reasons for using one are:
Market research
As mentioned earlier no company will launch a new product/service without some market research. In this case, the survey platforms act as a means of predicting the reaction and demand of the audience towards their latest launch.
Product Feedback
The app survey approach is a great way of knowing what the target audience actually thinks of the product. A company can find out the most loved features and what are the areas that need improvement.
Keep a Track of Customer Satisfaction
Companies use free polling apps for smartphones to connect with their audience and get their feedback. The feedback helps them improve the user experience, deciding new strategies, and setting new goals.
Decide the Pricing
As easy as it seems, deciding the right price for a product/service is never easy. The price needs to be high enough to earn profits and low enough to grab the attention of customers. Especially small businesses use a mobile survey app to decide prices.
Employee Engagement Rate
Enterprises where employees are considered a valuable asset, they use a survey app to find their employees' opinions.
Now, that you know why large enterprises choose to make a survey app, let's move forward.
Best Design Practices To Build a Survey App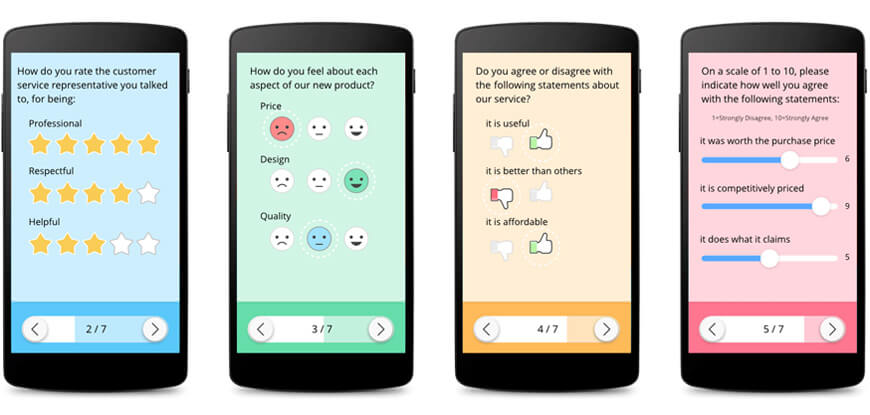 When you make your own survey app, the first challenge that you come across is its design. Designing a mobile app for surveys is quite different from designing web-based surveys due to the screen size.
Keep in mind the following design practices:
Identify your target audience first so that you are clear about their requirements.
The questions should be as short as possible. Avoid using unnecessary words.
Large text boxes, long drop-down menus, and lengthy options list in a multiple-choice question should be avoided to the maximum. All of these things are difficult to manage on a mobile screen.
A user shouldn't have to scroll up and down to fill your survey.
Break down the survey in smaller sections.
Images and videos may use battery and mobile data. Avoid them too as much as possible.
A mobile data collector app is always a better option than a web browser-based survey.
Before going live, test your survey on major mobile platforms.
How To Make A Survey App & It's Primary Features:
Every app is unique. But also every app type has a certain set of features that are must-have. Also, not to forget there are always open-source solutions to compete with your survey app.
So, make sure that your application offers something more than a free survey app.
Here are some of the important functionalities to keep in mind when you create your own survey application:
Templates
Templates are the basic necessity of any survey application. If you want someone to use your survey platform then you should give them options for templates.
A template will help the user to immediately start with the creation of a new survey. Paid/free survey apps that have well-planned templates are popular among the users as they don't have to design one from scratch.
Types of Mobile App Survey Questions:
A survey platform should typically allow the user to choose types of questions and answers as per their preference. Some of the common types for the same are:
Multiple Answers – In this case, a user can choose multiple answers to the given question. The list will also include an 'other' option where a user is allowed to present a different answer apart from the given options. If someone is not able to find an appropriate answer, they may randomly answer the question. So, if you don't want biased results, include the 'other' option.
Single Answer – The respondent will be allowed to choose a single answer from the given options. The 'other' option can be present here too.
Open-ended Questions – Even though such questions are the best way for a company to understand its customers, it is difficult to analyze the data from open-ended questions.
Drop-down Lists – These present an easy way for the respondents to choose an answer from the available options.
Rating Scales – In such questions, the respondent can give any rating between 0 to 10.
Likert Scales – You may have come across surveys that give options for answers like "I would definitely use it" or "I may use it". This range of options is referred to as Likert Scales. Likert Scales are a popular choice for customer satisfaction surveys.
Matrix Questions – It is a great choice for several questions with the same answering options. But there should always be a limit on matrix questions as the large ones are sometimes difficult to answer.
Skip Logic
How many times did you get frustrated in the past due to the irrelevant questions in a survey? If you don't want your users to face the same hassles while using your survey app, then skip logic is a must-have feature.
Skip logic will design a custom path for every respondent. A custom path means the next question will be asked on the basis of the answer to the current question. Skip logic is a great feature to improve user experience.
Moreover, it will reduce the length of your survey. If a user is not troubled with a lot of questions it is only obvious that survey completion rates will increase too.
Fewer questions also mean that the respondents will give qualitative answers. Hence, this is definitely one of the features to consider.
Data Analysis & Export
What is the use of data if it cannot be analyzed precisely? Right? For that, you need to include analysis tools in your survey app for iPhone and Android. These tools will collect data and provide real-time results.
The results can be in the form of charts or graphs, whatever is more convenient. A survey app usually includes filters to enable companies to focus on specific data.
Not to forget, the app should also support exporting the data in multiple formats like PowerPoint, Excel, and PDF.
Tips To Build A Successful Survey App:
We are sure that you must be a lot clearer about developing your own survey app Android and iOS.
So, this is the last bit of useful information from our end to make sure that all your efforts in making your dream app get you the desired results.
Check out the following tips for making a successful survey app:
Single Question On The Screen
In the case of web surveys, respondents can see more content on their screen. That is not possible with mobile survey apps. Firstly, the design needs to be intuitive.
Most of the users will not put the effort into scrolling the page and hiding some questions may negatively impact the overall user experience.
Complex Questions Are Not Allowed
By now you have understood that there is some difference in creating mobile survey apps and web-based surveys. The difference will apply in this case too.
Open-ended questions where a respondent has to type the answer are more suitable for web-based surveys. On the other hand, for mobile survey apps, the best option is the drop-down list.
A respondent can quickly answer the question on the go. Avoiding complex questions will increase the chances of respondents completing the survey and that too thoughtfully.
Notifications
The importance of notifications is unparalleled for every application type. Free or paid survey apps are no exceptions to the rule.
Even the mobile survey apps need to send timely reminders to the users to use it. The engagement rate and response rate will increase with the implementation of notifications.
UI/UX of The App
We have emphasized the difference between web-based survey app and mobile survey app sufficiently. It applies to the UI/UX of the app too.
If you are thinking that the design of a web app will work perfectly well in the mobile app too, then you are highly mistaken. As the smartphone screens are small, the text size will be the first thing that will differ.
You need a larger text size so that the answers can be easily selected. Furthermore, images are a great option for desktop surveys but definitely not for mobile surveys.
Conclusion
It's been a while that surveys are used exclusively to collect data about customers as well as employees. A survey app has proved to be a useful tool for companies to collect data and plan ahead for their latest launch as well as improve their existing product/service in the market.
We sincerely hope you found all the necessary and basic information about how to create a survey app and things to consider before launching it.
For a more detailed approach to your app idea, it is best to reach out to a cross-platform app development company. A cross-platform app development company knows how the major mobile platforms work and can deliver the best results to you in no time.
Did you just get a brilliant survey app idea? Do you want to target both Android & iOS users? Discuss your idea with our team on [email protected]!  We will get back to you with proper details for further discussion.

Most FAQ:
What are the Business Models for Survey Platforms?
The business models are freemium, paid apps, and survey rewards.
Which are the Best Survey Mobile Apps?
Some of the best survey mobile apps are Survey Junkie, Swagbucks, LifePoints, InboxDollars, MobileXpression, etc.
What is the name of the Google Survey App?
The name of the Google Survey app is Google Opinion Rewards.
How do you create a Survey App?
You need to follow some basic steps to create a survey app. Start with the app idea, do some research, create some rough sketches of your app, design the app, create the landing page, finish the coding, and launch the application in the relevant app store.