Top 15 Push Notifications Services & Tools to Use Now.
Push Notification Services were founded in 2008 by Apple when they launched their iOS 3 mobile operating system.
Later, this technology was adopted by Microsoft for Windows and Google for the Android OS as well.
Since then push notifications have grown into a primary portion of a platform's range including desktop/web internet.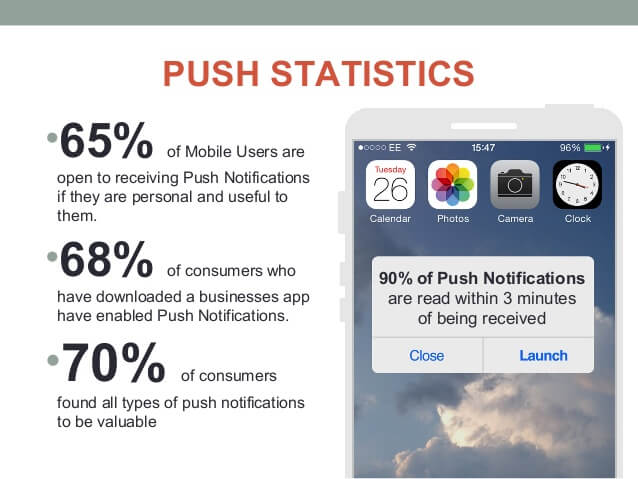 What is Push Notification?
The technology of push notification allows delivering information from the app to the desktop or the mobile device without requesting the app particularly, which implies you don't need to start the app to get the push notification.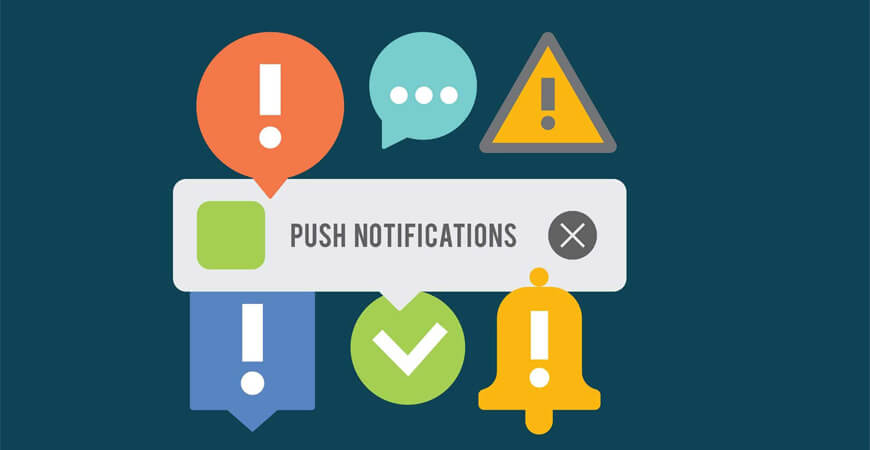 The technology has been around for eleven years, so many platforms for it have emerged now.
Today this technology is being used to deliver any kind of information to app users, such as specials ("Get 20% OFF on your order this Saturday!" on an e-commerce app), messages based on location ("Come to our store and enjoy prices as low as $40!" for physical stores), new content that is available to read on media and news apps like Netflix, YouTube, CNN, and others ("Stranger Things 3 streaming now!" for media apps like Netflix), and many, many more.
Among the many ways, a Mobile App Development Company can use the push notification to provide features for tracking deliveries.
It lets app owners get a message of their order's status – a notification sent for each action, from shipped to delivered.
The reason why this technology is still so relevant and popular is simple. Leanplum conducted a survey where they found out that push notifications increased purchases by times ten and pushed in-app spending to 16%.
In fact, another survey from Urban Airship showed that Android App Development and iOS App Development companies who ignored optional push notifications, they lost 95 cents for every dollar they spent on acquiring users.
Top 15 Push Notification Services and Tools: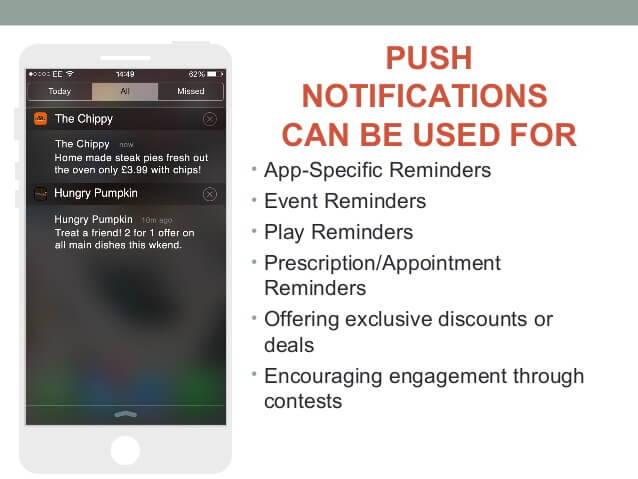 Now that we've discussed the importance of Push Notifications technology and how critical it is for attending to user churn difficulty, let us look at some of the best Push Notifications Services and Tools:
1. Amazon SNS:
Amazon Simple Notification Service was released in April 2010 by Amazon to help developers of mobile app work and support them to create more complex apps.
The company's program provides app owners, handling a particular API, to post app Push Notifications to various platforms (iOS, Windows Phone, Android, and Fire OS).
Amazon SNS has several notable clients such as Yik Yak, WunderList, Hike Messenger, Yelp, etc.
Features:
Amazon SNS has top-level hardware structure, simple APIS with simple integration with mobile apps, flexible delivery of messages across various sending protocols, low-cost model and the AWS Management Console based web provides the convenience of a point-and-click interface.
Pricing:
The first delivery of a million notifications is free, after that, it is 0.50 USD/ million.
2. Carnival.io:
This platform prides itself on encouraging actual user management and maximizing customer progress. Developers are given an easy SDK to consolidate Carnival.io into apps.
Marketers can then develop all their projects online instead of waiting for developers to build its program by program.
All information can be accessed in real-time to develop extremely particular user parts for more customized campaigns.
Features:
Carnival.io stands out for its intensive messaging features, letting app owners send emojis, links, images, and videos through an effective and uncomplicated interface.
It is possible to transmit push notification, message customization, in-app notifications, also automate them. It also comes with a feature for analytics.
Pricing:
It starts from 1000 USD/ month, but it can mount based on the type of organization and the Monthly Active Users number.
3. OneSignal: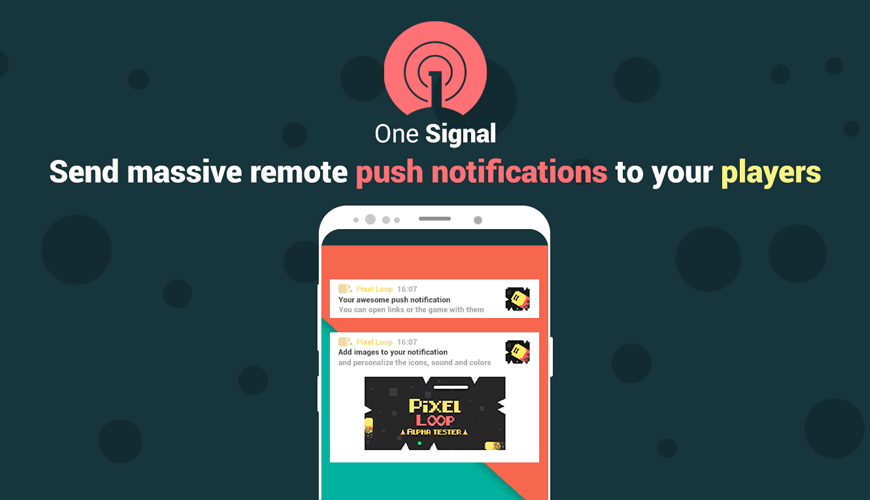 OneSignal is a cross-platform Push Notifications service organization, established in 2014 by George Deglin.
The platform is being utilized by almost 300,000 app developers to transfer 1.2 billion Push Notifications every day for 100,000 mobile applications.
UBER, LINE, Adobe, Cisco, and Slate are amongst its clients.
Features:
OneSignal provides support for unlimited notifications and devices, A/B testing, delivery scheduling, localization, full API, unlimited segments, trusted by almost 300,000 developers, and data export and import.
Pricing:
There are free plans, starter plans for 100 USD/month and pro plans 500 USD/month.
4. Kumulos:
Kumulos offers a high level of management of mobile app performance platform for software and mobile app development companies.
Among the top features that this platform promise is Push Notifications that are customizable for specific brands.
Features:
This platform allows you time zone-specific schedules push notification messages that are localized, develop effective channels, segments, and filters to target the right audience, send data background to change the app, use geo-fencing capacities to target audiences, use the API on Kumulos to automate messages that are based on app events, and track results real-time.
Pricing:
The average rate is 50 USD/month and up, depending on a definite package.
5. Pushwoosh: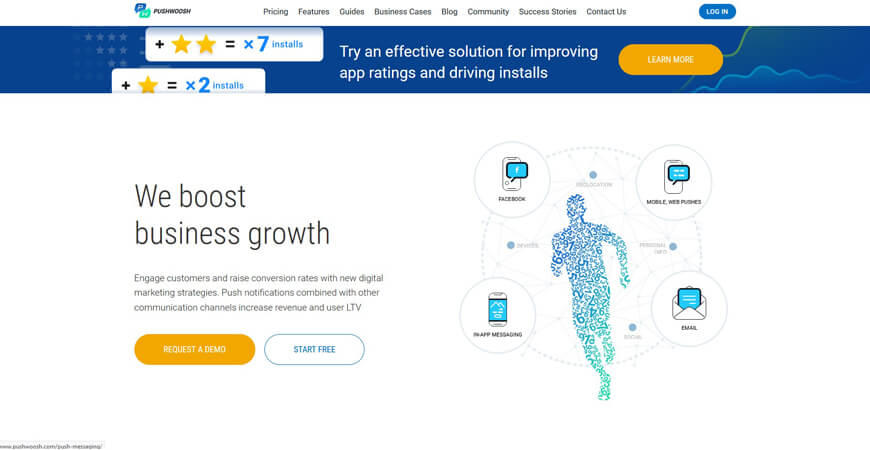 Pushwoosh is a Push Notifications service organization established in Washington, the US in 2011.
The organization offers a wide variety of tools for marketing computerization to transfer web and mobile Push Notifications, implement campaigns achievement report, messaging in-app and more.
Features:
You get a demo, private cloud, segmentation, deep linking, support for multiple languages, in-app messaging, statistics, and support on 21 development platforms with Pushwoosh.
Pricing:
Pushwoosh has a free plan to back up to 1,000 devices, up to 50,000 42USD/month, up to 300,000 devices for 126 USD/month and an Enterprise plan for more than 300,000 devices.
6. Airship: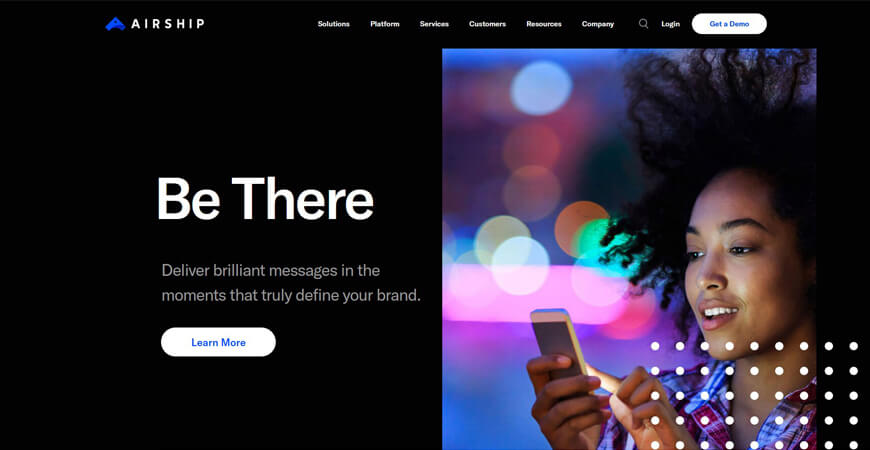 An airship is a mobile engagement organization, established in Portland, the US in 2009.
The functionality of the company platform links in-app messaging, analytics, proximity/location targeting, and app push messaging.
The airship is directed at driving brands to promote their mobile approach and support them to be effective with a mobile carrier.
The variety of business the company runs with includes travel, hospitality, media, entertainment, sports, and retail companies such as Virgin Galactic, Adidas, ABS News, etc.
Features:
Airship notifies customers on many marketing channels like SMS, chat-bots, etc.
They provide customers with real-time data consolidated from present data.
They calculate, evaluate, and estimate customer behavior through machine learning.
Pricing:
Price on request.
7. Leanplum:
Leanplum is a platform for mobile marketing that concentrates on user engagement on apps. It was established in San Francisco, the US in 2012.
Among the many tools that LeanPlum gives to marketers and app developers is Push Notifications to assist them in transforming, appealing, and maintaining app users. TED, Zynga, NBC, and Tinder among their many clients.
Features:
You get a demo, emoji support, and they claim of app revenue increase to up to seven times the usual and also increase in user retention up to 17%.
Pricing:
Enterprise plan rates are available only on request.
8. Inercom: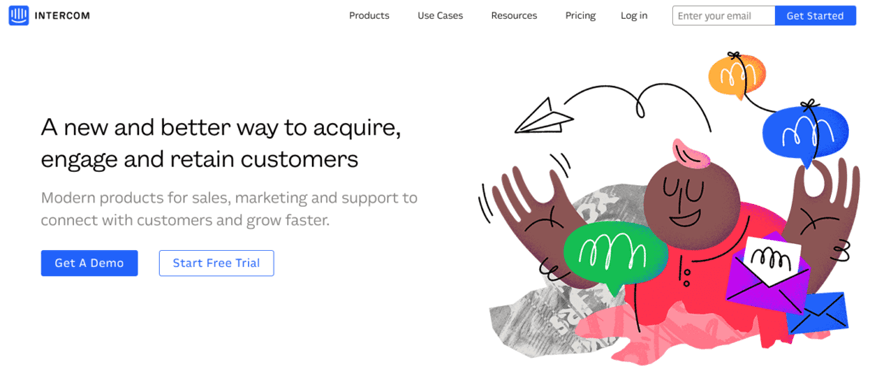 Intercom is a platform for customer messaging that provides a collection of tools for communication that encourages businesses to react, involve, and educate consumers.
Its Push Notifications services enable app marketers and developers to target their app users beyond the app with messages to onboard unique users, publish the latest features, also re-engage users that are inert and not applying the app enough.
Features:
Intercom provides unlimited support to notifications and devices, auto-messaging, segmentation, in-app messaging, automation, one-off and automated e-mails, goal tracking, and metrics.
Pricing:
There are three plans: Essential (87 USD/month, Pro (153 USD/month), and Premium (custom pricing).
9. SWRVE: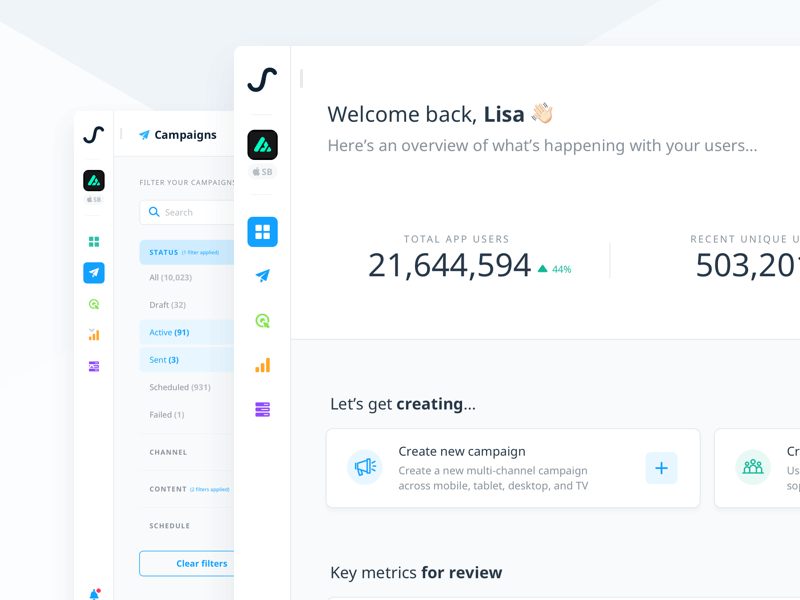 SWRVE is one of the most popular automation companies for mobile marketing. It was founded in 2011 in San Francisco, US.
Transmitting Push Notifications is only among the many services that the company offers.
It has succeeded in securing high profile customers like McAfee, Sony, Life360, Warner Bros., and Electronic Arts.
Features:
SWRVE offers segmentation capacities to enable high levels of push message customization, local delivery support, and A/B testing with analytic tools.
Pricing:
It is free but premium paid packages are available on request.
10. Mixpanel: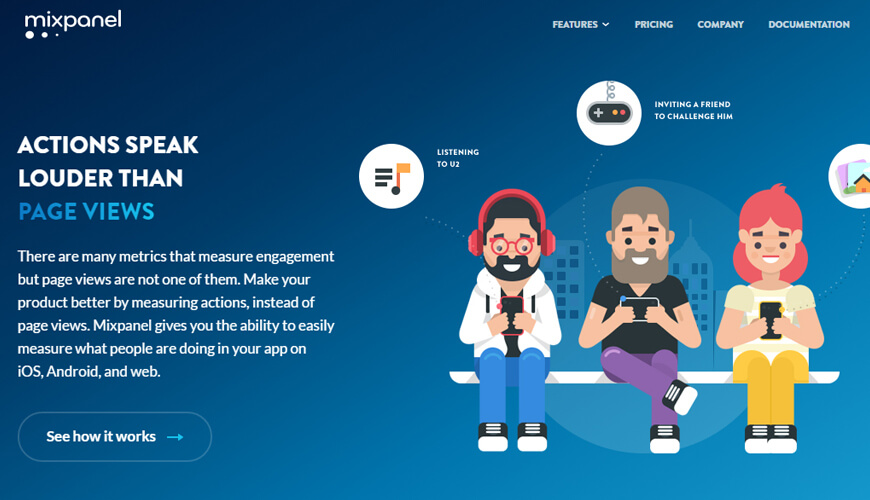 Mixpanel is a marketing analytics service organization. It traces user interactions with mobile and web applications and gives tools for concentrated communication with users.
Its toolset includes forms for user survey and in-app A/B tests. Data gathered is utilized to create custom records and gauge user engagement and maintenance.
Features:
Mixpanel provides retroactive funnel recording features, real-time information evaluations, and segmentation to optimize push notifications. It also contains automation and A/B testing.
Pricing:
It has three plans: Free, Startup (999 USD/year), and Enterprise (price on request).
11. Catapush:
Catapush is an app and web Push Notifications organization, founded in 2015 in Italy.
Catapush's platform enables businesses with the system of 2Way communication that conveys transaction push and web notifications driven by data.
The company's contentious benefit over its rivals is that it gives businesses and developers a real-time communication way with their clients.
Features:
Catapush has 2Way communication capacity, a real-time channel devoted to IP for delivering messages, Android and Apple support, capacity to push 100,000 messages at the same time, encryption support, and focus on transaction notifications.
Pricing:
The first 100 messages are free, and rates start from 29 EUR to 249 EUR after that.
12. Taplytics: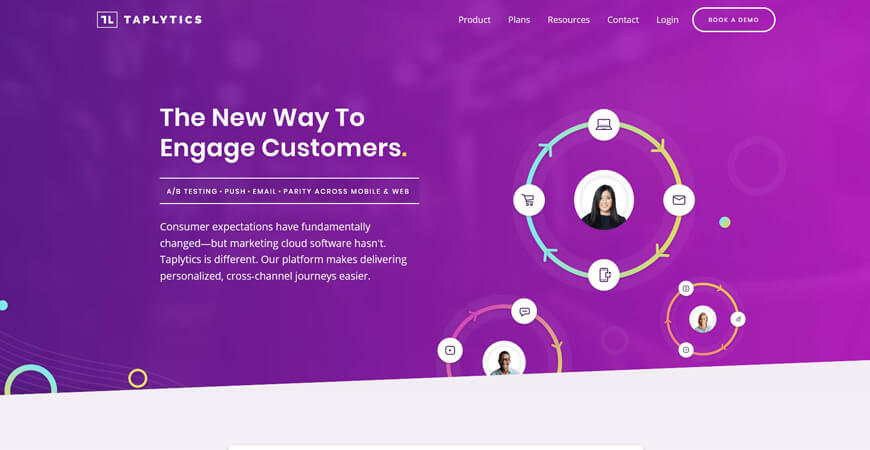 Taplytics is a mobile analytics, A/B testing, and push notification platform.
Features:
Taplytics features automatic messaging to deliver custom messages, geolocation assistance to convey Push Notifications in particular locations, A/B testing to challenge the most beneficial blend of a message, place, and timing, and analytics to gauge and assess the influence on mobile user action.
Pricing:
Prices are available on request.
13. DaoPush:

DaoPush is the latest high-tech advertising platform that enables publishers to cash-on and exchange traffic through push notifications.
Features:
DaoPush features several tested landings in every vertical and geo-localized translation, easily integrating with any source of traffic, sparring mode, frequent statistic updates, honest and quick advertising moderation, own-based subscribers, and high ROI on convertible traffic.
Pricing:
The minimum cost for entry is 5 USD. The funds for deposit and withdrawal are separate.
14. Aimtell: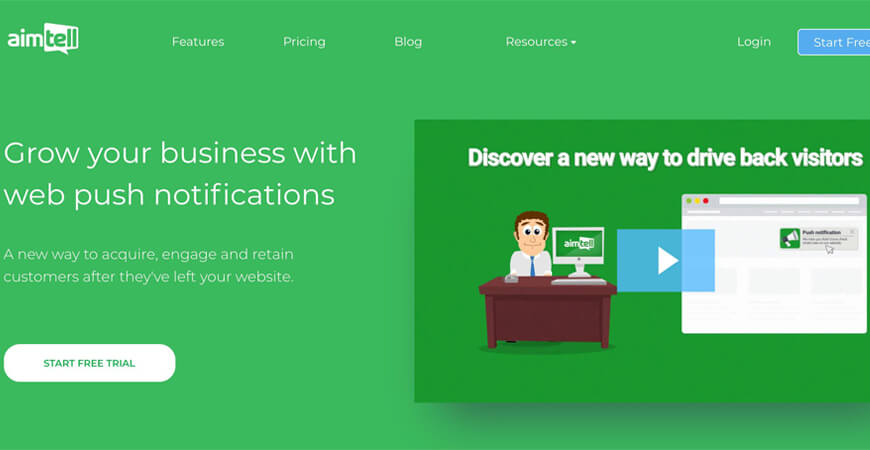 Aimtell is a mobile and web Push Notifications platform, founded in 2015, in the US.
Until now, Aimtell has sent over 5 billion push notifications.
This platform puts special pressure on the security and privacy of their client data.
Features:
Its features include team management capacities, full API, conversion monitoring, third-party integrations, dynamic notifications, subscriber alias, custom branding, and A/B testing.
Pricing:
There are 3 plans: Starter (29 USD/month), Basic (50 USD/month), Plus (100 USD/month), and Enterprise (custom price).
15. Braze: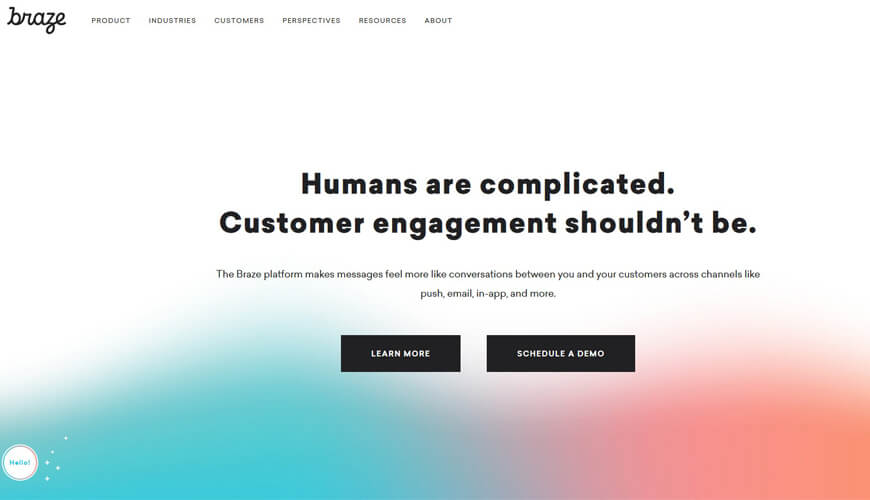 Braze is a marketing automation organization founded in New York in 2011.
It helps app owners solve app abandonment issues, improve engagement, and diminish churn.
Among Braze's clients, iHeart Media, Urban Outfitters, Shutterfly, and Epix are some notable ones.
Features:
Braze features sleek systems of a user profile, enhanced customer segmentation, and cross-channel messaging (News Feed, email, in-app messages, push notifications).
Pricing:
Not currently available.
Conclusion
There are even more push notification services and platforms than mentioned here, and the sheer amount of them available can get quite confusing.
But as you long as you know what you want for your app and how you want to target your audience, choosing a push notification service is easy.