Top 10 Healthcare Mobile Apps to Install Now
To think of a world without our mobile phones is now unimaginable.
We manage almost every aspect of our lives on it, from managing our work schedules to book restaurant reservations, and the healthcare industry is finally waking up to this aspect and investing in developing Healthcare Mobile Apps.
The healthcare industry is now actively looking to hire a android app development agency to develop healthcare apps more than ever before.
What is mHealth?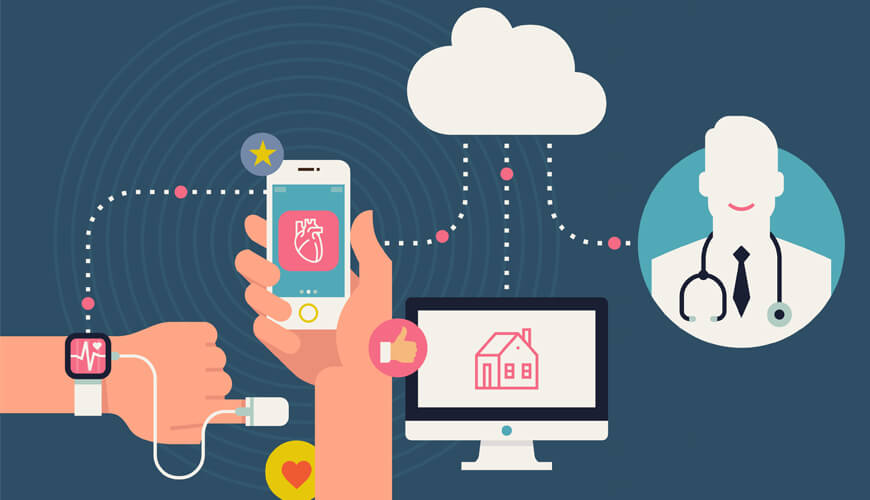 In regards to this phenomenon, you must have come across the term mhealth (mobile health), which is proof of how technology and healthcare application are converging in our times.
mHealth refers to the subcategory of eHealth that deals with medicinal practice integrating with public healthcare supported by computer or mobile devices.
The term is used to mean the application of mobile devices such as tablets, mobile phones, and PDAs among others for data collection about care services.
mHealth covers a wide area—from the community and clinical data collection to real-time monitoring of the patient by medical personnel.
Healthcare mobile apps have exploded into the landscape of care because of their capability to streamline access to healthcare and provide superior care from both the patients' and the providers' point of view.
Mhealth apps have massive potential but the structure of healthcare is kind of conventional, so some may raise the question of why they should invest in mobile application development services when the old ways are efficient enough?
Mobile Health Market's report of 2013-2018 states that 80% of healthcare providers use medical apps and smartphone as tools and platforms for patient-doctor interaction.
Thus, the market for Mobile App Development is assessed to increase to $26 billion in the coming years. Businesswire estimates that transactions and healthcare data will be made available on mobile and travel through the Cloud by the year 2020.
Benefits of Healthcare Mobile Apps:

Mhealth apps have various benefits, for both patients and care providers that include:
Easy access to healthcare
Medical apps have reduced the waiting time for both patients and doctors and improved the efficiency of the whole care process. It is easier to choose providers, book appointments and conduct follow-up sessions.
Streamlined interaction between providers
Sometimes the care process takes too long due to the constant back-and-forth between doctors, imaging systems and pathology labs among others.
Medical apps for doctors makes this cycle more streamlined and helps people to interact better, thus enabling timely and informed decision-making.
Maintaining medical records
Medical apps that maintain the patient history and medical records are a crucial need for most providers.
These apps easily facilitate the recording of examination, diagnosis, treatment regimens and medication with no need for multiple data entry sources.
Remote patient interaction
Apps now provide options for video-calls, e-prescriptions, remote medication monitoring and can map vital body statistics to alert care providers in cases of emergency.
Thus, remote patients can now get better access to the best healthcare through healthcare alone no matter where they are.
Care support for chronic conditions
Chronic conditions like diabetes now use medical apps for patients as an important support system.
Such apps help patients to manage their levels of blood sugar, maintain their nutrition and more to avoid complications of their conditions.
Besides diseases, care also included wellness of body and mind. Thus, wellness apps are also becoming popular exponentially.
Now a person who wants to maintain their weight can download an app to track their exercise, sleep, and diet.
Continued learning for providers
The medical world is a place of continuous discovery, so mobile health applications that keep a track of new conditions and diseases, innovations, new medical devices and methods, pharmaceutical discovery and ongoing research are extremely useful to doctors.
Types of mHealth Apps: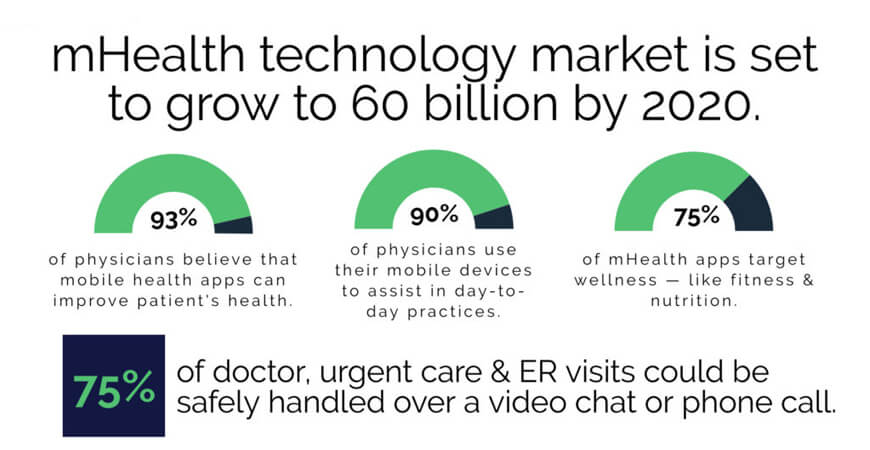 Mobile health applications mostly target two demographics, which are:
Apps help in the automation of some of the more tasks that are time-consuming by optimizing how providers store, interpret and share data related to a patient's care.
Using apps specifically designed for the healthcare and medical industry, providers can decrease the time they are spending on monitoring and communicating with their patients.
This results in reducing the workload of the administration and gives them more time to spend time on developing treatment plans that are most effective based on the most accurate and recent data.
Apps that cater to consumers are usually more tuned into the user's everyday life, assisting them in managing a specific treatment course or a healthy lifestyle.
Such apps often do multiple calculations, send out reminders to maintain a specific health-related thing or provide checklists.
Since most consumer-focused apps are free or affordable, it has contributed largely to the quick spread of mHealth apps in the general population.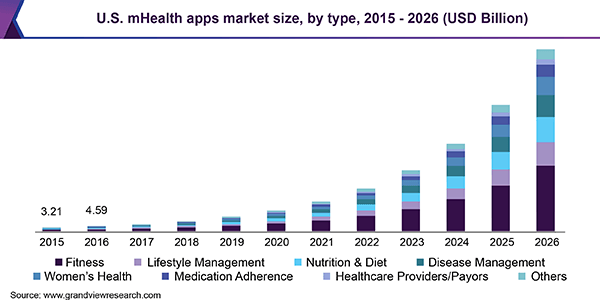 Best Healthcare Apps:
Here are some of the best healthcare apps now available across various mobile devices:
AirStrip's objective is to improve providing care with mobile interoperability resolutions that connect patients and doctors across workflow, technology, and geographic boundaries.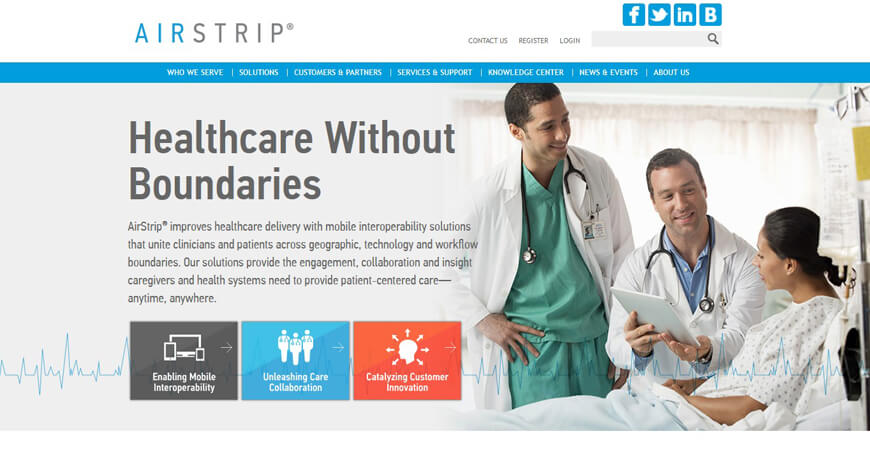 The solutions offer the insight, engagement and collaboration capabilities for health systems and caregiver to provide care centered on patients.
The app allows health systems to access the complete potential of their prior technology investments with mobile interoperability that unlocks access to important patient data across the care cycle.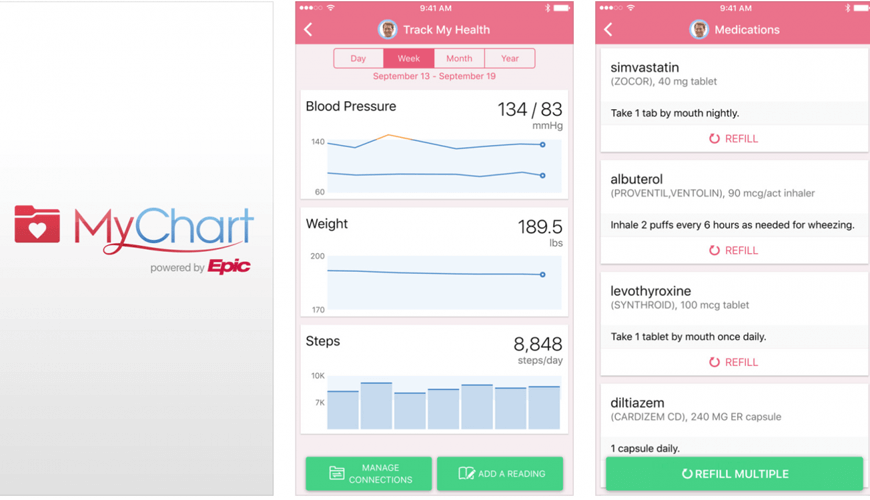 Among the most popular medical applications for Android users, MyChart allows users access to health data from prior in-office visits to doctors and other care providers.
Viewable information includes medication, health conditions hinted by providers, test results and immunizations.
MyChart also allows users to confirm appointments, upload patient-generated information and pay healthcare bills.
Through this app, patients can schedule/confirm appointments and directly message their care providers. Additionally, most reputed clinics and hospitals across North America opt to use this mobile app to maintain and manage their records.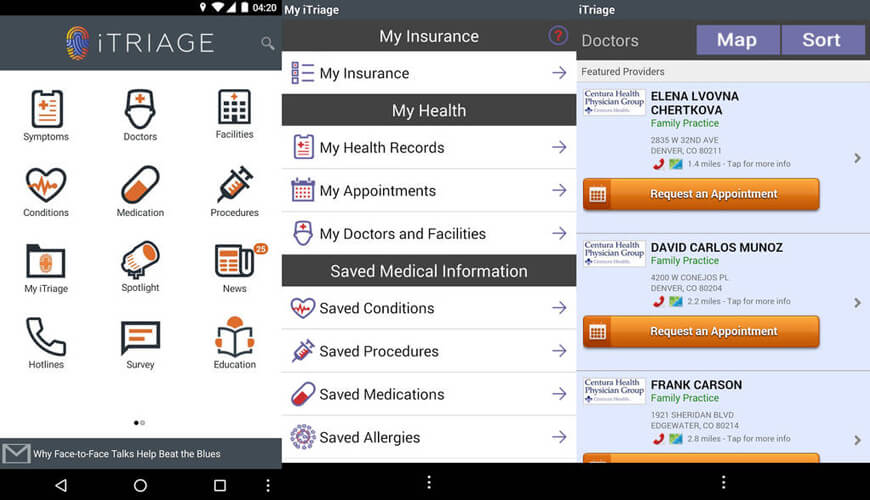 Itriage is one of the most popular healthcare apps for patients that allow users to directly find advice on their conditions and provide them with step-by-step guides to treat their problems in the best way possible.
The app provides patients with directions to not only treat themselves but also tells if their condition is serious enough to see a care provider, and even provides the directions to the nearest care provider.
The app also allows users to review claims and safely store their health information.
This medical assistant app provides solutions to entire workflows and maintains clinical communications on one device.
Every team, from care to ancillary staff can communicate and collaborate for the purpose of enhanced care coordination.
Users can also check patient data from an inventory that contains information on allergies, vital, measurements, etc.
This Android app supports quick communication, streamlined collaboration and alert maintenance workflows for care providers.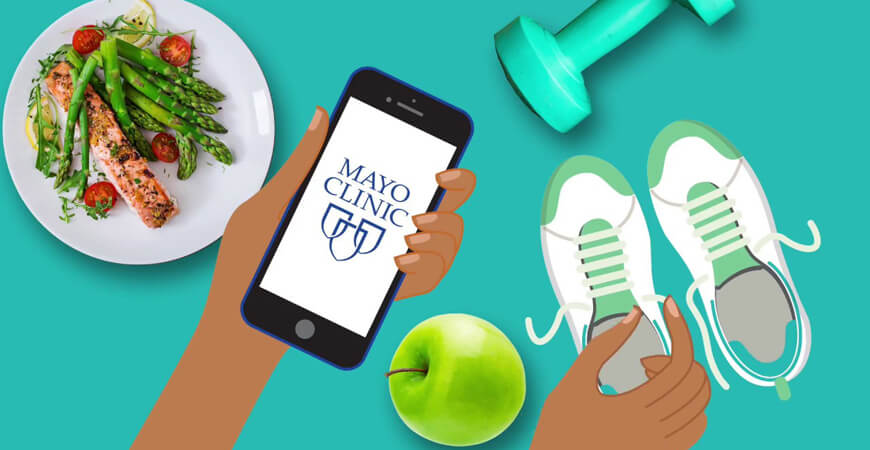 The Mayo Clinic app helps clinicians to view clinical patient data who have been sent to Mayo Clinic for care.
The app can be used to access information on patient facts, images, clinical documents, lab results, vital signs, and medications.
Marbella provides doctors, nurses and other care providers a platform to use their smartphones to maintain patient rounding.
This app can be used to collect patient data beyond general rounding, including quality and safety audits.
Marbella can be used in waiting rooms, clinics and hospital on any mobile device.
The app connects with other vendor systems and provides users with real-time tracking and alert to check manual follow-ups.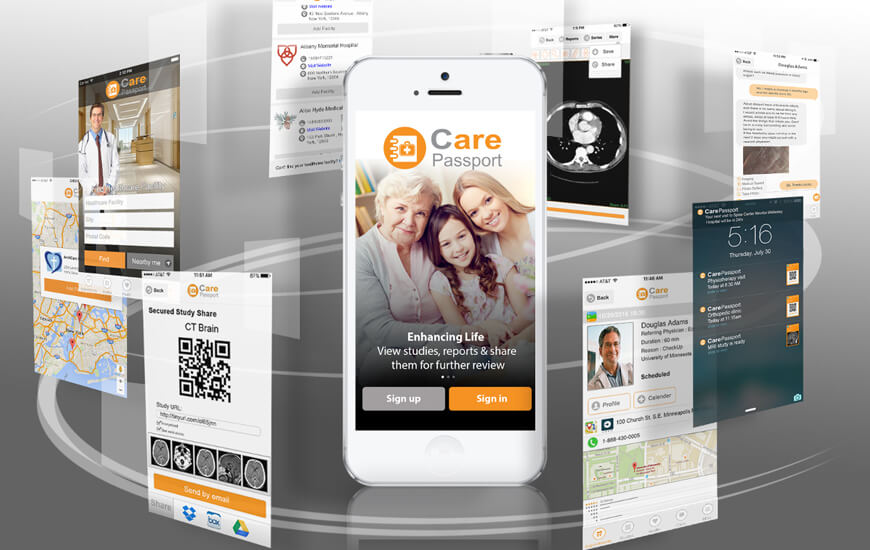 CarePassport is one of the best medical apps for patients to accumulate and check their medical data, including lab results, medical images, dental records and more from various healthcare providers.
Patients also can build up their records from any provider, Apple Watch, Fitbit, PDF documents or any self-reported records and store them on this app.
Thus, users can track their health and access their data anywhere from any mobile device.
DSS Inc. provides clinical staff and doctors with a suite of mobile features based on EHR that improves patient safety and care, coordination and offers interoperable workflows focused at decreasing administrative costs.
DSS gives both administrative and clinical tools that cover home mobile care maintenance and billing systems to emergency room management and scheduling tools.
Though this healthcare app is more condition-specific, it is still extremely useful. ClotMD is among the best medical apps for patients who are suffering from conditions that require them to take anticoagulants.
The app allows both providers and patients to manage the use of warfarin (an anticoagulant) on a mobile or computer device.
Patients can use the app to manage INR levels, testing schedules, dosing calculations and more while staying in touch with healthcare providers in real-time.

Among the apple health providers, CareKit is used largely by healthcare providers to engage with their patients before and after leaving their care, create a single platform for the whole staff and team to monitor their patients and use the platform as a space for a plug-in for other services (for example, non-emergency transportation).
Uber Health, for instance, uses this platform to provide emergency transportation.
Future of Medical Apps:
The active integration of information technology in the field of medicine is a huge step towards improvement in the healthcare industry.
mHealth is aiding already to prevent critical diagnoses, tracking current rehabilitation and monitoring health symptoms.
Regardless of the challenges faced by the sector, such as continuous updates to regulations and lack of security standards, it is obvious that mHealth will be playing a crucial part in the future.
With 1.7 billion people estimated to download or use medical apps in recent years, the mobile development sector is ready for new innovations and players.
Based on geography, the international market for healthcare apps is divided into North America, Asia Pacific, Middle East, Africa, and Latin America.
The mHealth market in North America increased exponentially due to more people adapting to smartphones and the rise of wellness apps.
The Asia Pacific is estimated to follow primarily due to the initiatives led by governments in spreading awareness of healthcare.
Furthermore, an increase in population in rural areas in India, Indonesia and Vietnam, can be a driving factor for the mHealth market to accelerate in the Asia Pacific.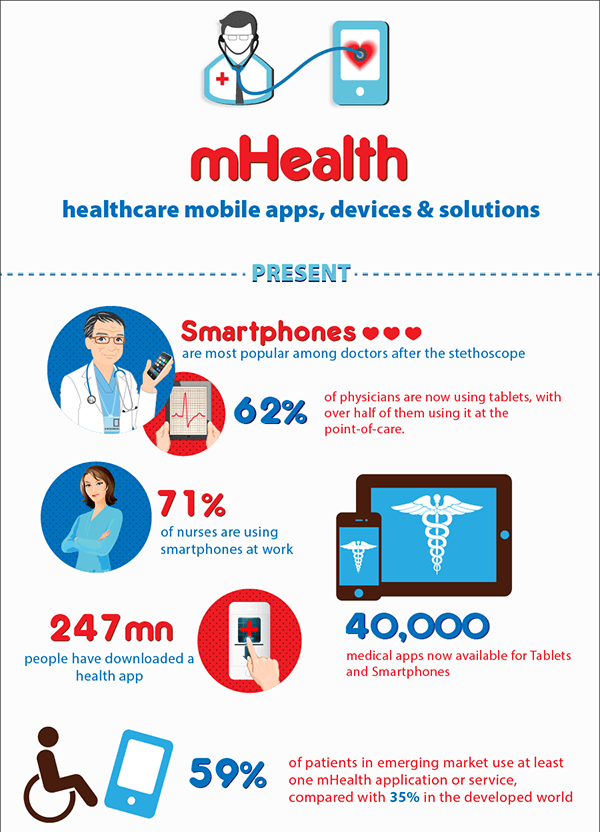 Conclusion
Mhealth apps are fast becoming a force to be reckoned with when it comes to delivering smart and efficient care anytime from anywhere.
Healthcare mobile apps are now a super-efficient way of enabling wellness and health.
The challenge is to cruise through the clutter of healthcare apps and find what fits you and ensures that your health solution includes features that are mobile.
The modern world of care is surely on its way to snugly fit into your pocket, so it is important to make learned decisions before you trust your health in the hands of the mhealth world.