A Comprehensive Guide To improve the mobile app Design
When it comes to improving a Mobile App Design for a project, many may think that it is a tedious job and might bring a storm in the mind. Research reads that approximately five hours are being spent on their cell phones or rather smartphones. And out of these five hours, an approximate of four hours and six minutes is mostly found to be spent on mobile apps and the remaining of fifty-four minutes being utilized for web or mobile browsers.
It is also observed that mobile apps also face competition, the major factor being, and the mobile app design. Through a certain source, a single genre of a mobile app or its category has numerous competitors in the market. And hence, mobile app developers have to rack their brains in bringing a difference through the mobile app design templates.
It is essential that one focuses on research and development of mobile app design templates and mobile app design software, to provide the best mobile app design to our clients. This includes Android App Development Services as well as iOS App Development to cater to the various requirements of our dignified clientele as also constructing the best mobile app design possible.
There is no thumb rule to a particular mobile app design template. Hence, there is a constant need to improve them as per the requirement of the businesses.
Steps to improve mobile app design: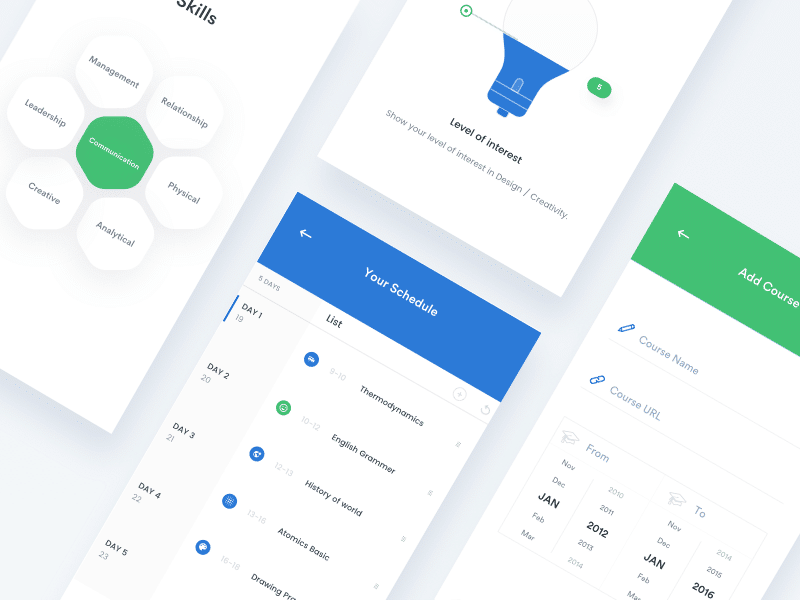 There are a few steps involved in improving a particular mobile app design. These are also known as mobile app design guidelines.
1. Let the mind enjoy the mobile app experience
The human brain is incapable to capacitate stress or pressure. Research reads that most mobile app users, install the mobile apps to lower their stress levels rather than for buying or purchasing a particular product or service through the mobile app.
Hence, a particular mobile app design should enable mobile app design templates which deliver more information in a lesser amount of words rather than stressing their minds with more information.
2. Clearing the clutter or the factors which can be eliminated
Too many text boxes pop up options or toolboxes should be discouraged from a particular mobile app design. All of these factors may turn certain mobile design templates into monotonous and boring ones, making it less attractive for its target audience to use.
An ideal mobile app development template should be kept clear of unwanted factors and more visual factors which can attract its viewers. A simple design and user interface for mobile applications shall help increase the number of users.
3. Lesser the task, more the profit
A certain user may not like entering their details again and again. For discouraging more data, certain mobile app design templates need to develop the user interface in such a manner that, previous data of the same user can be used.
As also options for deleting and updating the data should be enabled, for enhancing the user interface for mobile applications.
Some examples like that of Flipkart relate to shopping of products and services. This mobile app has the option of updating or deleting addresses for delivery. This feature makes the mobile app design more user-friendly.
4. Keeping the mobile app design simplified
Keeping the mobile app design simplified and easy to use makes it more efficient for users. This includes dividing large elephant sized gigabytes into smaller bytes in order to make the mobile app design simpler to understand.
This is actually viewed as a kids train prepared by linking of blocks. The only difference here is that the chain here is built by linking bytes to build a mega gigabyte rather than using gigabytes in the user interface to make it look complicated.
Example: The mobile application like that of purplle includes all the steps right from adding the product into the cart to its delivery at the given address in a systematic or step by step manner. This feature has made this mobile application suitable for mobile app design inspiration for other mobile applications in its category.
5. Screens of mobile app designs should not be complicated
The screens of the mobile app designs should not be complicated and should be kept easy and familiar for the user. This also indicates that the screens of various mobile applications are identical. This is for the ease in usage and understanding for the end user. Most mobile app design software has this feature built in them.
6. Negligible or minimal encouragement of data
If a particular mobile application is related to filling out surveys or research forms, the experience of the same is not so welcoming on a cell phone. This is due to the smaller size of the screen which can also lead to errors.
Mobile App Design Ideas: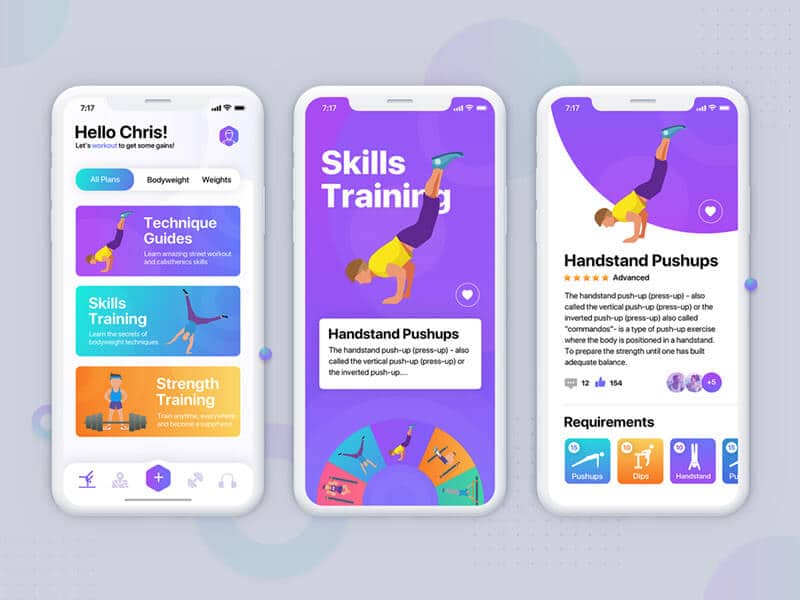 There are some mobile app design ideas for the same keeping only mandatory fields for filling up data.
Covering up the textboxes with masks to enable the accuracy of data and avoiding errors enabling an auto-complete feature to complete data completion such as addresses. This feature shall involve a combination of the location and the geographical place tagging for getting the necessary details.
Color coding for enabling data validation shall enable to resolve the errors at the time of typing itself. This avoids the task of wasting time over data input.
Keyboard customization as per the nature of the information required to be filled makes the process easier for the user. Mobile app design ideas can be extracted from those applications that use an alphanumeric keyboard feature for recording data.
Some mobile app designs include a virtual calendar feature which enables its users to enter their respective birth dates.
1. Catering to the needs of the users
Giving priority to the user becomes prime when it comes to building mobile app design ideas. If a field is difficult to understand, then an image indicating the same should be available alongside the field for the ease and comfort of the user.
2. No pardon to jargon
An app design inspiration should be user-friendly and avoid technical jargons in its user interface. Technical jargons are very difficult to understand and cannot be interpreted easily.
Example: The technical jargons used in the prototype of a property application were: Roosting for selling, migration for buying and floatation for letting it out. These terms are very complicated and difficult to understand.
3. Use of visual effects for communication
When it comes to app UI design inspiration, bold and colorful visual effects come into the picture. The visuals of discounts and offers in bold and stylish fonts with the product images attract a particular user towards the sane.
4. Long live the consistency
Mobile app design online references indicate that a particular mobile app design should be properly constituted. Some of the important elements for constituency are:
– Visual aspects:
Visual aspects include buttons, labeling and textbook should be uniform in all areas of the mobile app design.
With this aspect, there are a few other factors associated. Not all users are visually paired. Some can be blind, deaf or be handicapped otherwise. These factors also need to be taken care of while working on this aspect.
The brightness aspect should be adjusted to a level such that people with poor vision, color blindness, vision loss.
Visual effects included in the mobile applications shall not be alien to the users for usage.
– Functioning aspects:
With the above factors in consideration, the function of the mobile app shall be different for differently abled people. Blinkers, vibrations or sound cues for success and error alerts can help to function in such cases.
– External aspects:
Uniformity should be maintained in the usage of the mobile app design such that there does not exist any complexity in the usage of the mobile application.
5. Customizing the mobile application according to the mobile design and the operating system
Each mobile design is unique with regard to the operating system used in it. The guidelines for each are different too. The guidelines shall be different in cases of Android as well as iOS. Also, the app UI design inspiration shall be different for both the operating systems such that the authenticity of the mobile based applications is maintained.
6. Synchronization of the website and the mobile app
The website and the mobile app should be synchronized in such a manner that they look uniform and similar on both the interfaces, irrespective of the size of the screens.
7. Errors and syntax
The errors and their communication to their users should be such that the user does not get confused between the error in the phone and the mobile app. There are some mobile applications which convey the error clearly while some others don't.
Research reads that most mobile applications have errors related to their back button as well. Sometimes it shall navigate back to the home screen of the mobile app while at other times help in exiting out of the app directly without any prior notification.
8. Navigation and animation
As per grandma's advice, too much of anything is bad. Similarly, navigation and animation for mobile applications should be kept simplified and easy for the user to understand and interpret for their usage.
A specific mobile app design tutorial should include all these guidelines associated with building or constructing the best mobile app design. This should include fewer complexities and avoidance of deleting the mobile application from the phone itself.
Some mobile phone applications may ask for logging in or signing in, which are directly associated with social media channels. But for those users who may dislike disclosing their vital information with other sources may just delete the mobile application from their devices and forget it.
While some other mobile applications which require specific versions of operating systems to function on may also not benefit from greater visibility from their target audience.
Conclusion
Hence, these are some of the comprehensive guidelines which need to be taken into consideration while building a robust mobile app design. A perfect mobile application is designed to perform across all platforms it is installed on, irrespective of whether the operating system is android or iOS if the mobile application needs uniformity in performance for all its users equally.
These guidelines are derived from all technological experts who were qualified for the best mobile app designs for 2019. The performance of these apps is exquisite and provides a stress-free experience to its users.