Know the Pricing of Developing a Grocery Delivery App like Instacart
Do you like to buy online Groceries? Let's find out Cost To Develop a Grocery Delivery App like Instacart!
Consequently, there is going to be supplied whenever there is demand. The progression of mobile technology in the current times is not unknown to the world. So it is quite evident that grocery delivery applications are the talk of the town these days.
Research even shows that the inclination of people towards ordering groceries online will persist to grow. Uber Eats, Postmates & Instacart are some of the giants of the current industry.
Do you want to take on them? Such forethought can turn into reality very soon with the services of a custom mobile app development company.
You might be wondering how much does Instacart cost. The cost to develop a grocery app like Instacart depends on a lot of factors. We will specifically learn about Instacart in this content that will offer you a fair idea for creating your own app.
Interesting Statistics & Facts: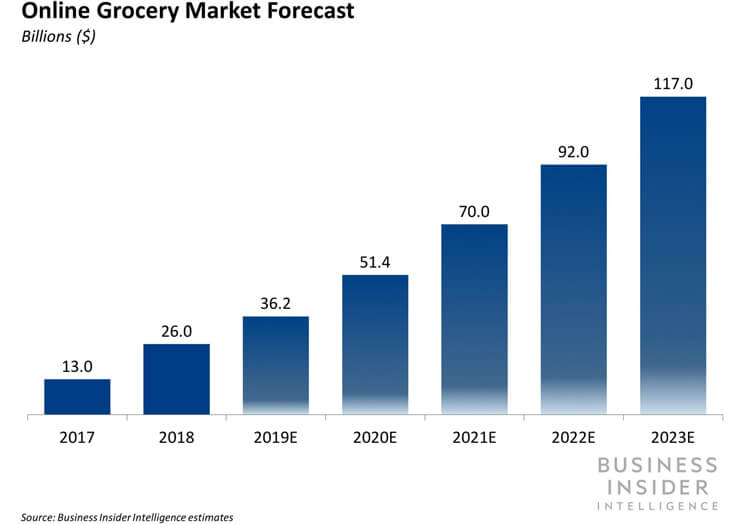 Wanting to develop an on-demand grocery delivery application calls for learning about statistics of the big players of the industry notably Instacart.
In fact with the various statistics, you will know whether your app can offer robust competition to the big giants or not.
4.3 million individuals use Instacart
Instacart reaches more than 20,000 stores
Instacart is accessible to more than 80% of US households
It has more than 300 grocery partners
Instacart has earned a revenue of $2.9B till date
Technology stack – Making product base performances solid:
Prior to learning how much does it cost to use Instacart, your focus should be on the Technology Stack as this is something that will determine the success of your application.
Push notifications – Twilio, Push.io
Database – Mailchimp Integration., MongoDB, Hbase, Cassandra, Postgress
Cloud environment – AWS, Google, Azure
Payment methods – eWallets, PayPal, Stripe, Braintree
Real-time Analytics – IBM, Apache Flink, BigData, Cisco, Hadoop, Spark
Phone verification, Voice, SMS – Nexmo, Twilio
Features to incorporate in App to order groceries: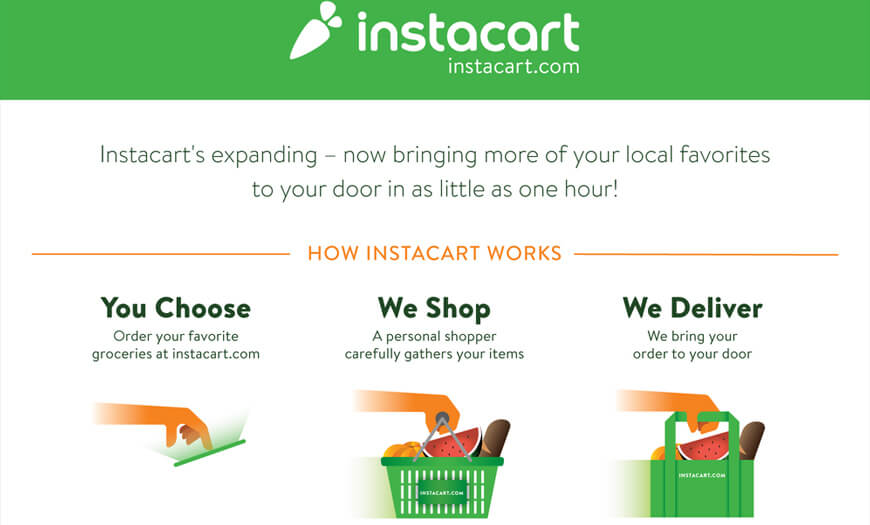 User Panel:
Go through the process of how to apply for Instacart for learning how the registration process should be. You can ask your developer to make this process as easy as possible so that it does not annoy the users.
The signing up or the logging in the process can be completed with the utilization of social media accounts or email or phone numbers. With so many options, users can employ the one that they think is the easiest.
Consumer Review & Feedback
The reason why services like Instacart is so popular is that buyers can go through feedback on numerous products.
As you do this in your app, visitors and buyers will be able to show more trust in the products they are buying. Especially when it is the first purchase, customers need to feel absolutely secure.
Companies like Instacart makes sure their customers never experience any hassles while shopping with them. So when you are aiming to build an app by learning how much does Instacart cost, you must focus on features like Order management.
With this feature, your target audience can easily cancel or place their respective orders as per their convenience. They should not have to go through the product list again.
This attribute of the Instacart app Android assists customers to perform a search in a straightforward manner for the specific products. The users can also carry out the search depending on the specific product categories, price range, and also brands.
This attribute of the application will include real-time tracking of the details of the delivery like order arrival.
Admin Panel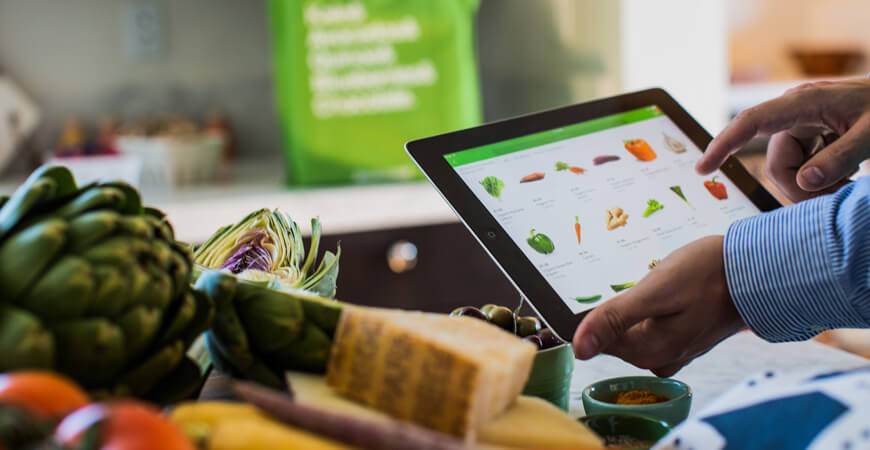 The cost to develop a grocery app like Instacart depends on numerous factors and one of those is the Dashboard.
In other words, if you are unable to manage or track the orders that your buyers place, there is absolutely no use of such an application. So invest in a one-stop solution like this for offering people a grocery store delivery app like Instacart on which they can completely rely on.
Money management is a very important aspect when it comes to building apps like Instacart app Android. The management payment feature enables the management as well as the acceptance of every payment model.
Learn about how much does Instacart cost, get a sound developer, include features like managing payment & expand your grocery business like never before.
Be sure about the fact that Instacart app makers always update this feature such as Inventory management.
Why? This is because as an admin you will be able to administer the intact inventory with expediency by managing & handling the consumer orders in a suitable manner.
Delivery panel
Suppose you have your plan ready after learning about the cost to develop a grocery app like Instacart, you list out all the products, including necessary features but yet receive 2 or 3-star ratings from buyers.
If the delivery executive is unable to track down the house where he needs to complete the doorstep delivery, it can easily make users lose interest in your app.
Incorporation of Google Maps along with GPS is a feature you can never afford to miss. Delivery executives can easily track customer locations with this feature.
In-app chat/In-app calling
Drivers can easily interact or discuss with the buyers about the product delivery with the in-app call or chat feature. By discussing, the drivers meanwhile will know whether there needs to be a change in the route or order delivery timing or not.
Accept or rebuff a delivery request
In the same way, how Instacart delivery cost matters, you also need to emphasize delivery requests. For instance, when a customer adds in various products to the cart & later on finds that your grocery app does not deliver in that location, not only will he feel annoyed but he might never shop from you again.
To avoid such things, with the delivery request feature you will be able to accept or rebuff any order request by depending on the time & location of the buyer's house.
Striving to fabricate an app similar to Instacart is not so challenging if you understand the points where you can impress the customers the most.
For example, with the delivery confirmation feature, the driver or the delivery executive will receive notification about the status of the order delivery. With this, he will be able to attain the delivery confirmation of the customer and also grocery stores.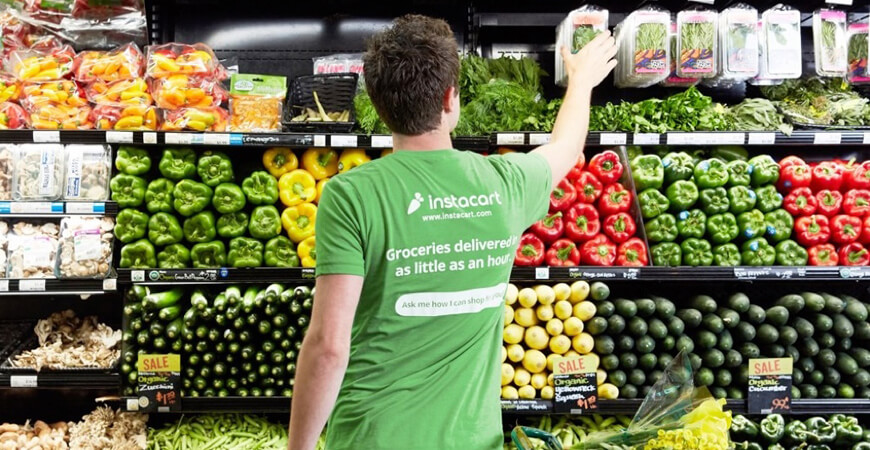 Pros and Cons of Grocery Delivery App like Instacart:
Gaining knowledge about the pros & cons of Instacart shopper app Android is vital. This will let you know whether you must move forward with knowing how much does Instacart cost or not.
Pros:
You do not need a membership for gaining admission to Costco
The online selection is thorough & it is in proximity to what you will discover in-store
The ordering experience is hassle-free with the involvement of responsive personal shoppers
Instacart enables the potential of ordering from stores that are beyond supermarkets
Cons:
Instacart not always takes coupons, rewards, and sales into account
You cannot be picky regarding the produce
Prices differ from in-store prices. You might need to disburse a premium but this will not always be the case. The markup will vary from shop to shop
Instacart Business model
The Instacart business model includes three models for making a good amount of wealth out of selling goods & services, namely Commission model, Service charges & Subscription model.
Commission model – This particular model includes the integration of varied commission charges on numerous goods that also depends on the products that are in demand currently.
Service charges – This specific revenue model includes earning profits through online stores & by functioning independently. Along with this, a subscription plan will be beneficial as well.
Subscription model – This income model is subscription-based that further incorporates numerous offers. This also depends on the kind of subscription that people are planning to buy.
Cost To Develop a Grocery Delivery App like Instacart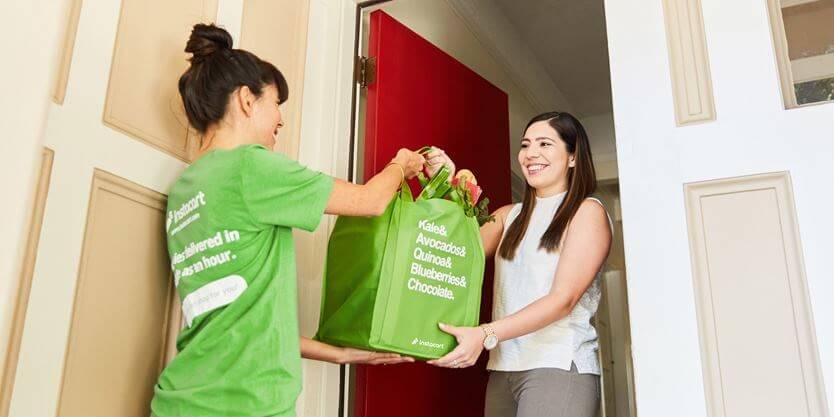 To be able to measure the cost to develop a grocery app like Instacart and know how much does Instacart cost exactly, few factors need to be kept in mind.
How complex the online grocery application is
The country & the viewers & buyers it targets
The platforms on which the app will be launched
Regarding the cost, the information goes as follows:
| | |
| --- | --- |
| Development steps | Hours |
| Discovery | 80+ |
| Plan validation | 40+ |
| Visual prototyping | 60 |
| Designing for iOS and Android platforms | 130-190 |
| Android development | 500-800 |
| iOS development | 600-800 |
| Admin panel development | 60 |
| Backend development | 300+ |
| Total: | 1770-2330+ |
The average price is approximately $35 every hour. The cost to develop a grocery app like Instacart begins at $62,000. The cost might increase as well by depending on the technologies & features employed.
To be able to allocate almost 1700 hours of hard work towards the development of apps like Instacart app, you must appoint the following team. Either you can hire individually & let the team coordinate through applications like Asana or else you can hire a Mobile App Developer as well.
An experienced project manager
1 or 2 Android & iOS developers
1 or 2 UX/UI designers
2 very knowledgeable QA specialists
 1 sound backend developer
Conclusion
Go through the online grocery app developing guide & learn how much does Instacart cost in detail. After gaining insight regarding the cost to develop a grocery app like Instacart, only then you will know whether you can invest in such ventures or not.
The best decision will be coming in association with an ios app development company where the team will discuss the important aspects of app making with you.
Any queries quotes; everything you can get to know from the expert teams. Get in touch with us today for receiving accurate cost estimates.
Popular FAQ:
How much does it Cost to Develop a Grocery App like Instacart?
The cost will initiate at $62,000.
What is the Instacart Membership Pricing?
$99 is the annual membership of Instacart.
Does Instacart charge for delivery groceries?
Delivery is absolutely free of cost for the first order. Orders that are worth $35 or more, include free delivery.
Are items more expensive on Instacart as compared with the local market?
This can really depend on what product you're buying. Some of the products are cheaper in Instacart as compare to the Local Market. In the same way, some products are cheaper as compared with Instacart.