How Much Does It Cost to Develop a Messaging App like Telegram?
Do you know how much does it cost to develop a Messaging App like Telegram? Let's find out!
What is the most convenient platform to reach out to your loved ones?
Of course, it is the mobile app technology. Today the concept of mobile apps has gone wider and incredibly popular since it allows the users to get the services on demand. And here, a messaging app really helps and creates a different platform for the users.
The messaging apps, help the users to get the most of their needs through the means of messaging and entertainment in one go.
What is the Telegram App?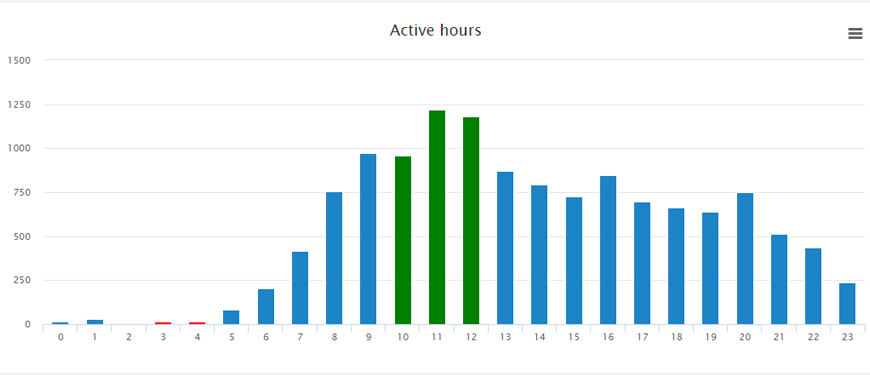 The immense popularity of the messaging apps has allowed different apps to come into existence, and out of all Telegram app is the most popular among the users.
Although, the concept of messaging apps like Telegram, has made many budding businesses to invest in an app like Telegram. So in order to help you with building such an impeccable app solution for your business needs, we've brought this post today.
But there are many questions going in the mind, such as Cost To Develop App Like Telegram, what are the features, functionalities and many others.
Are you ready to get the instant fame in the messaging app turf?
Then stay tuned and keep reading this post to know more…
Why Telegram is popular?
No doubt, Telegram, is hugely popular and there is not just one reason behind it, but there are multiple reasons behind it.
Much before knowing the Cost To Develop App Like Telegram, you must know the other engaging aspects, that make Telegram hugely popular.
Privacy – Every user looks forward to security and this is what Telegram offers in abundance. With this app, users receive the end-to-end encryption feature to use total anonymity. This ensures that governments, regulators, or other entities do not get a hold on private communications.
Multi-platform availability – There are millions of users out there, and every user has different devices from different OS. And this is where Telegram helps a lot. Users get multi-platform availability, which not just allows the users to access their conversations while on-the-go, but also helps them to integrate different social media accounts.
Cost bots – You would be surprised to know that Telegram has continued committed to the development of bot services. And this allows the users to leverage Telegram's API and documentation to create their own bots with passage to third-party libraries.
News Channels – Telegram promotes both automated bots and RSS services, several cryptocurrency traders, news sites, and other media. This helps users to create broadcast groups, and share the news with other Telegram users in no time.
MVP Features of the Messaging App Like a Telegram: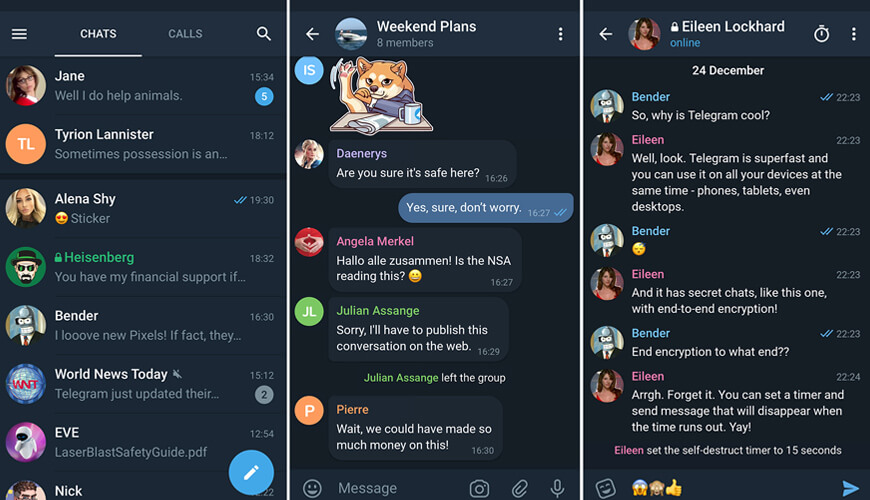 The growing environment of app technology has led to the very functionality of messaging apps to be transformed further. Now a messaging app is not about just used for chatting, but now it is also used for sharing status, entertainment and also for the branding of your business.
Let's check out the MVP features, that can help you identify the accurate Cost To Develop App Like Telegram, and must be a part of a messaging app like Telegram.
Customer Panel
Sign-up
Verification process
Messages
Groups
Channels
In-App filters for pictures
Self-destruction
Support all media
Support multiple different extension file
Turn off notification
Activated Notification
Cloud storage
Syncing with contacts
Export data
Lots of stickers & email
Terminate activate session
Block users
Smart search
Manage privacy
Multilingual
Theme
Calls
Multiple profile pictures
Sharing live location
Admin Panel
Login
Manage profile
Manage users
Reporting and analytics
User Privileges
Push notifications
Advanced Features for Messenger App like Telegram: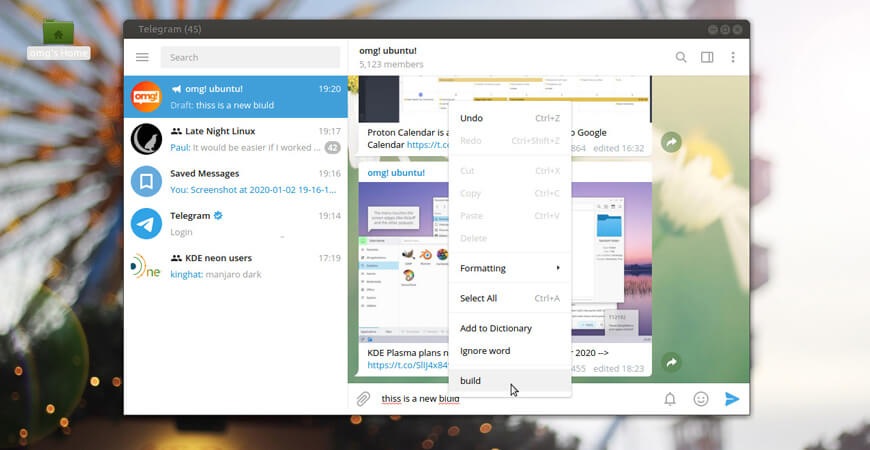 To give something extra and engaging to your users, will only make them stay closer to your app, and avoid the competitors trick. So here is the list of Telegram features, to be a part of your messaging app like Telegram. And further, we will answer your question of Cost To Develop App Like Telegram, in this post further…
The mobile app, desktop app, PWA
This feature is something that enables users on the apps like a telegram, to stick to the Telegram app in a wider number. It is easily available for the desktop, mobile, web for the users to download, and they can use it on any specific platform, as per their convenience.
GPS integration
GPS is an engaging feature that is integrated into the hardware system. It lets the users share their accurate location with their loved ones.
Cloud storage integration
This allows the users to increase the security barriers, with the Cloud storage, that is integrated into the system. Here a bigger part of user data for future purposes gets stored.
End to end encryptions
Yes, the end to end encryptions, ensure to keep the data secure. And in this way, only 2 parties can access that piece of information.
Multiple accounts
This feature lets the users get access, and create multiple accounts within a single app.
Video streaming
This feature lets the user's stream videos as per their convenience, and further users don't require to download the videos in order to view them.
Two-step verification
It is actually a very useful feature, that allows the users to make a specific account secure with the two-step verification. Only users have to input the password, on log-in.
Lock chat
Yes, this is one of the most popular features, that allows the users to secure their conversations with other people. The user needs to provide the password every time he/she logins from a new device.
Make own GIF
As a user, you can create your own GIF…and this doesn't stop here, but you can further share it with others as well.
Contact integration
With the help of this feature, users can import contacts from their address book.
Profile customization
It is no doubt an engaging aspect that allows the users to customize their profiles as per their taste and preferences. As a user, you can change names and add a nickname, patterns, background colors, or select an avatar picture from camera roll or even take a picture and upload.
Messaging
With this feature, you can operate through the internet connection, and when users go offline, in return they receive their texts as soon as they come back online. And these messages, also include different types of status, such as: delivered, failed, seen, edited. However, this feature is new, but very popular among the users. And this feature must be a part of your app, to engage more number of users, on your telegram messaging app.
Pros & Cons of Telegram: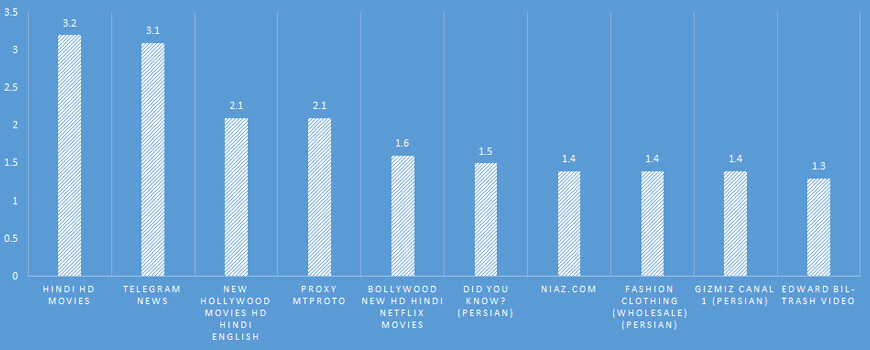 Telegram Most Subscribed Channels
Just like any other social media app, Telegram, also has a set of merits and demerits, let's take a look ahead.
Telegram Pros
Telegram is multi-platform, and is usable from any device, PC, Android, iOS, macOS, Distro Linux and even via a browser;
The bots help users to take many benefits, such as download music, see Instagram post, download video from YouTube;
The Secret Chat feature allows users to utilize the auto-delete feature;
Allows users to create group and channels of various type, private with the link, private without a link, public username.
Also, you can use customization in the group and channels management.
Telegram Cons
Too many features in the initial version confused the users;
It is based on the multi-platform, and needs regular optimization and compatibility for each new update;
Regular updates, bring it vulnerable to bugs and slows down the app performance;
There is a lack of security in the form of users, who get frequently reported.
Technology Stack:
The different set of the technology stack used by Telegram, are:
JavaScript
Java
Android SDK
Objective C
C++
C
Cocoa Touch for iOS
Cocoa for the latest OS X model
Market
What is the Business Model of Telegram?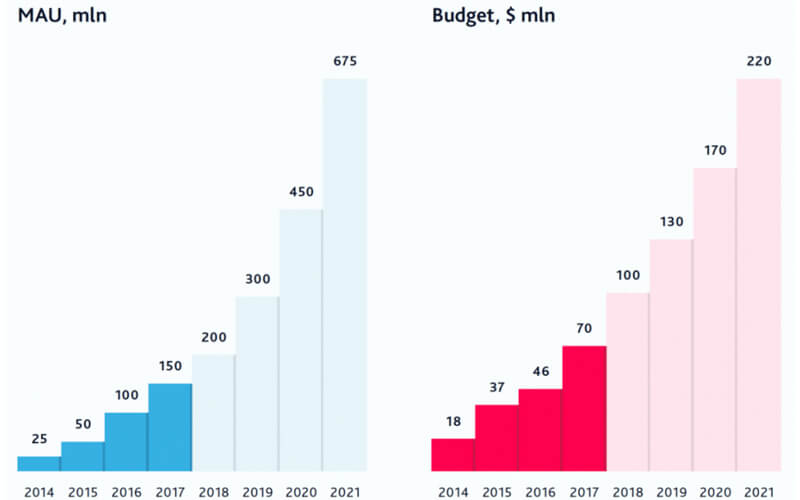 We all know that to create a messaging app, and success of the telegram chat app, there must a be well-structured business/revenue model. And this is not even an exception to the business functionality of the Telegram app as well.
However, do you know how does telegram work? You should know there had not been a specific business model for Telegram. As the Telegram's founder, Pavel Durov never wanted Telegram to be a money-making business.
And he always aimed to provide a safe, encrypted platform for users to interact with. This only led the brand to never consider the different resources of revenue generation or funding.
To your surprise, to date Telegram runs on the money that Pavel received upon selling his social media platform.
Now your question, that how does telegram make money, must be answered.
On the other hand, 3 years ago, Telegram initiated its monetization steps, with paid stickers on iMessage and this money helped in running the payment model for employees.
But this doesn't mean that a clone for the Telegram app, you cannot start the revenue generation methods on it, rather there are multiple ways to earn money out of it.
Cost to Develop a Messaging App Like Telegram:
Cost To Develop App Like Telegram; it is the hottest topic that troubles every potential app owner. But you must know that app development cost depends on various factors, such as features, location, technology, and many other factors. But to help you understand the app development cost with the basic features will cost around $30,000 and with advanced features, it can even grow to $45000.
Conclusion
On a serious note, the market of the messaging app market is immensely booming, as it lets the users chat and connect with few taps. Although, building such an app is not that easier, and requires the expertise of the experienced team of developers from 21Twelve Interactive.
You can get a successful Messaging app like Telegram from – a leading Mobile Application Development Agency, and help your business grow popular and wider. You must Hire Mobile App Developer from us and let your telegram messaging app clone, become an immense success.
Popular FAQ:
How Much Does It Cost To Develop An App like Telegram?
The Cost To Develop App Like Telegram depends on various factors, such as features, functionalities and many other factors. However, the average cost will be around $30,000 with basic features.
Is telegram secure?
Telegram encrypts end-to-end communications, and users have to manually enable this feature, called Secret Chat.
Which countries use Telegram App the most?
Telegram users in countries such as the United States of America, India, Brazil, Italy, Venezuela, Nigeria, Kenya, Russia, and Ukraine are much more than other countries in the world.
Is telegram app Free or Paid?
Telegram is a free app and runs on donations.
Does telegram use data?
You want to know, how much does it cost to send a telegram? So you should know Telegram Messenger is a messaging app that works over the internet, just like WhatsApp or Facebook Messenger.