How Much Does It Cost to Develop a Matrimony Mobile App?
Today, we are dependent on technology for almost every aspect of our life. For the millennials, meeting their future partner through a matrimony app may be normal but for our parents, it is something new.
However, the parents are trying to adopt our ways of doing things and so, the popularity of a matrimony mobile app has increased across generations.
As more and more people are attracted to the idea of finding their life partner through a mobile app, we frequently come across the question of how to make a matrimonial app and what is the total cost to develop a matrimony mobile app.
So, we decided to answer it for you. As we are both – an Android and iPhone app development company, all of the things that we are about to discuss apply to both the platforms.
First things first! Before we delve into the nuances of matrimony sites, let's discuss it's history first.
Brief Description of How It All Started
The concept of matrimonial apps saw the light of the day in India in May 2015 when a reputed market research and analysis firm called Frost & Sullivan revealed some statistics on this topic.
According to them, some online matchmakers in India are accountable for more than 5 million weddings in the last 10 years. Fast forward to the current year.
The idea of a matrimonial website has taken the wedding industry by storm due to its advantages. Therefore, if you are planning to get a Shaadi app developed, without a doubt you have a bright future ahead.
Benefits of A Matrimonial App for Your Matchmaking Business
You may be doubtful about the development of the Shaadi matrimonial app due to the cost to develop a matrimony mobile app. The following advantages might be able to convince you.
Your customers will be easily able to find partners in their caste and community.
A matrimony app clone will attract more users as multiple options are accessible at a single place.
Privacy and security of the profiles can be maintained if the app is feature-rich.
Matrimony apps prove to be a better source of marketing and advertising.
Now, that we have mentioned the benefits of an app like the Shaadi.com app, here are the must-have features!
Features of Matrimonial App: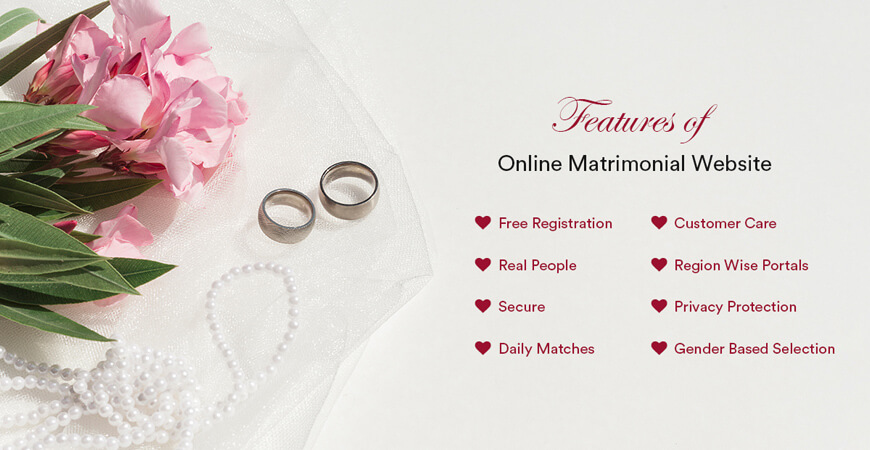 Basic Features
User Side Features:
Sign In
Create a Profile
Create a Partner Profile
Set a Compatibility Preference
Upload Your Photo
Add Horoscope
Browse Profiles
Advanced Search Option
Check Horoscope of Selected Profiles
Real-time Chat
Membership Options
Notifications
View Success Stories
Admin Side Features:
Sign In
Create Customer Profiles
Dashboard
Manage Customers
Manage New Invites
Affiliate Program Management
Manage Success Stories
Membership Package
Promotion
Smart Search
Secure Payment Gateways
Manage Notifications
Advanced Features:
The following are some of the advanced features you can include in your app. However, keep in mind the kind of advanced features that you choose will directly affect your cost to develop a matrimony mobile app.
Images Uploading – A user will be able to add/share images from their gallery.
Search & Filters – With the search and filter feature, users can find partners that match their preferences.
Favorites – If a user found some profiles that catch their attention then with this feature they can save the profile to favorites.
Chat Integration – Chat API will allow users to communicate with each other and establish some amount of trust before actually exchanging their contact details.
GPS Integration – GPS integration will enable users to search for a life partner in their preferred location.
User Blocking Feature – User blocking feature will give your users peace of mind as they can block a person who creates unnecessary hassles for them.
In-app Camera – The in-app camera feature will allow users to directly click pictures and share them with other profiles.
Data Security – If you ensure data security to your clients, more and more of them will start using your app.
Multiple Payment Options – Multiple payment options like Paypal, credit/debit cards, Stripe, Braintree, etc. will increase the convenience of your clients. Increased convenience automatically means that clients will prefer your app over others.
The above-mentioned feature list is not exclusive. You can definitely add more sophisticated features to your matrimonial app. We have discussed one of the major aspects that affect a matrimonial website cost.
Now, we will tell you about the matrimony app cost with respect to each part of the development process.
Cost To Develop Matrimony Mobile App: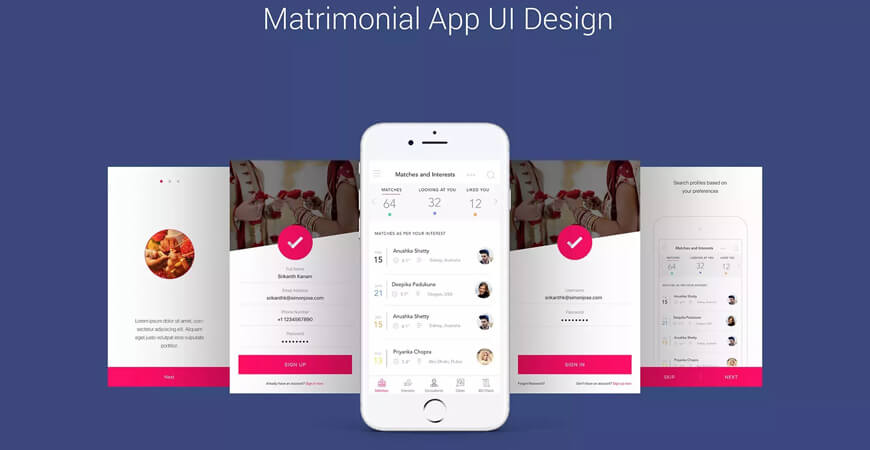 App Development Platform
The first decision you need to make is to go for Android or iOS or both. The choice between the Matrimony android app or Matrimony iOS app will depend on your target audience. If you have a substantial budget on hand then you can go for both too.
When you go for the Android platform, you can target a larger audience. On the other hand, the iOS platform will cost you less in development as fewer devices will be tested after the app is ready.
Therefore, make a decision keeping this information in mind as the choice of platform will impact your cost to develop a matrimony mobile app.
App Design
Your app's design is the first thing that will catch the attention of clients. So, if you want to expand your client base, then pay attention to the design stage.
Apart from being aesthetically appealing, the app should also be easy to navigate. You may need an experienced team of designers for this development stage.
It may increase the matrimony sites cost a little bit, but it will definitely be worth it.
Development Team
Until this stage, everything could be running smoothly. But in trying to save a few bucks if you make a wrong decision in choosing your development team, it will cost you money, time, and efforts too. What's more? You may even have to start the entire project from scratch.
The development team you choose will also constitute a major part of your total cost to develop a matrimony mobile app. Their level of experience, expertise, and geographical location will decide their ultimate per hour cost.
If you want to gain a competitive edge, then you need an exceptional team of developers. Again a highly experienced team of developers may increase your total cost but the application will speak volumes once ready.
Payment Integration
The integration of various mobile wallets will allow your clients to pay for your services using their preferred payment method. Of course, this will increase your total cost to develop matrimony mobile app, but will certainly attract more users.
When the payment hassles are taken care of, your app will automatically be a preferred choice.
Technology Stack
The right technology stack will enhance the overall functionality of your application. We have listed below some of the technologies you can choose for your matrimony app:
Mobile – iOS, Android
Phone verification, SMS, and Voice – Twilio, Nexmo, etc.
Push notifications – Push.io, Twilio, etc.
Payments – Paypal, Braintree, multiple eWallets, etc.
Real-time Analytics – Apache Flink, Big Data, Hadoop, Spark.
Cloud Environment – Google, AWS, etc.
We have told you everything you need to know to get the matrimony app of your dream developed and make it successful. However, we still have the last nugget of inspiration for you.
Check out some of the popular matrimony apps that have achieved success over time.
Popular Matrimony Apps in the Market: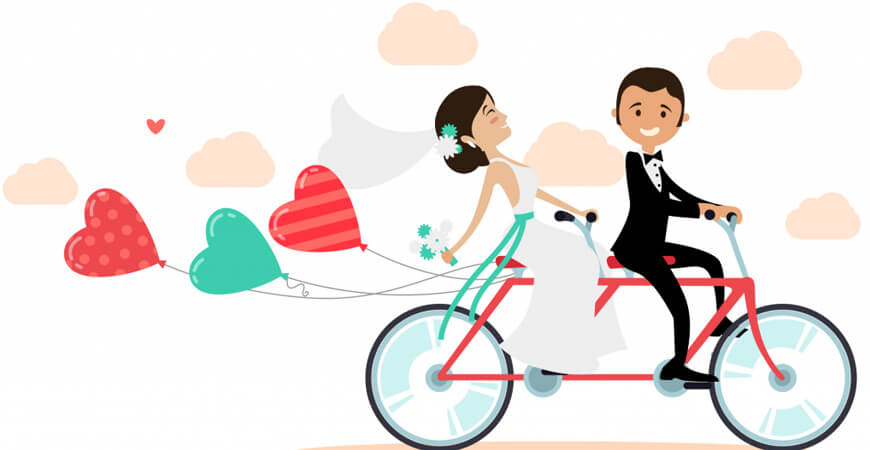 Jeevansathi
It is the oldest and among the most trustworthy marriage services in India. Jeevansathi has been around for 12 years and exists on all platforms. It works like the usual matrimony apps.
Create your profile then enter the desired partner profile to start searching. If you find a profile that you are interested in, then you can check out the photos and contact details.
Shaadi
It is also one of the popular matrimonial platforms. Shaadi.com claims to find new matches every 2.4 seconds. Also, the platform claims to have created 5 million success stories till date. Just like Jeevansathi you can create your profile and browse others on the basis of your interest.
The app comes with an instant messenger. As Shaadi has more advanced features, it belongs to the category of more expensive ones. Although Shaadi.com is based in India, it also has branches in the UK, UAE, Canada, and the United States.
Along with their online support, Shaadi.com has 100+ centers to resolve their clients' queries related to marriage.
Bharat Matrimony
It is the official app of BharatMatrimony.com. This app offers a lot more than the usual features. You can definitely search and filter profiles as per your choice, but you can also save them to favorites for viewing later.
The GPS integration in the app allows you to find someone in close proximity. Moreover, it will also notify you when someone matches your criteria. A unique feature is that this site is available in multiple languages like Tamil, Telegu, Kannada, Hindi, etc.
Way to Nikah
If you are Muslim and looking for Islamic matrimony then it is a perfect choice. You can find Islamic matched from around the world. Also, your search for Halal can also be fulfilled on this site.
Way to Nikah promises the complete privacy of your personal details. So, all in all it is a one-stop solution if you are looking for matches in the Islamic community.
Conclusion
All of the above-mentioned information is our complete guide on matrimonial applications and the cost to develop a matrimony mobile app.
Whatever Android app development company or iOS development company, you are choosing to make sure that they understand and relate to your idea of the matrimonial app.
It is necessary that both parties are on the same page as a communication gap can lead to problems in the later stages of development.
Keeping in mind all the factors that have an impact on the final cost of development, the approximate cost to develop the matrimonial app for both platforms is between $10,000 to $15,000.
This figure may vary depending on the number of features and your team of developers. Of course, if you need a precise figure then you need to discuss your requirements with a software development company. Are you clear about your matrimonial app requirements? Then go ahead and tell us your idea in brief on [email protected]

FAQ:
How much does it cost to develop a Matrimony Mobile App?
The approximate cost to develop a matrimony mobile app for both platforms is $10,000-$15,000. The cost may increase or decrease depending on other factors.
What are the main features of the Matrimony Mobile App?
Apart from the basic features like sign-in and profile creation, some advanced features like favorites, chat API, in-app camera, etc can be included.
What is the Matrimonial App?
The Matrimonial App is a platform where people create their profile and browse through other profiles in search of a life partner.
Which is the best Matrimony Mobile App?
Bharat Matrimony is the best matrimony Mobile App.