20 Free and Ready-Made Ionic 4 App Templates for 2020
When you use Ionic, creating a cross-platform mobile application with high-performance is as simple as developing a website.
Experienced web developers or any person with a solid JavaScript knowledge can easily start designing with Ionic.
The capability of Ionic App Development to develop native apps on iOS, Android and others inside a JavaScript framework and one codebase make it easy for anyone to pick it up.
However, developing an Ionic app rich with features, with a classic user interface can be difficult, even more so if it has to look natural on several platforms.
You stand to save a lot of money, effort and time when you use ready-made Ionic App Template.
What Is an Ionic App Template?

Ionic templates perform the same as front-end development templates and themes like WordPress themes. They are made up of a collection of assets and files that help span the gap between the product and the framework that you are looking for.
There are many benefits to using a template, such as:
Starting with a huge section of your already finished project
Professional, documented code
Diminished project expenditure
A structure to develop the rest of your project
Joining these advantages with the already dynamic framework offered by Ionic provides developers with a huge boost when it comes to developing an app.
Small teams of development and those with inadequate resources will find templates specifically useful.
Top 20 Ionic App Templates:
1. Ionic 3 UI Theme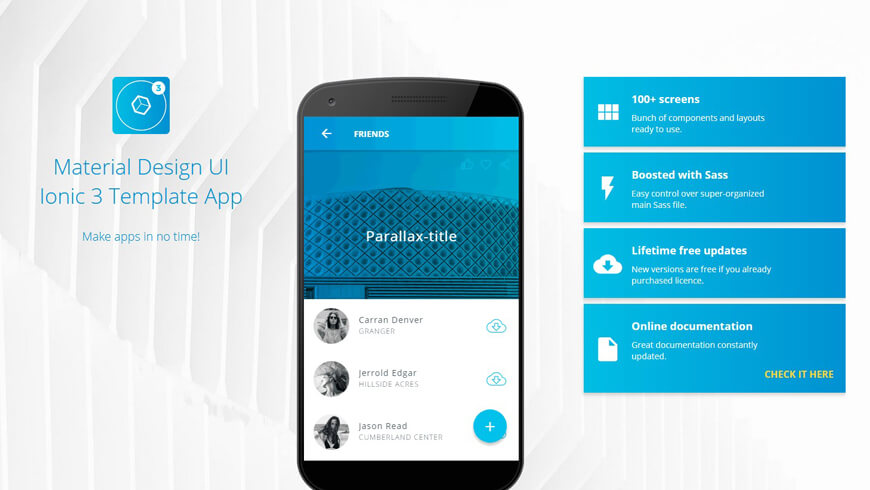 This template, generated by elite designer CreativeForm, is perfect for Ionic developers who desire to design awesome apps but don't want to waste all their time making them.
Features and Benefits:
It provides just one theme that encompasses more than 70 generally used screens and over 45 completed layouts that are ready to use.
It further has a well-organized Sass file including dozens of variables you can use to adjust the look of your app.
2. IonFullApp
IonFullApp, produced by designer IonicThemes, is a multipurpose app template that comes in three separate versions: elite, pro, and basic.
Features and Benefits:
The three versions of IonFullApp give from 30 to 38 screens and various blends of elements to accommodate a diversity of requirements.
Some of the most useful features of IonFullApp are Google Maps assimilation, social login, a video player, image slider, and geolocation.
3. Yoga Guide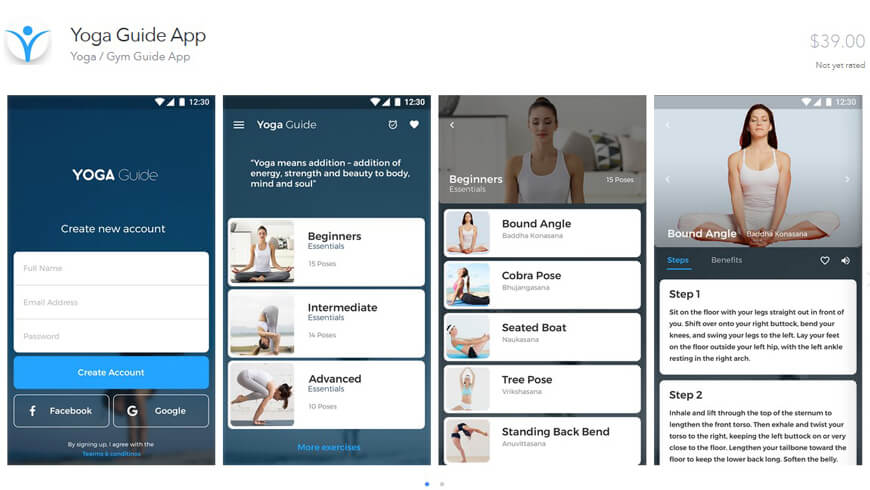 This app template is great for developers who work in the fitness and health niche.
Features and Benefits:
The app was created to help users practice yoga in the comfort of their offices or homes and at their own speed.
The app has easy customization and has a modern and clean design that lets users move about the app easily.
Some of the features of Yoga Guide include sign-in and sign-up screens, list of poses with definitions, profile page, the capability to set alarms or reminders, and more.
4. Ionic 3 Restaurant App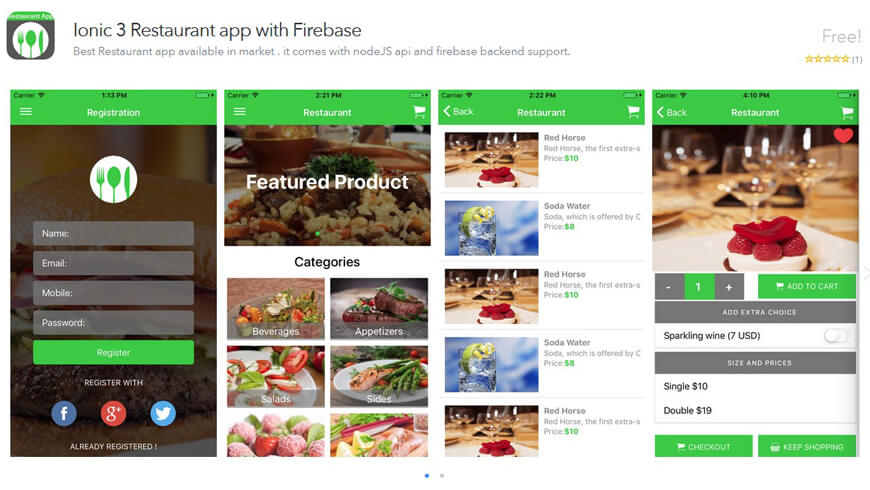 If you want to set up an automatic restaurant app, then you must check out the Ionic 3 Restaurant app created by Lrandom.
Features and Benefits:
The app is structured well and provides helpful features to enhance the presence of any restaurant.
Complete and thorough product listings, food categories, customizable pricing, existing promotions, a dynamic search, and a cart that is easy to navigate will let your app stand above the rest.
5. IonChat v3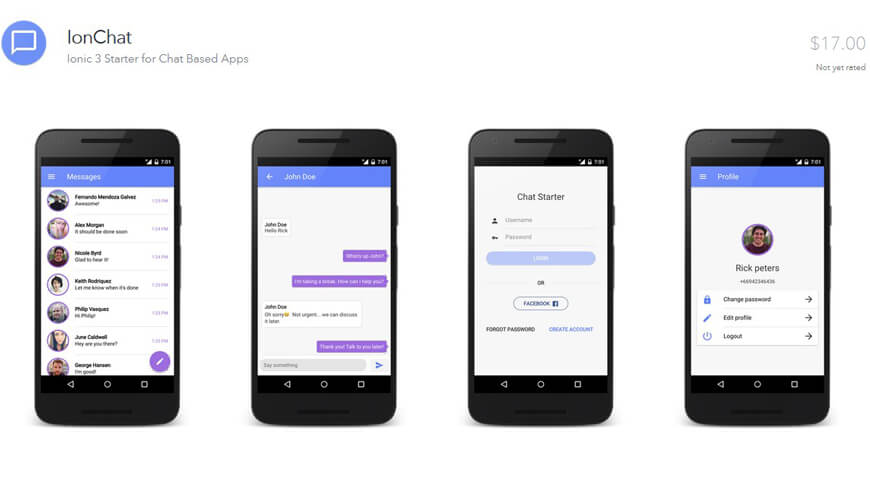 As the name says, IonChat vs is a template that allows you to create instant messaging applications that are cross-platform.
Features and Benefits:
IonChat v3 has a huge offering of dynamic features, such as support for social login, friend management, and group conversations.
This template is easy to customize, and the apps created with IonChat v3 are supported by Firebase, which is based on Google's Cloud platform. This means you can employ Firebase console to handle data on your app.
6. Ionic Framework App
If you are seeking a contemporary template with many awesome pages and a massive range of helpful features, the Ionic Framework App is for you.
Features and Benefits:
Created with Ionic 3, Ionic Framework App is very modular and easy to increase. In fact, the Ionic Framework App has more than twenty modules and more than thirty-five components.
They are also capable to show charts, Google maps, RSS feeds, and YouTube videos. Another notable fact about this template is that it provides a module for barcode scanner for scanning many types of barcodes.
7. Restaurant Ionic 3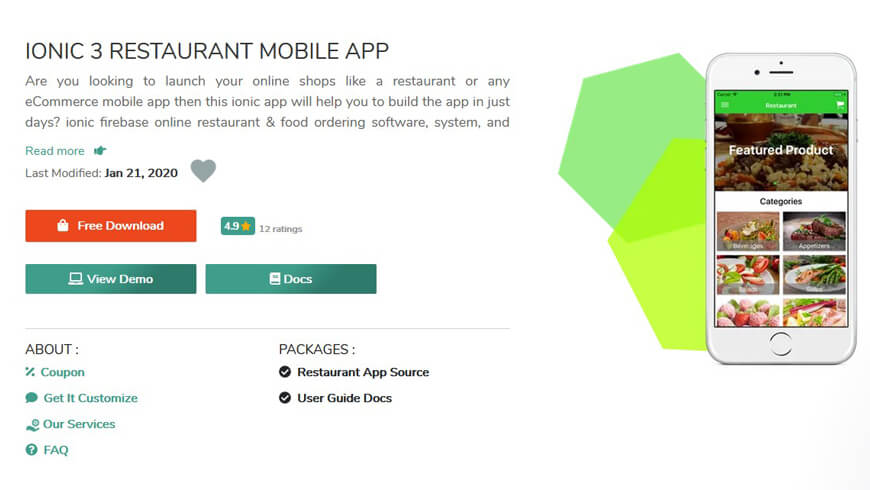 This template would be enticing anyone who is developing an app for a restaurant.
Features and Benefits:
Restaurant Ionic 3 is rich with features, have automatic UIs that allow users to see menus, order customizations, know about special offers, and select delivery methods.
They all also let customers communicate with push notifications. Establishing this template is easy, and so is the customization, which you can change dramatically.
All you need to do to change the app's appearance is by just choosing a color theme inspired by Material Design available on the app template.
8. Ionium 2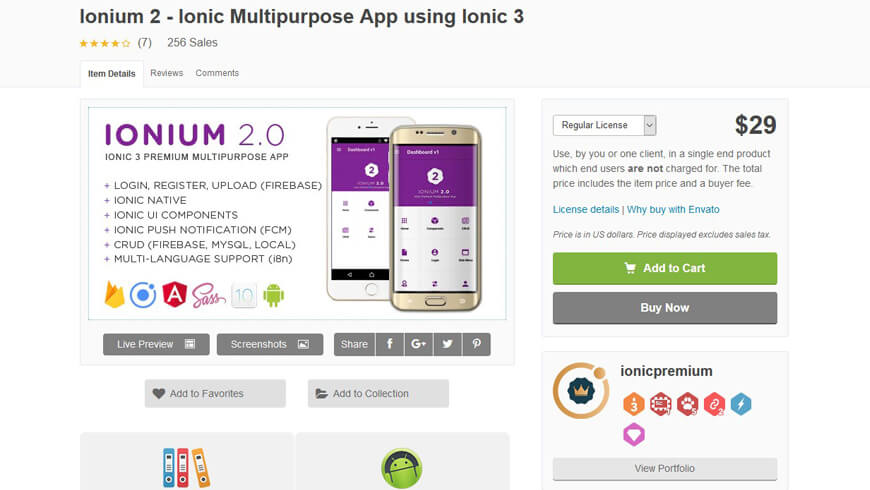 Ionium 2 is just an updated Ionium, a popular multi-purpose template developed by ionicpremium.
Features and Benefits:
Developed with Ionic 3, this app template is multi-purpose and a good option for almost any variety of app.
Hotel booking, social media apps, e-commerce, and newsreader app developers will find helpful features from Ionium to hasten development.
The template lets you create apps oriented around CRUD quickly, which support both remote and local storage.
Ionium 2 uses Material Design and Sass elements, gestures, and animation, so apps look very modern and polished as an end result.
9. Ionic 3 Toolkit
The Ionic 3 Toolkit template surely lives up to the promise of a toolkit.
Features and Benefits:
This template provides an extensive collection of features combined with a modular structure.
With such selling points in the offering, you can quickly and easily develop apps of different varieties, all from one template.
It also lets you collect information from your Instagrams, Vimeo, YouTube, Drupal, WordPress and other accounts on social media and add them to your app's content as required.
Additionally, Ionic 3 Toolkit makes it easy for template customization through default styles that can be changed from the preexisting colors and the default Sass value.
10. Firetask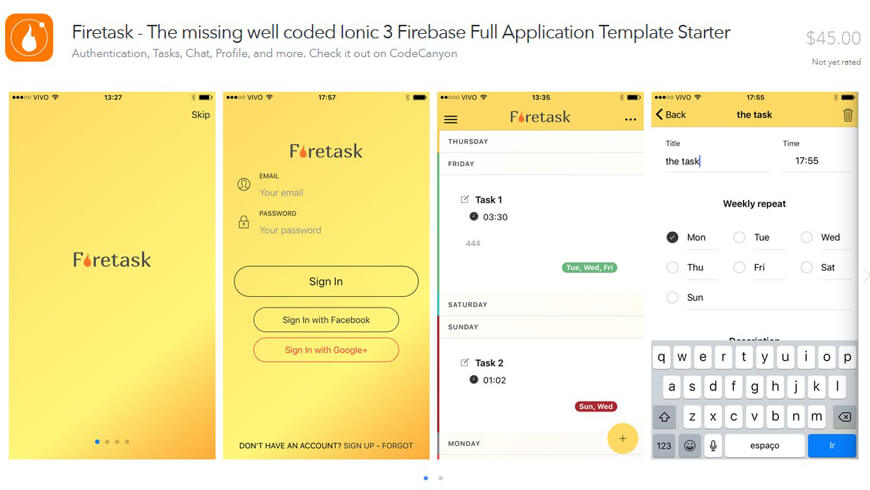 Apps that have social features are usually more popular on both the App Store on Apple and Google Play.
So, if you are seeking for an Ionic app template to create a social media application for a client or for yourself, Firetask is a great option.
Features and Benefits:
Firetask is a template for a social media app that has anything you require to get started.
It provides you with screens that let users sign in, sign up, make posts, write comments, and much more.
11. WooCommerce Mobile App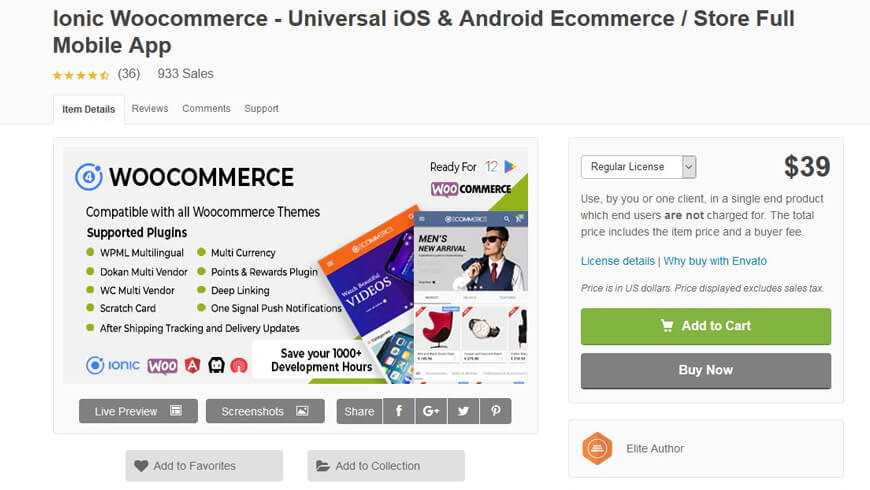 This template is among the best-selling and the best-rated in this list.
Features and Benefits:
This template lets clients join their WooCommerce store and synchronize products and categories together in real-time.
Once users register, log in, they can browse through products, shop, pay for them, view the status of their order and its history, and maintain their account.
Some useful WooCommenrce Mobile App features include am indexed products page, powerful filter, and search, categories, grid, and list views, also reviews and ratings.
Additionally, this template is capable to link a present CMS diminishes the overall efforts that require being finished, both by users and developers.
12. Hotel Room Reservation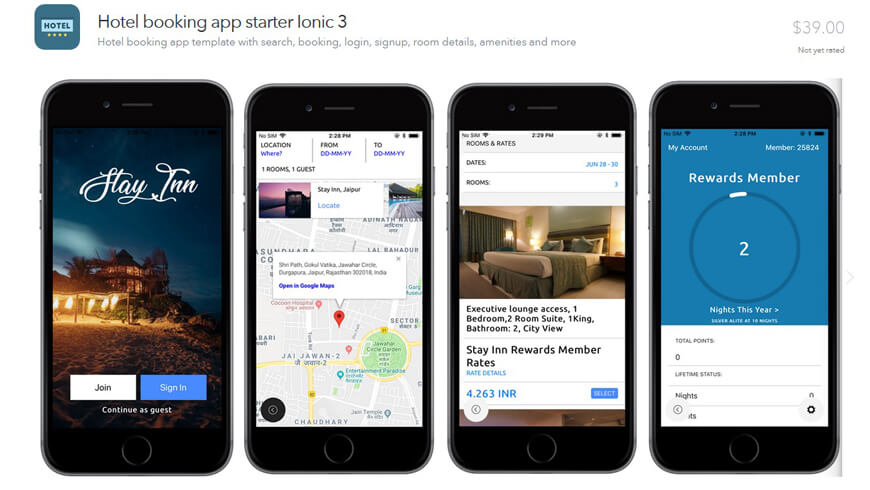 If you hire a Mobile App developer to make a portal for a hotel, or to create something like Airbnb, you can look at this Ionic template.
Features and Benefits:
Created by FunnyIonic, Hotel Room Reservation is good to start with.
The template allows developers to build an app that will users to search, look at and book hotels in various locations.
The app is incorporated with pay Pal and Google Maps for the convenience of users.
13. Conference Ionic 3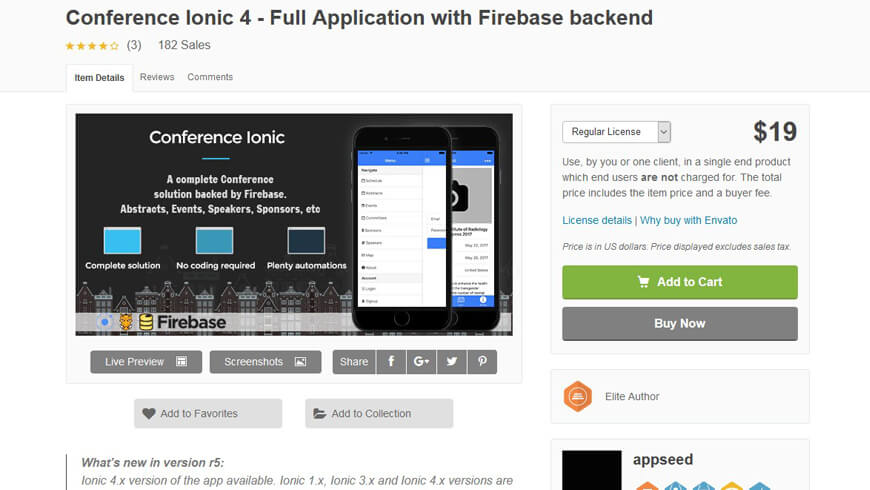 Created by appseed, the app template of Conference Ionic 3 provides something distinct in the app template domain.
Features and Benefits:
The app is poised at people who organize conferences who want to develop apps for attendees that offer all the data linked to a conference all in one useful app.
It enables attendees to view information about the conference such as exhibition halls, location, schedules, speakers, committees, sponsors, and more.
Users can look at speaker profiles and make their own individual schedules that are useful for anyone that is trying to understand multi-track conferences.
14. Ionic eCommerce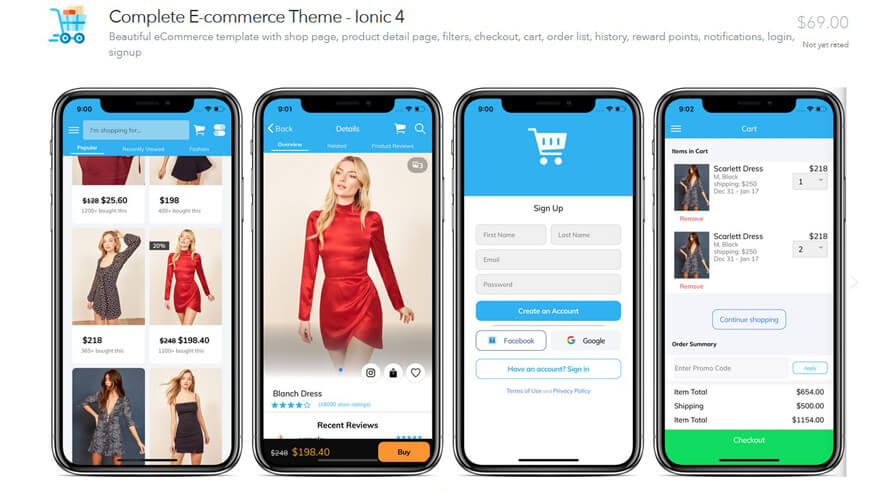 While we have talked about some specific templates for e-commerce, Ionic e-Commerce, developed by Vectorcoder is on whole another level.
Features and Benefits:
Ionic e-Commerce's focus is on features that are widely used and this has made it a very popular beginning point for those wanting to start selling online.
As a template, it's great but the toolkit approach is appealing as it offers any tool you may need to make your e-commerce app.
Ionic e-Commerce provides multiple ready-made pages for e-commerce to develop your mobile application and offers an extensive Content Management System to maintain an online store.
Some major features include social share, interactive themes, sorting and searching, product filters, inventory management, etc.
15. Nearme
Nearme is an app template based on location by quanlabs.
Features and Benefits:
The ionic 4 template aids developers create an app that will locate restaurants, supermarkets, gas stations, places of interests, etc.
The template has an admin panel that lets developers transfer push notifications to users and maintain places, categories, slider images, deals, reviews, users, etc.
16. Lemon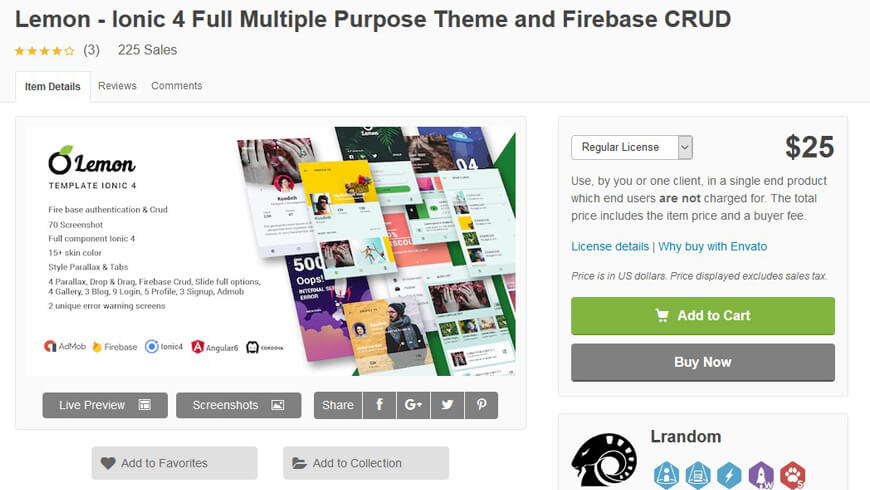 Lemon is a colorful, visually appealing starter app created with Angular 6 and Ionic 4.
Features and Benefits:
It includes over fifteen skin colors and seventy layouts. Templates on Lemon uses a CSS preprocessor called Sass, which lets you use features that are not accessible in CSS such as mixins and variables. Other important features are Firebase CRUD, AdMob integration, Firebase Authentication, lazy loading, and others. Lemon templates come with simple documentation, which allows customization easier.
17. Kiwi
Kiwi is an app template for e-commerce, creates with the newest Ionic framework version—Ionic 4.
Features and Benefits:
Kiwi comes with a dynamic admin panel, created with Angular. There are other features that are worth considering-clean and simple design, incorporation with popular payment gateways online (COD payment, PayPal, Stripe), twelve skin colors, firebase-based push notifications, thorough documentation, and AdMob integration.
18. Ionic Stencil Essential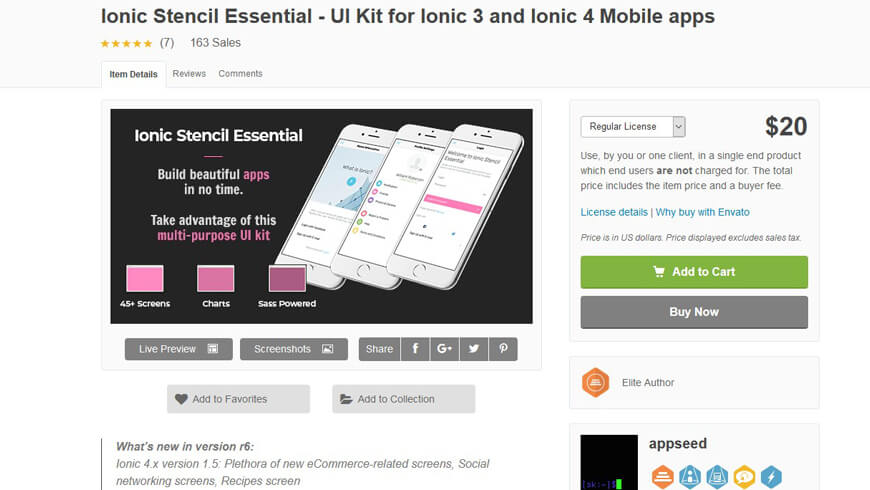 For app starters, Ionic Stencil Essential enables you to build mobile applications effortlessly with a distinct collection of elements and screens, utilizing contemporary design elements to accomplish layouts of high-quality.
Features and Benefits:
This template employs Sass, a CSS preprocessor that lets you deal with the monotonous quality of CSS. Primary reasons to choose Ionic Stencil Essential include an intensive series of widely used screens, two codebases for Ionic 4 and Ionic 3, free updates, extremely detailed documentation, and so on.
19. Taxi Driver App Starter Ionic 4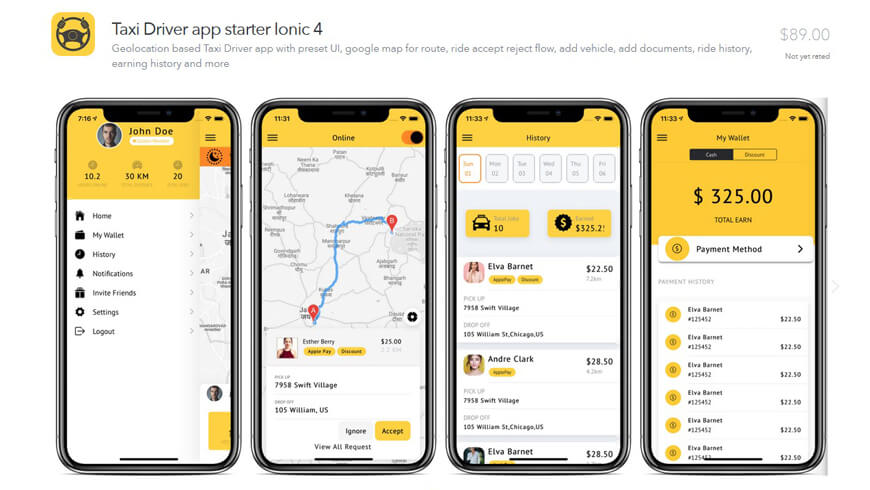 Developed with Ionic 4, Taxi Driver is a builder app made by professional UI developers that anyone can use to create your own taxi driver mobile app.
Features and Benefits:
Taxi Driver provides a great point to start as half of all the work is done already. All pages and elements are established, all you need to do is incorporate the feed and backend in the data. The app template on Taxi Driver maintains these features:
Offline or online driver feature
Add card or payment
Vehicle tracking location in real-time
Sign up or log in
Notification page
Call, message, chat feature page
Sharing with SocialShare plugin
20. Ionic Sketch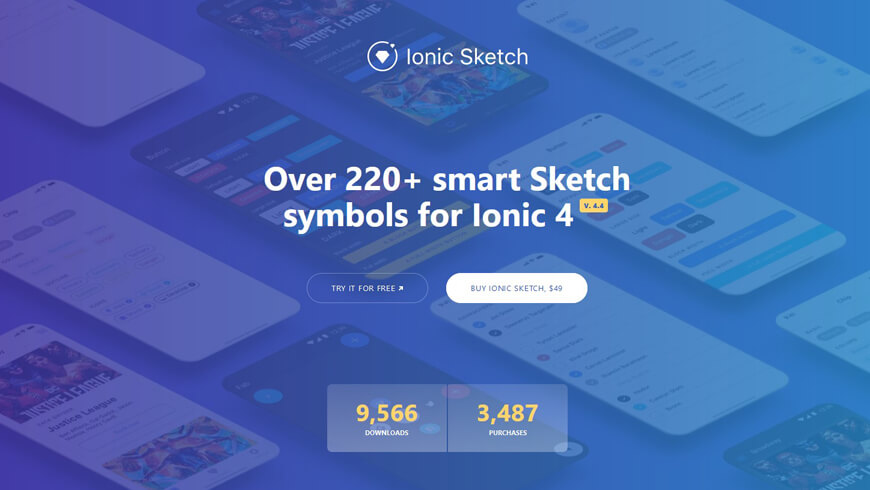 Ionic Sketch is a series of more than 100 lates, responsive Ionic 4 elements, over 800 customizable Sketch figures, and over 500 ionicons that enables you to create and develop Ionic apps faster.
Features and Benefits:
The team behind Ionic Sketch template for Ionic 4 added a dark theme in case you want to try a dark UI.
With the recent announcements by Apple and Google about their dark mode, this feature can be particularly beneficial to Mobile App Development Company to create apps for both platforms.
Conclusion
These were 20 high-quality Ionic 3 app templates that will provide you a huge boost in the process of your app development.
Surely, with so many options, you will find the one best for your project.