12 Best Android Email Apps to Use | 21Twelve Interactive
The email has been around for more than 4 decades. Even after all these years, it remains the primary means of communication for personal and professional requirements. Due to its importance, usually, an Email application comes pre-installed on your phone. However, there are a lot of other options available in the market that provide you with better features. Hence, we have compiled a list of the best Android Email apps for you to know!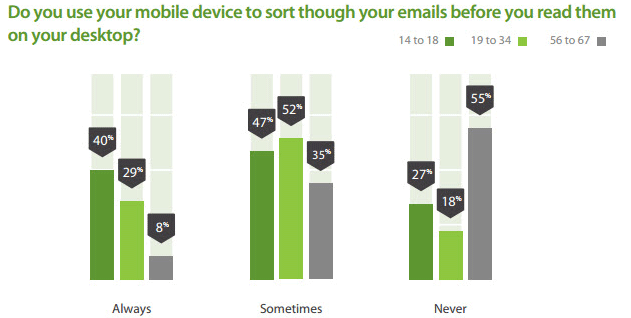 If you are planning to get your Email app developed, hire an Android app developer and get started!
One of the major reasons you should go for Email app development is that 75% of people use their smartphones to check their emails. So, what makes an app the best email app for a smartphone? Find out here!
What Makes the Best Mail App for Android?
A mobile email client needs to implement the basics efficiently. For instance, connecting to third-party domains, sending/receiving messages, inbox search, and keeping things organized. Every application will have different methods to complete these tasks.
The best mail service app is the one that is designed keeping in mind small screens. Such applications are easy to use while doing any of our regular activities. The best Android email app will provide you all the features of the web/desktop app without being slow.
Last but not least, the best Android Email apps will feel like home and integrate perfectly with your phone's notification system.
12 Best Android Email Apps for 2020:
1. Blue Mail

Innumerable features in the blue mail app make it the best email client for Android. Blue mail works with multiple other email platforms like Gmail, yahoo, outlook, etc. Moreover, it also supports IMAP, POP3 and MS Exchange.
With Blue mail, you can sync all the mailboxes from your multiple providers in a single interface. You get a mesmerizing user interface and a range of visual customizations if you opt for Blue mail.
Apart from all this, it gives you the option to set a different type of notification for each account.
Thus, Blue mail can be considered the best free email app for Android.
Features of Blue Mail:
The option of Group Mailing
Supports Android Wear
It can be integrated for mobile printing
Configurable menus
2. Email by Edison

Email by Edison is reliable enough to make it to the list of best Android email apps. Not only does it have a beautiful appearance but it also enables you to manage many mail accounts. Email by Edison works seamlessly on your Android device.
It is one of the very few Android email clients that you can use on smartwatches that use Google's WearOS. What's the best part about Email by Edison? Well, it is intuitive. Its in-built assistant will display key information in the email like attachments without actually having to open the mail. Also, users can search for the required information in the local folders.
Features of Edison Mail:
Automated categorization of emails
Real-time travel notifications
In-built intelligent notifications
Tracking of package
3. Microsoft Outlook

Almost everyone knows about the outlook email app for Android as it allows easy management of the email accounts. All thanks to Redmond's efforts to increase its visibility, Microsoft Outlook ranks among the top email apps for Android. It has more than 100 million downloads on Google Play.
Microsoft Outlook Android has a neat and user-centric appearance. You can sync and keep active multiple email accounts at the same time. Outlook supports the primary mail services as well as cloud storage services.
The best feature of Outlook is the focused tab option. This feature will filter out your high priority emails.
Features of Microsoft Outlook:
Users can easily access the calendar and files
Scale deployments and maintains consistency
Users can create and join the team meetings
Users can push the account setup details
4. Gmail

Gmail is already very popular and comes pre-installed in almost all Android devices. Being the most popular and household name, you can't forget to include Gmail in the list of best Android Email apps.
It's user-friendly UI and organized classification of emails are the best features. Of course, you can manage multiple Gmail accounts together. Gmail is a simple application with 15GB storage.
One of the interesting features of Gmail is the smart reply feature. The feature will suggest relevant responses when you are typing an email. If you are sending some sensitive information in an email, Gmail gives you the option to make that email self-destructive.
A self-destructive email means the content in it will expire after the time limit decided by the sender.
All these features make Gmail one of the awesome apps for Android! If you are planning to go for custom mobile app development, then an app like Gmail is the way to go!
Features of Gmail:
Supports multiple accounts at the same time
Confidential mode
Option to categorize between social and promotional mails
Inline action buttons and much more
5. ProtonMail

If you heard about the Gmail data breach and that has become a concern for you then ProtonMail is the perfect alternative.
ProtonMail provides end-to-end email encryption, which means no one can view the email except the sender and recipient. Again, it also has a self-destruct feature. Let's say you're sending mail to a non-ProtonMail user then you can protect it with a password.
These security features make ProtonMail eligible to be included in the list of best Android email apps.
Features of ProtonMail:
Automated creation and management of PGP key
Emails and attachment encryption
Swipe gestures and labels can be customized
Users can set timers for messages to automatically destruct after sending
6. Aqua Mail

Apart from the basic features, Aqua Mail also comes with a wide range of widgets. You can also sync it with your calendar and contacts. Although it is an amazing app, some of its helpful features are available only in the pro version.
The free version of this application will show an ad every time you send a message. Despite all this, the good part about Aqua mail is that it allows a lot of customization. You also get the option to add separate signatures for your different email accounts.
Features of Aqua Mail:
Supports multiple email providers
Supports the standard email protocols on the internet
Improved security features
Push notifications for servers that support the IMAP IDLE extension
7. Email TypeApp

Email TypeApp is an amazingly designed application that enables you to monitor all your accounts in a single place. It is available free of cost and does not show any advertisements. Email TypeApp is also one of the few email apps that you can use with WearOS devices.
Thus, it has been included in the list of best Android email apps and is definitely worth trying!
Features of TypeApp Mail:
Unified Email Inbox
The option of group mailing
Simplified emails with Clusters
Menus can be configured
8. Newton Mail

It is one of the powerful applications and capable enough to replace Gmail apps for Android. This email application is popular for its smart search feature and UI.
Newton Mail supports all the primary email providers as well as some productivity tools like Trello, Zendesk, and Evernote, etc. Furthermore, you can make your inbox secure with a password.
Overall, it is one of the best email app Android but Newton Mail is available free of cost for only 14 days.
Features of Newton Mail:
Push notifications for all types of emails
Ability to schedule emails for sending later
Customized inbox swipes
Custom options to sync folders
9. K-9 Mail

K-9 mail is a free and open-source application. Although K-9 is a simple application, it contains all the required features. Some users are of the opinion that it is overly simple and becomes uninteresting to use after a point.
The reason can be its dull design and lack of some interesting features that other applications offer.
Features of K-9 Mail:
Push IMAP support
Support of WebDAV
Users can choose between black/white themes
Individual account notifications
10. myMail

myMail is also one of the reliable applications that will help you to seamlessly manage all your email accounts. Some interesting features of myMail include real-time notifications that can be customized, smart search, and data compression to send/receive an email.
We agree that myMail is not feature-rich but it does have all the absolutely necessary features. The best part about myMail is the appealing user interface.
Due to all these reasons, myMail earned a place in the list of best Android email apps.
Features of myMail:
Real-time push notifications
Supports ActiveSync protocol
Users can search from local and server contacts
OAuth authentication for sign-in
11. Nine
Nine is a full-fledged application created keeping in mind the business owners who want to have a seamless communication channel. It uses the Direct Push technology. The trial version of Nine is available only for two weeks.
If you are an entrepreneur, then Nine is one of the best Android email apps for you!
Features of Nine:
Direct synchronization of push notifications with Exchange ActiveSync
Multiple accounts support
SSL
Hybrid email search
12. Tutanota
Tutanota was created keeping in mind the security of data. It is ad-free. As it relies on encryption, Tutanota is for the users who value privacy more than anything.
If you are sending an email to a user who doesn't have a Tutatona account, then the recipient will need to enter a password to view the contents of that mail. All these features make Tutatona a completely secure option.
Features of Tutanota:
End-to-end encrypted inbox
Automated end-to-end encryption of emails between users
Users can send end-to-end encrypted emails to anyone with a password
A secure password reset process
Conclusion
This was our extensive list of some of the best Android email apps for 2020. All of these options have their pros and cons. You can select the ideal one for your requirements after careful research on the application.
On the other hand, if you are looking for some inspiration for your Android app development agency project, then make a careful selection of features that you want in your applications. The feature list will not only have an impact on the success of your application but also the final cost of development.
Do you want to hire an experienced team of Android developers? Reach out to our in-house team on [email protected] and get expert consultation for your project!
General FAQ:
Which Email App is the best for Android Smartphone?
Some of the best mail apps for Android smartphones are Blue Mail, Email by Edison, Microsoft Outlook and Gmail, etc.
What is the best Email App for Android for multiple Accounts?
Gmail is the best email app for Android if you want to use multiple accounts.
Is Gmail better than Outlook for Mobile Devices?
Yes, Gmail is better than Outlook for mobile devices as it offers far more features than Outlook.
What is the best Email App for Android without Ads?
Some of the best email apps for Android without ads are Gmail, Blue Mail, Mail by Edison, Microsoft Outlook and ProtonMail, etc.