The 12 Best WordPress Photo Gallery Plugins of 2020
Do you want to know the best WordPress Photo Gallery Plugins of 2020? Let's find out!
The number of WordPress gallery plugins accessible at WordPress.org is 2987. Yes! That is the figure. Irrespective of the size and shape of any image, you can showcase it in an eye-catching way with the help of plugins. By this, we can understand why every website needs a WordPress Gallery Plugin these days.
But there are a plethora of options that mind-boggles marketers and website owners. A sound WordPress Development Company comes handy in cases of such a dilemma.
12 Best WordPress Photo Gallery Plugins of 2020:
Here in this content, you can learn about 12 important gallery plugins carrying the correct combination of aesthetics and features.
1. Modula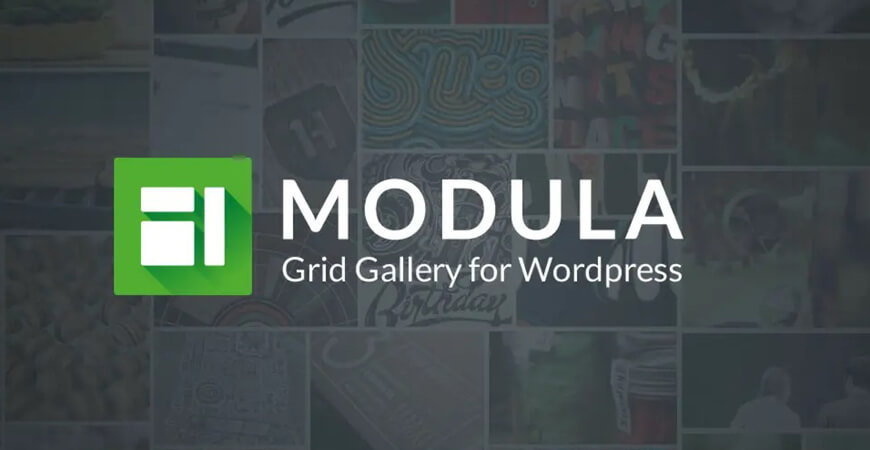 The best free WordPress photo gallery plugin, this is a user-friendly one from Macho Themes. Tweaking a gallery as per preference is easier with this WordPress Gallery Plugin as the customization options are flexible & are many.
With the custom grid functionality feature of the plugin, resizing images within the gallery's container, scheming their widths, aspect ratio & heights becomes a piece of cake.
A gallery only needs to be switched from "creative gallery" to the option of "custom grid" & you can easily transform the image dimensions by clicking & dragging from the base images right-hand corners in the gallery.
Reasons:
Craft a lightbox gallery with six varied incorporated lightbox styles
Premium Modula video extension is accessible by which adding videos to the gallery becomes simpler
Gallery customization possible with CSS
Image entry animations like rotation & sliding can be added
Built-in buttons for social sharing available by which website visitors can easily share the images
Price: Free & Paid plans initiate at $29 for a single-site license
2. Envira Gallery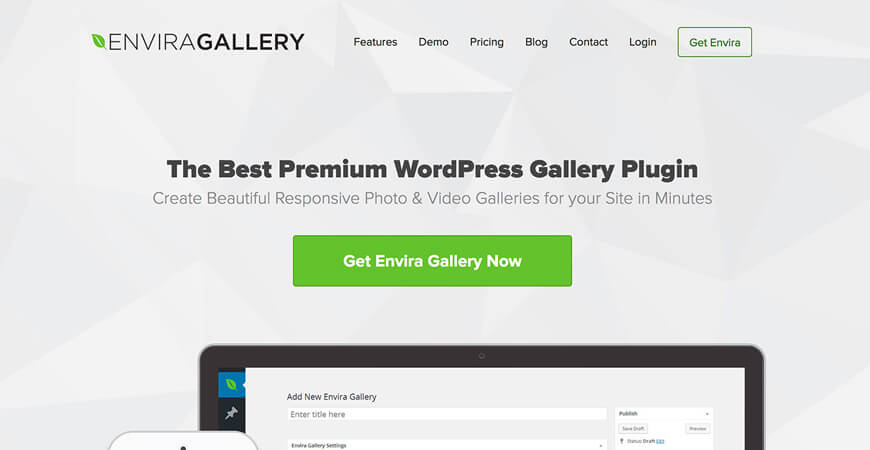 One of the best free gallery plugin WordPress, it comes with a fantastic interface that helps in creating a stunning gallery within no time.
A free version is best for basic galleries. Social sharing, albums, image deep linking, video support are some of the premium version features.
Reasons:
The interface of this WordPress photo gallery is amazingly designed
The Pro version enables you to utilize videos in the galleries
A plethora of features like watermarking, WooCommerce support accessible in the Pro version
There are effective add-ons available for Proofing, Lightroom, and WooCommerce
Price:
Basic premium version initiates at $29 for a single-site license
Full-featured pro version initiates at $99
3. Final Tiles Gallery

Considered as the best photo gallery plugin WordPress, photo galleries become extra interesting as this plugin employs an exclusive algorithm.
There is no cropping of images included in the functioning instead no matter how massive the images are, you can get hands-on responsive galleries that adapt to the browser easily by utilizing a smooth animation. This is the same on Smartphone devices as well.
This plugin can be employed for a wide array of purposes such as product showcasing, wedding gallery, etc
Reasons:
You can craft galleries from your own posts & also WooCommerce products
There are options to fabricate exclusive gallery layouts that are especially useful when the objective is displaying work in an eye-catching manner
As an effective WordPress lightbox plugin, with varied loading & hover effects, it is possible to customize the look of the gallery
The plugin is great for beginners
Price: Starting price of paid plans is $24.99 every year
4. NextGEN Gallery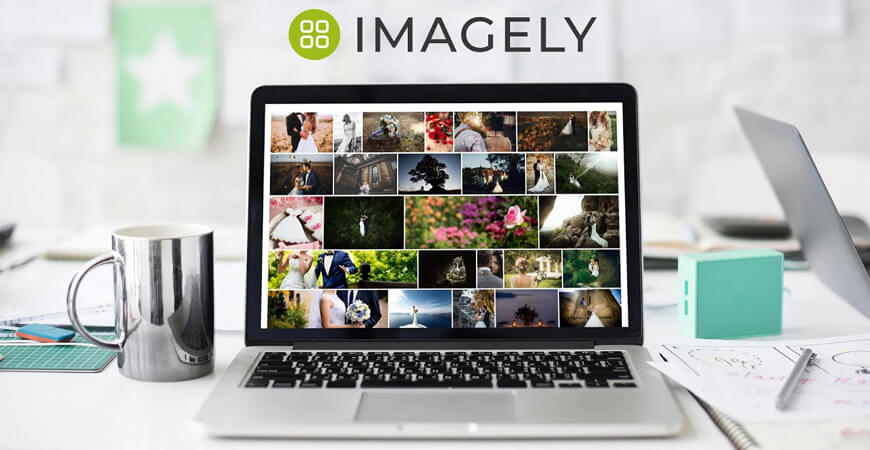 Best WordPress gallery plugin with more than 1.5 million downloads every year, this is an amazing gallery plugin.
The plugin's free version offers two major gallery styles that are thumbnail and slideshows galleries. The two-album styles include extended & compact.
All these styles are infused with a plethora of options for the purpose of controlling timing, lightbox effects, style, etc.
Ecommerce functionality for selling images, image deep linking for all lightbox galleries, image protection like watermarks & hotlink protection are the premium version advanced features.
With the use of the NextGEN gallery shortcode, you can easily put it in the gallery window within the WordPress gallery widget.
Reasons:
It is possible to fabricate slideshow galleries and also other types of galleries as per the version you have selected
It is possible to craft albums of varied galleries that is effective when there is a requisite of showcasing a plethora of diverse pictures
Price: Cheapest premium version starts at $79
5. Photo Gallery by 10Web

If any WordPress image gallery can help you produce unlimited galleries, it is Photo Gallery by 10Web.
The best feature about this photo gallery website plugin is that it enables you in creating a gallery from embedded videos & you can even mix & match galleries with videos & images.
Features that you will get in both premium & free versions are social sharing buttons, eCommerce add-ons for selling digital content from the website, options for showcasing Facebook albums, image watermarking, etc.
Reasons:
There is no need to be concerned regarding image theft with right-click protection feature
It is possible to produce numerous various types of the gallery such as slideshow, filmstrip, and masonry
Price: Premium version initiates at $30 for a single-site license
6. FooGallery
A highly sought-after website photo gallery plugin, with this you can give shape to responsive galleries by utilizing numerous layouts.
The galleries that you are able to craft over here are retina-ready & it is by default. The free version also comes with built-in album support that enables the grouping together of numerous varied galleries.
Image hover effects, simple dot pagination, video support in galleries, lazy loading, better gallery templates, image loading upshots, infinite scroll are some of the other features.
Reasons:
There is a pile of effective developer features available that also includes a built-in tool for generating boilerplate extensions
You can easily create video & image galleries with premium extension feature
Price: Pro version initiates at $49 for a single-site license
7. Justified Image Grid

An effective WordPress post gallery plugin, this plugin is not accessible for free but is the best-selling photo gallery WordPress plugin with more than 18,000 sales.
Some of the attributes of this plugin include custom links for opening a particular video or page, narrowing the gallery by custom taxonomies, scrolling for loading more & more content to gallery, etc.
With this plugin, you can import content from various external services such as YouTube, Facebook, RSS, Flickr, Vimeo, etc.
Reasons:
The horizontal image grid feature protects the original image aspect ratio and also there is no need to crop the images
Price: Price is affordable starting at $26
8. Jetpack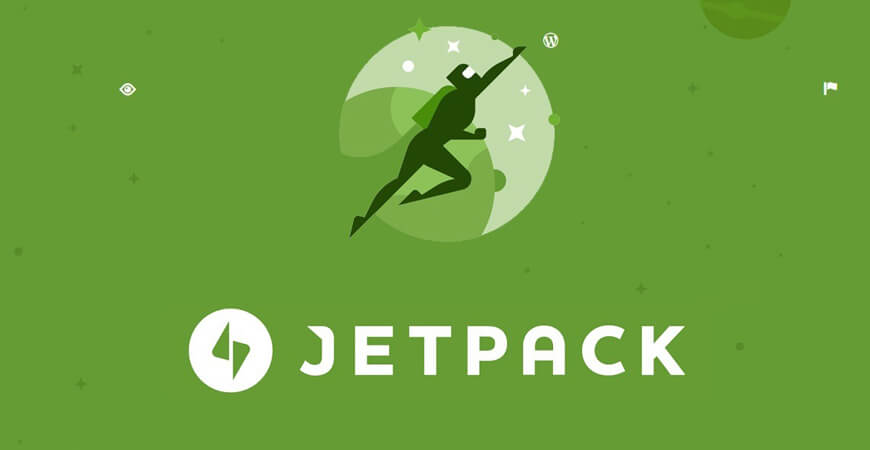 If you are engaging in self-hosted WP installs, then Jetpack is the WordPress Gallery Plugin for you as it is not only a multi-purpose plugin but comes with a plethora of WordPress.com attributes as well.
A very important attribute includes improvement to the core WP gallery functionality. If your aim is crafting basic kinds of galleries, then this plugin is perfect for you.
Jetpack offers you options for circles as well as square galleries.
Reasons:
Most probably you are already utilizing Jetpack on your website
Price: It comes for free
9. Photo Gallery by Supsystic
Regarded as an efficacious Facebook photo gallery plugin, with this you can generate unrestricted photo galleries and by employing numerous different templates.
Then there are options for customizing the galleries by shadows, borders and margins. In case there is a requirement of importing images in bulk from social networks, you can easily do that from Instagram, Facebook, etc.
With the Pro version, it is even possible to showcase videos in galleries and it also includes the potential of importing videos directly from YouTube.
Reasons:

Pro version incorporates image categories & pagination
Adding images to the gallery through FTP is possible and this proves to be very useful when you are functioning with a variety of images
Price: Pro version initiates at $29 for a single-site license
10. Everest Gallery Lite

A very new image gallery WordPress plugin in the current market, it renders numerous layouts & that includes masonry layout & grid layout as well.
The free version comes with more than 30 flawless gallery layouts and you can easily configure all the columns for adjusting to the screen size.
The version also includes the capability to preview the entire thing prior to publishing, lightbox options and hover animations. The plugin can also be extended to the premium version.
Reasons:
There is drop & drag support available
You get a contemporary feel for all the gallery layouts and also receive complete responsive support
Price: Pro version initiates at $20
11. Meow gallery
This WordPress responsive image plugin is a very popular one in the current market today. The free version incorporates 5 free layouts that are tiles, justified, cascade, masonry, square, etc.
Managing galleries is very easy with this plugin as it includes a shortcode as well. The plugin functions with Lightroom via LR/WP sync. You can synchronize it with the galleries with just a few clicks.
Reason:
Many filters accessible for customization
The plugin is fast, retina-enabled, light and responsive
Price: Pro version initiates at $19
12. Photonic
A very popular Lightbox gallery WordPress plugin, you can use this plugin for showcasing content from Google Photos, Instagram, Flickr, Zenfolio, SmugMug, etc.
The plugin does not work by adding media to the media library and also never defines fresh content structure like albums for associating to photos but instead enables you in utilizing the structures that are defined by your very own photo sources.
This offers you the prospects of updating your photos at the very source level and also updated the images automatically on the website.
Reasons:
Fantastic integration with all third-party sources
The gallery builder is an interactive one that functions with both block editor and classic editor
Great support for numerous lightbox scripts and also no add-on is required
Price: Free
Conclusion
Now that you are aware of the list of WordPress Gallery Plugins as mentioned above, you need to decide which plugin you need to utilize.
For instance, Modula will help you create stunning galleries rapidly, Envira Gallery and NextGEN will be apt for you if you want to display albums & sell images; these are the more heavy-duty ones.
But if you want to discover a template style that aptly fits your requisites, you must go through the numerous gallery demos and find out the best one. If you have little knowledge about the proper utilization of plugins, you must Hire WordPress Developer. Contact us today for associating with experienced professionals and for flawless service.
Popular FAQ:
Which are the Best Free WordPress Gallery Plugins in 2020?
Envira Gallery, Modula, Foo Gallery, Photo Gallery, etc.
Top 3 Lightbox photo gallery plugins in WordPress?
Envira Gallery, Modula, and NextGEN.
WP Photo Gallery Plugin can also work in responsive Layout?
Yes, a plugin like FooGallery lets you fabricate responsive galleries by employing different layouts.
Can you create a Photo Gallery in WordPress Widget?
Yes, with the built-in gallery feature of WordPress, photo galleries can be quickly created.