Google Site Kit WordPress Plugin: Features & Review
You need tools to track the performance of your website. There are many Google services to track the performance of a website. Some of the Google services are Google Analytics, PageSpeed Insights, and AdSense.
Every Google service performs different functions in tracking the performance of your website. It is a well-known fact that approximately 35% of the websites use WordPress.
Google launched Site Kit, an official plugin for WordPress websites for WordPress users.
Yes, you guessed it right! This blog is all about Google Site Kit! Of course, here you will only get an overview of Google Site Kit for WordPress. For technical or project-related details, contact your hired WordPress development company.
What is Google Site Kit WordPress Plugin?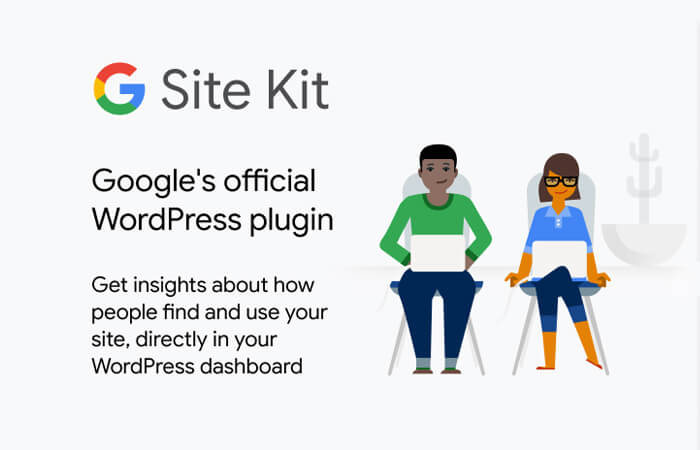 Site Kit plugin is the official WordPress plugin. The aim of this plugin by Google is to provide valuable insights to the website owners.
The website owners can know how people are finding and using their website.  Google Site Kit acts as a one-stop solution. You can manage and view information from various Google tools.
Moreover, you also get updated insights from various Google products. All this information in a single place will help you make a successful website.
Impressive Features of Google Site Kit
Availability of the stats on the WordPress dashboard in an easy to understand format.
This Google plugin displays official stats. The official stats from many Google tools are all present in a single dashboard.
You can set up many tools without editing the website's source code with the help of this Google Kit plugin.
Metrics for both – complete website and individual statistics are available.
Granular permissions for WordPress and many Google products are manageable.
Google Site Kit Plugin's Supported Tools:
Google Search Console
The search console is a perfect tool to analyze the web site's performance in the Google search engine. Google Site Kit Search Console will also provide you information such as the indexing status, important SEO metrics, and traffic, etc.
Google AdSense
It is the leading platform in the industry to run contextual ads on your WordPress site. Google AdSense is among the best advertising/monetization networks in the market.
Google Analytics
Again, the industry's best in class website traffic tracking tool. You can track user behavior in various ways. You can know the real-time traffic stats, bounce rate, and the number of visitors on your website. If you want to know the journey of a visitor on the site that is possible too.
Google PageSpeed Insights
This tool is to help website owners optimize their websites.
Such websites load faster on the users' devices. How to use this tool? Enter the desired URL and you will be able to see a performance grade for mobile and desktop users.
Not only that, but it also provides recommendations to improve performance.
Google Optimize
Google Optimize is a tool to carry out various tactics on a website. There is an option to customize the content for different types of audiences. The primary aim of using Google Optimize is to provide the ultimate user experience.
Furthermore, testing various tactics will allow you to identify one that works best.
Google Tag Manager
The Google Site Kit Tag Manager tool will make it easy to track any milestones achieved by your website. How? Well, it simplifies the use of tags, code fragments, labels, pixels, etc.
Pros & Cons of Using Google Site Kit: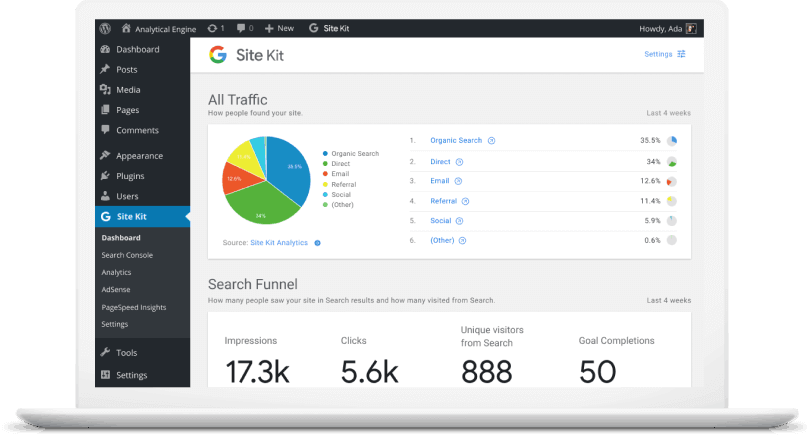 Pros
It assembles various Google products in a single interface. Everything is visible in your WordPress site's dashboard.
It is one of the best Google site plugins as you can view all the statistics without leaving WordPress. For instance, you will be able to see search queries from the Search Console tool. At the same time get data from the Google Analytics tool.
Analyzing the performance of different pages will become easier.  It is because of the in-built PageSpeed Insights tool.
The setup process is possible in a few clicks.
Google Site Kit is completely free.
Cons
The plugin is not as detailed as other plugins. It is because other plugins are for certain specific services. For example, you cannot set up Google Analytics event tracking. The Google Analytics plugin allows that when used alone.
If we take WordPress.org reviews into consideration, Google is still working on it. Google intends to make some more improvements.
Google Site Kit Is Useful For Following People:
Website Owner
Every website owner wants to know how his/her website performs. If you want to know how users are finding your site and using it, then this plugin is perfect for you.
It's easy to set up and the metrics are easy to understand too.
Developer/Agency
The goal of a developer/agency is to improve the performance of the client's website. This plugin will enable them to gain, and deploy insights from crucial Google tools.
A Plugin/Hosting Provider
If you are working on a hosting or plugin provider, then Google Site Kit will provide an easy and scalable way for your users to access crucial Google tools.
The Google Vulnerability
We are sure that by now you have understood that this plugin displays data of all the critical Google tools in your WordPress dashboard. But, a vulnerability was recently detected in the plugin.
The vulnerability is a Privilege Escalation exploit. The security issue was that an attacker could get access to a website's Google Search Console.
The attacker should be registered on the WordPress website to take advantage of this security loophole. Usually, a user on the subscriber level gets the least privileges on a website.
Due to this vulnerability, the attacker will get admin-level privileges on the website. If a user has a subscription to WordFence premium security, then they are safe from this threat.
Also, an important point to note is that this vulnerability will affect the versions below 1.8.0. If you are using any of those versions then update the plugin before using it in any more projects.
Conclusion
What is the proof of the popularity of Google Site Kit? Well, more than 200,000+ WordPress websites are already using it. It has proved to be a great option for WordPress website owners.
The reviews show that the core dashboard areas work in a perfect manner. But Google is still working to make some improvements.
The plugin will increase the convenience level to a huge extent. Hire WordPress developer who knows how to use it best if you want to use the plugin in your next project.
Drop your queries about Google Site Kit on [email protected]!  Our WordPress experts will get back to you!

Most FAQ:
What is Google Site Kit?
Google Site Kit is the official WordPress plugin released by Google. Website owners can get valuable insights into how users are finding and using their site.
What are the best features of Google Site Kit?
1) Easy to understand stats on WordPress dashboard, 2) Official statistics from many Google tools in a single place, and 3) Quick set up of crucial Google tools without altering the source code.
What benefits will I get after installing Google Site Kit plugin?
You can deploy, manage, and view many Google tools from your WordPress dashboard if you install Google Site Kit plugin.
Can I add this plugin even though I am not using WordPress for my website?
No, this plugin is only for WordPress websites.