Guide to Develop an On-Demand Dog Walking App
Dogs are believed to be man's best friend since forever. People who own pets know that taking care of them is not as easy as it sounds. They need complete care and attention. Starting with vaccines to everyday care like timely walks and bathing. There cannot be an app for everything but the concept of a dog walking app definitely exists in the market.
When we hear the idea of an on-demand dog walking app, a lot of questions come to mind. Many people who plan to launch a similar app would directly consult a hybrid app development company.
Some people, on the other hand, will surf the internet first for some basic information.
Guide to Develop an On-Demand Dog Walking App:
Here is a detailed guide on the development of an on-demand dog walking app.
How Do Dog Walking Apps Work?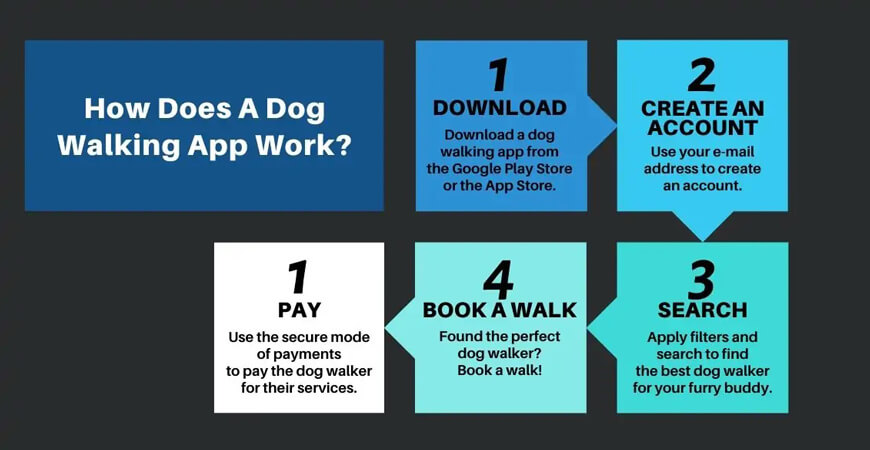 The aim of a dog walking app is to connect the pet parents with the available dog walkers. It is necessary for such a platform to ensure the safety of its users.
A simple way to do that is to verify the profiles of everyone who registers on the dog walking app. You can discuss more safety measures with your technology partner but this is something basic.
Whenever a dog owner signs up on the platform he/she will provide their home address and their pet's details.
Once the basic registration formalities are done, a pet owner can immediately start searching for an available dog walker. It can be an on the spot booking or can be scheduled for later.
For instance, if the work schedule of a dog parent is fixed and there are some days of the week when they are going to be late, a walk can be scheduled for all those upcoming days. Features like GPS tracking in the pet walking app will allow the owners to keep a track of their pets.
A frequently asked question is that do we get to meet the walker? Of course! An initial meeting can be arranged before you hand over your fur baby to them.
If we take the example of two popular dog walker apps, they pay the walkers online. Both of these are the best dog walking app to work for.
Pay for Pet Walking App:
Now, that you know how does Wag pay walkers, here is another frequently asked question from the walkers.
How much does Rover pay per week or how much do Wag dog walkers make? The average pay of a 30-minutes walk is $15-$25. The range may vary depending on the city.
In the case of Rover vs Wag, Rover charges walkers 20% of their fees, and Wag charges 40%. The concept of a dog walking app has become quite popular due to the busy lives of people.
This is because even though people love their pets a lot, there is some work that cannot be absolutely skipped.
The aim of developing almost every application is to earn money. Even though we have told you a bit about how Rover and Wag dog walking application earn, we have discussed a few more ways in the next section.
How To Earn From Your Dog Walking App?
Marketplace Model
In this model, you create a platform, and pet care providers manage their bookings independently.
For every transaction completed, the platform earns a small amount. It can be called a peer-to-peer based payment method where the pet owners pay to the walkers through your dog walker app.
Agency Model
In this model, you hire the walkers, provide them training and they work as dog walkers.
As opposed to the marketplace model, the dog walkers do not conduct transactions independently but work under your name.
One Time Sign Up Fees
In this case, both the pet owners and dog walkers will have to pay fees once when they sign up on the platform.
It will not only help you earn revenue but also encourage them to use multiple features of the platform.
Annual Fees
Charging an annual fee from the customers for access to premium features of the platform is a common model that many on-demand applications use.
It is a great option to earn through your dog walk app.
Advertisements
An easy way to monetize the app is by displaying relevant advertisements.
Partnership with reliable companies who sell pet products will help you monetize the platform easily.
Basic Features Of A Dog Walking App: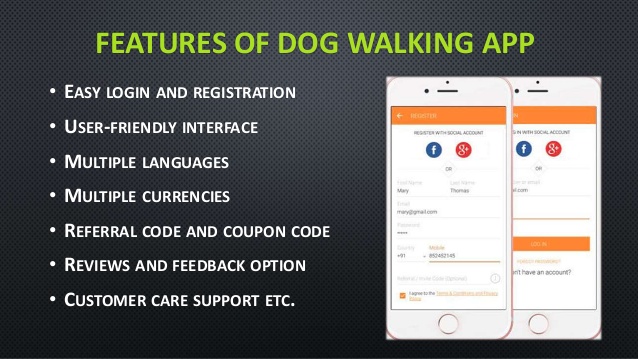 Any dog walking app needs to be user-friendly as your target audience is not going to be limited to just millennials. Anyone with a pet may sign up on your platform and use it.
Some of the basic features are listed below:
Sign Up
Just like any other on-demand application, your dog sitter app should allow a user to set up their account.
It is an important feature as the pet owners can manage the dog walker bookings and keep a record of the same.
Option to Add Information About the Dog
A dog can have certain quirks or allergies. So, whenever a pet owner books a walker they might want to provide them all this information.
Therefore, this feature will allow them to do so without having to wait and meet the walker personally.
Booking a Walk
This is a must-have feature if you want your app to be considered an Uber dog walking app. It is an important feature for your app and should work seamlessly at any cost.
GPS Tracking
Many dog parents are paranoid about the idea of a dog walker taking their dog out every time. Hence, this feature is for the anxious ones who want to keep a track of the route their dog walker is taking.
Walk Log
The walk log feature will enable a walker to keep track of every activity on the way. Whether it is water breaks, games played, pee breaks, or meeting any other dogs.
It will also keep the dog parents updated about everything that occurred while their fur baby was out.
In-app Payments
It will enable the dog parents to pay the dog walkers through your dog walking app. Your users will be saved from all the trouble of keeping cash or complicated bank transfers.
Just a linked debit/credit card in the app is enough to make the payment.
Ratings & Reviews
A user will have the option to give ratings and reviews to the dog walkers. It will not only help other dog partners in hiring a dog walker but also enable the walkers to improve their quality of services.
Scheduled Walks
The user can either make a one-time booking for a later time or schedule walks multiple times in the upcoming days as per their schedule.
The scheduled walks feature will be a boon for all the dog parents who can't take their pets for regular walks.
Push Notifications
Push notifications are an integral feature in any app. Otherwise, the user won't get any updates about important happenings on the dog-walking app.
The push notifications will update users about actions like successful bookings, cancellations, payment confirmation, etc.
Advanced Features:
Filters
The option to filter requests and the list of walkers increases the convenience for your users. It can be said that the filters are a much-required feature but also the most ignored one.
A dog parent can filter out walkers on the basis of their preferences. A dog walker can choose a job on the basis of the preferred area and dog breeds.
Professional Advice
It can prove to be a valuable feature for people who have adopted dogs for the first time. The dog parents can get tips on various things like training, and grooming from vets, and trainers.
Your walking application will become a little more popular if all of the tips are specific to different dog breeds.
Dog Playdates
Just like humans, dogs also need some social interaction. Yes, there is the option of dog parks but sometimes huge dogs can intimidate the smaller ones.
Therefore, if the dog parents get an option to set a playdate as per their choice, it can be a big attraction for people to use your app.
Sales & Events Notifications
As discussed earlier the importance of socialization, the notifications feature can update the users whenever there is an opportunity. For instance, if there is a sale nearby dog products or a special dog training camp, the user will be notified.
The dog parents get to meet other dog parents and the pets will get their share of socialization too.
Community Feature
If you include the community feature in your dog walking app, dog parents in the vicinity will be able to connect and share important tips or information about their fur babies.
A strong sense of community between the dog parents on your app can keep them engaged for a long time.
Best Dog Walking Apps:
Wag!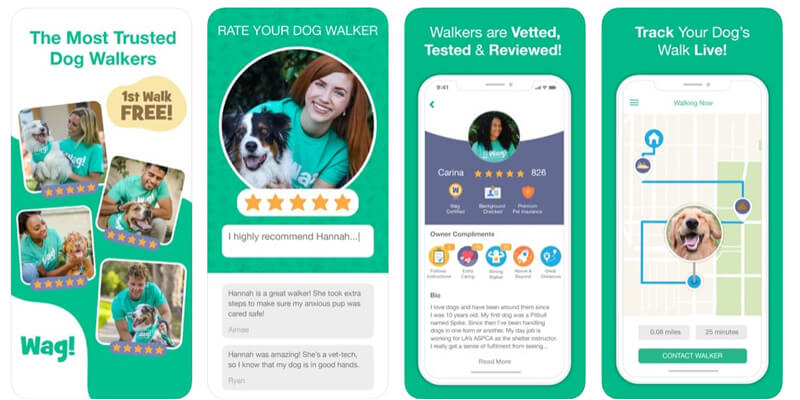 Wag dog walking app is one of the most popular ones for some time now.
It was established in 2014 and allows dog parents to schedule a walk as well as request a walk as quickly as within 15 minutes. Other features include live notifications, walk reports, and instructions for the walker.
Rover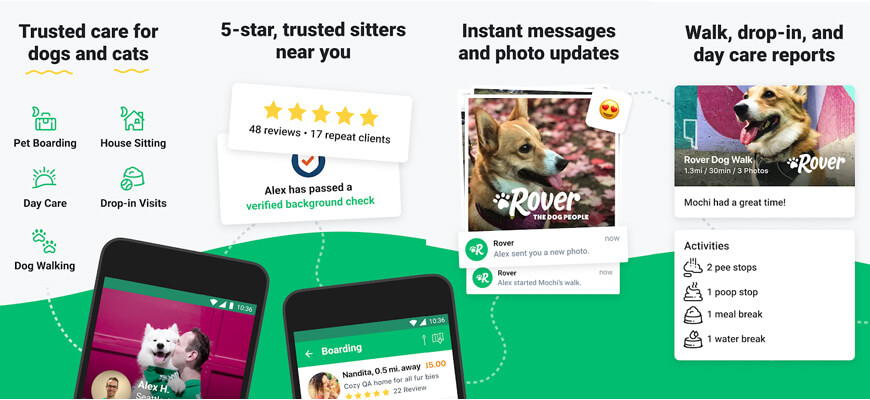 Again Rover is one of the top dog walking apps founded in the year 2011. The chat API in this app allows walkers and dog parents to communicate easily.
The other in-app features include payments, map, and live notifications.
Barkly Pets
Barkly Pets was also created in the year 2011 with the aim to provide dog parents with reliable services. The app is quite user-friendly and provides 24/7 assistance to its users.
Conclusion
The complete guide to developing the perfect dog walking app ends here. The features in every app are different so some factors can only be discussed with the cross-platform app development company that you partner with.
The right technology partner can also suggest some features that will enhance the security of users on the platform. A dog walking app that is seamless, attractive, and future-proof is your shot to success.
Do you believe your idea of a dog walking app is unique? Or will you like some information on the development process or approximate cost calculation for the same? Tell us about your idea at [email protected]!

More FAQ:
Which are the Best Dog Walking Apps?
The best dog walking apps are Wag and Rover.
Which one is better - Rover or Wag?
Wag understands the requirements of pet parents better and Rover provides richer services. So, it ultimately depends on the user's needs.
How much should you get paid to walk a dog?
The average pay for a 30-minutes walk is $15-$25.
Who pays more - Rover or Wag?
Rover and Wag pay almost the same. The difference is in the percentage they charge from the walkers.