5 Successful Business Models for On Demand Food Delivery
Uber Eats, Zomato and Swiggy are household names now. Millennials cannot imagine their lives without these on-demand food delivery apps.
These apps have become an inspiration for budding entrepreneurs. Are you one of them? Do you want to hire a food delivery app development company?
Do you think your idea of a food delivery business will stand out in the market? Before you start research on how to start a food delivery business, read this blog.
The ultimate aim of every business is to earn revenue, right? Then you need to choose a food delivery business model first.
Also, choosing the best app development agency will make the process easier for you. Now, before you go into dreaming mode again, let's begin!
Food Delivery Business Models: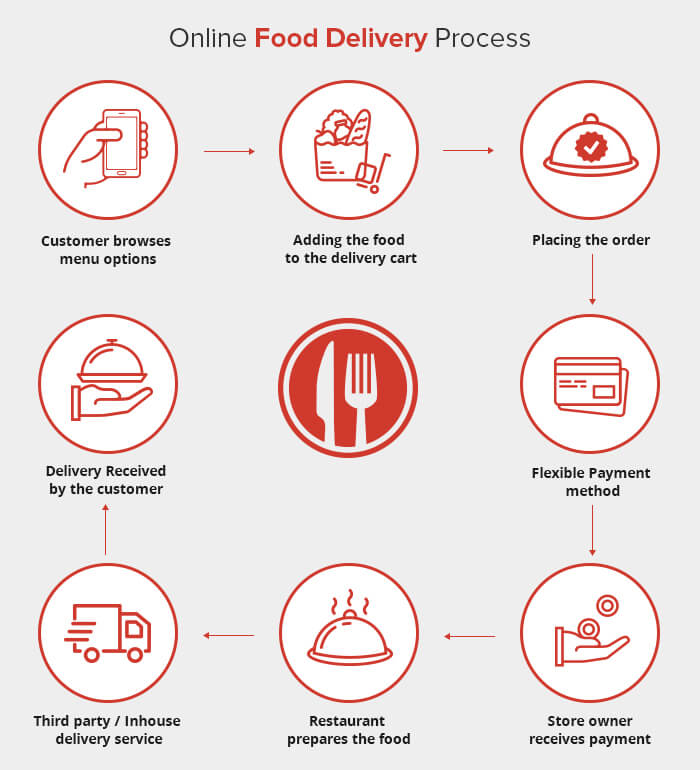 #Business Model – 1: Order Only Model
First-generation on-demand food delivery services choose the order only model. Their role was to connect the customers with local restaurants.
It would help the restaurants expand their reach. But the restaurants should have their own delivery service. The benefit for customers is that they can quickly and easily order their favorite food.
If you choose the order only model, you can earn approximately 7%-15% commission. Some popular names who use this food delivery business model are Zomato and Otlob.
These platforms are highly scalable but have a limited number of cuisine and pricing options.
This is not the only challenge with the order only model. The primary challenge is forming a wide network of partner restaurants.
The commission is the major source of income for food delivery on-demand app. Therefore, they need to partner with as many restaurants as possible. Not to forget the small ones too.
A huge number of restaurant options on your app will give you a competitive advantage. In the beginning, it is difficult to attract restaurants and eateries to your app. So, we suggest you start with local restaurants first.
As your app becomes a success, you can approach restaurants in other areas.
#Business Model – 2: Order & Delivery Model
This food delivery business model will handle the logistics for partner restaurants. Restaurants prefer such platforms as they don't have to find a delivery partner or maintain vehicles.
If you are starting a food delivery business, then this model is worth considering. Such business models charge 20%-30% of the total order cost.
They may also charge a flat delivery rate from the customers. UberEats stands out a little here. It's partner restaurants can be on the top of search results in the exchange for marketing fees.
Yes, this is one of the popular food delivery business ideas. But it comes with its own set of challenges. The primary challenge of this business model is having a systematic delivery system in place.
Delivery time is crucial to retain your customers. It is even more important in the lunch orders as working people don't have all day.
If a food delivery app can deliver within 30 minutes, then it is a great service. Larger waiting time will negatively affect your customer retention rate.
Also, the food needs to be at a consistent temperature to maintain its freshness.
#Business Model – 3: Fully Integrated Model
The fully integrated food delivery business model is when everything is done in-house. The app owners get the ingredients, prepare meals, and deliver them too.
You can choose to deliver to individual clients or corporates. Some of the food delivery apps also partner with celebrity chefs to cater to premium customers.
One example of such services is Eat Purely. They deliver food made by Michelin Star Chefs.
This model also comes with a set of challenges. The main challenge is the amount of investment. If you choose this business model, then you need to have all the equipment in-house.
The pieces of equipment will include coolers, refrigerated trucks, heaters, and others. One way to reduce operating expenses is to increase the volume of orders.
If you make multiple deliveries at the same time then you can reduce the logistics expenses.
Adopting the latest technology can also help you reduce the cost and delivery time too. Drones can reduce the delivery time to 20 minutes and save money too. That's because you don't need to pay for the delivery personnel's salaries.
#Business Model – 4: Cloud Restaurant Model
Do you want to start your food delivery business from home? Then the cloud restaurant model is the most efficient choice.
In this food delivery business model you don't need a restaurant. When a customer places the order, it goes to a central kitchen. The central kitchen will prepare the order and delivery personnel will deliver it.
In recent years, people who choose this business model got a lot of funding.
If we compare this business model to the initial two, this business model requires less investment.
The major advantage is that you are in complete control of the business activities. Hence, you can use the resources as per your needs.
As you are running the business without any physical presence, you require a seamless app.
For a perfect app, find a food delivery app development company with experience in the industry.
For a competitive edge, you can customize the core services. How is that possible? You will be able to do it as the investment is less.
Also, you did not invest in real estate. So, you get complete freedom to operate your business.
#Business Model – 5: Meal Kit Delivery Model
This is maybe an out of the box food delivery business plan, but it is profitable. You just have to deliver premium quality ingredients to your customers.
You can give a variety of options in vegetarian and non-vegetarian meals. The customers will have the option to choose the number of recipes they want every week.
You will deliver recipes and ingredients as per the plans customers choose.
All of this sounds easy from a bird's eye view. What about the implementation? First, you will require a team of chefs who can create unique recipes.
Second, of course, a team of delivery personnel to deliver the meal kits. Third, suppliers that provide premium quality of ingredients.
Are you forgetting the main ingredient in this whole recipe? Yes, your customers. Your customers will be people who prefer to cook a variety of dishes at their home.
You can earn high revenue in the meal kit food delivery business model. We can say this with a guarantee because customers will subscribe to your services.
It can be on a monthly or weekly basis. But it is definitely not a single order thing. Talk to your food delivery app development company to see if you can implement the idea.
Conclusion
We hope you got the idea of how each food delivery business model works. All of them simple initially. But when you dive deep, you come across day to day challenges.
We suggest that before you decide on a business model, you do some more research on it. Information in this blog will give you a basic idea but it is not in detail.
Are you not sure about doing research and thinking of the features to include? Then hire an Android app developer or iOS app developer.
You can choose the platform based on your target audience and budget. An iOS app takes more time to develop and publish on the official app store.
You can target a specific class of audiences with an iOS app. On the other hand, you can target a larger audience with an Android app.
Also, your technology partner can develop an Android app faster at less cost. The ultimate choice is on you and the project requirements.
Do you want to go live with your food delivery app as soon as possible? You are on the right page!
Our developers are known for their high-quality services in less turnover time? For further discussion, contact us on [email protected]!