Womens Health Tracking App
Are you a Fitness Geek? Do you how to develop Women Health Tracking App? Let's find out in this Blog!
A combination of the digital industry and healthcare industry has resulted in an extraordinary range of mobile apps. In the past few years, the use of health apps has increased to a substantial extent.
The mobile healthcare solutions have successfully brought a positive change in the lives of people. Even though the fitness tracking apps already have an established audience now, the market for women health tracking app is still not established.
However, increasing awareness among women and devices like Fitbit for tracking various health metrics has garnered more attention towards Femtech.
Femtech might be a new term for you and we will explain the concept next. Meanwhile, if you are already interested in the idea of women health tracking app development, then start searching for a mobile app development company.
What is Femtech?
Femtech or female technology means any software, product, or service that uses technology to improve the health of women. Digital technology is used to give women access to applications and use the same to track and address the various health concerns of women.
The term Femtech was first used by the CEO of Clue. The clue is a period tracking app.
In case you are wondering why the sudden need for Femtech? It is because of the change in the role of women over time. Female health has been ignored for years, but now as they are becoming significant contributors to the growth of households and economies alike, importance is being given to women's health.
In simpler terms, Femtech is all about making the lives of women easier with the help of digital technology. It can be either a menstrual tracker app or a pregnancy tracker app. Again these are just examples, and Femtech covers a whole lot more for maintaining the health of women.
Benefits of Women Health App Development
The women health applications available in the market right now are primarily for periods tracking.
Women can track their menstrual cycles, check their overall body health, predict ovulation, etc. These apps will enable women to understand and respond to their health issues.
Moreover, access to these applications is not limited to women. Their doctors and physicians can also use the data to better understand patients.
We are discussing the benefits of using a women health tracking app in-detail below.
Women Can Better Control Their Lives & Health
The idea of Femtech is to give women more control over their health and well being. A women health app gives insights to the users from time to time so they can make an informed decision when the time comes. It also spreads scientific awareness among women about their health.
In Time Diagnosis & Treatment of Health Issues
Apart from understanding their health and bodies, Femtech will enable women to timely detect any health issues and take corrective actions for the same.
Better Access to Healthcare in Remote Areas
In the current times, it is essential that healthcare is made accessible to women in all the areas. As there is taboo around the health issues of women, they either avoid going to the doctors or makes it harder for them to openly consult their doctors. The increasing number of health tracking apps has made healthcare virtually accessible to women across the globe.
Essential Features To Include In Women's Health Tracker App: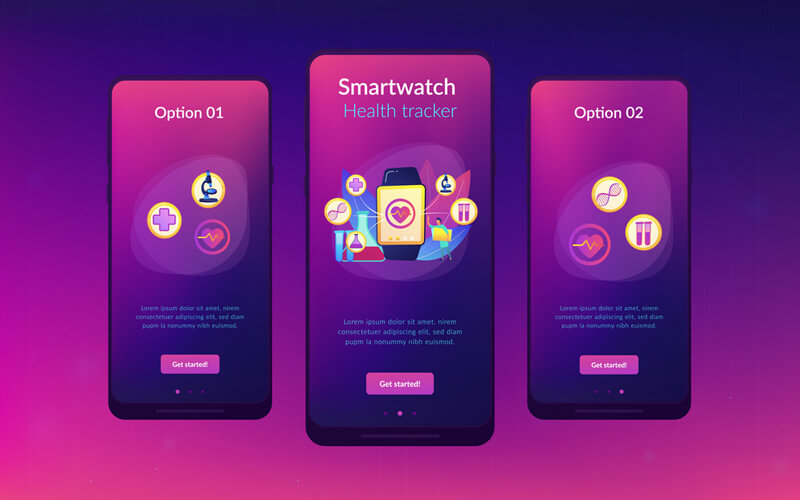 To make your women health tracking app successful, it is important to include features that make it a complete solution for the users.
The following are some recommended features when you plan to develop women health tracking app.
Sign Up
A simple rule to increase your app's popularity among the users is to make it user-friendly. While designing the onboarding process for your women health tracking app, you have two options.
Either go for the standard sign up process with the user's email ID or give the option of social media integration. A simple onboarding process will give an initial idea to your users about the app.
Therefore, make sure it is as convenient as possible.
Detailed Health Profile
Many times users are scared of signing up for women health tracking apps due to the overwhelming number of questions asked at the beginning.
If possible give them the option to skip the signup and ask only basic questions initially. The basic questions can be related to their weight, height, allergies, and menstruation cycle.
Avoid a whole lot of extra questions and instead, try and provide relevant and personalized content once someone starts using the application.
Period Tracker
Period Tracker is an essential ingredient of any women health tracking app. Such applications get a wider audience eventually. The period-tracking feature will allow the users to visually track and analyze the changes in their well being.
Some of the factors that can be tracked are upcoming PMS time, present date of the cycle, fertility period, etc. Also, keep in mind that the interface should be visually appealing and not provide too much information.
Notifications
The number and timing of your app's notifications can make or break it. The right number of notifications or reminders will increase its reliability quotient.
The notifications can also be divided into three types. Daily log entries, medicine reminders, and reminders about the next phase of their cycle.
One way to increase the usability of your app is to analyze all the data received and include functionality that alerts the users about potential health concerns.
Symptom Tracking & Analysis
Symptoms tracker functionality will make the women health tracking app more interactive. The app can provide regular readings based on the symptoms and patterns.
Modern technologies like AI and machine learning will help you implement this functionality flawlessly.
Furthermore, if your app also supports wearable devices such as a fitness tracker watch, then you can collect more data to analyze and provide accurate readings.
Digital Consultation
Digital consultation makes sense as the whole purpose of creating the app was to make healthcare more accessible to women.
Even though AI is used in most apps in their chat API, there may be a lot of detailed or complicated questions that women need to ask the doctors. That's why digital consultation is needed.
You can always partner with professionals who are on board to offer online advice or medication to the patients.
Refer & Earn
The refer and earn feature is a lucrative one. You can not only expand your user base but give your existing users some benefits in exchange for their help.
Thus, a win-win situation for all parties involved.
What Are The Problems In Developing A Woman's Health Tracking App?
Even though it seems all perfect on the outside, there are challenges in developing any kind of application. A woman's health tracking app is no different. Some of the potential challenges are discussed below:
Experts
The experts or specialists you convince to work with your app play an integral role. The absence of experts will result in the analytical inaccuracy of the collected data.
If you want to create an app that helps women with their symptoms and cycle then it is absolutely necessary to have a team of specialists on board.
App Design
Everyone knows the importance of visual appeal. It plays a crucial role in keeping your audience engaged with the app.
As mentioned earlier, there is still taboo around topics of women's health, they don't prefer anyone to know what they are up to when they open the application.
As we are talking about the target audience, there are chances that other genders also use the app. Therefore, make sure that the UI/UX design of your app doesn't relate to a specific audience.
Data Privacy
The increasing concerns around data privacy might refrain people from signing up for your application. To make them feel assured about their data's privacy, make it clear how the app will be using their data. Moreover, every country has different laws regarding data. So, you need to know the compliance laws before launching your app in a country.
Popular Women's Health Tracking Apps:
Clue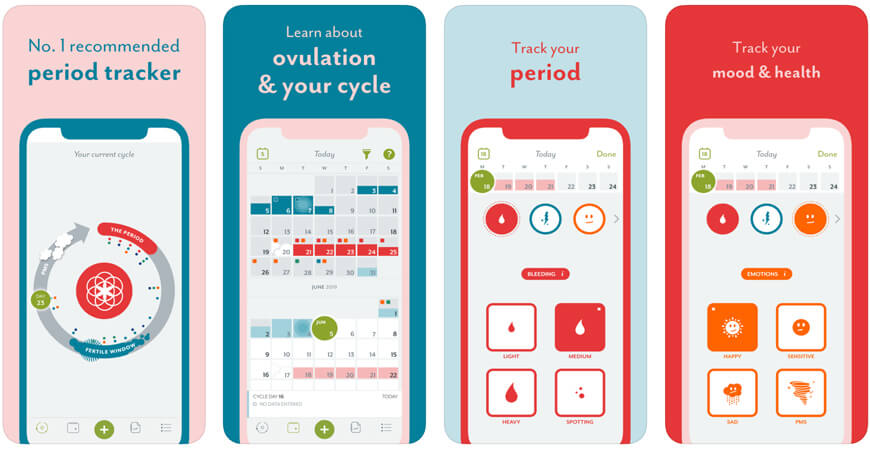 The clue is a period tracker app online which is accurate and user friendly. It is not only the most popular one but also a top-rated application.
Clue helps women keep a track of their menstruation and ovulation cycles. The app uses Machine Learning to inform the users in advance about their PMS, fertile, and infertile days.
A user can track all changes related to their menstruation cycle in a period calendar.
Flo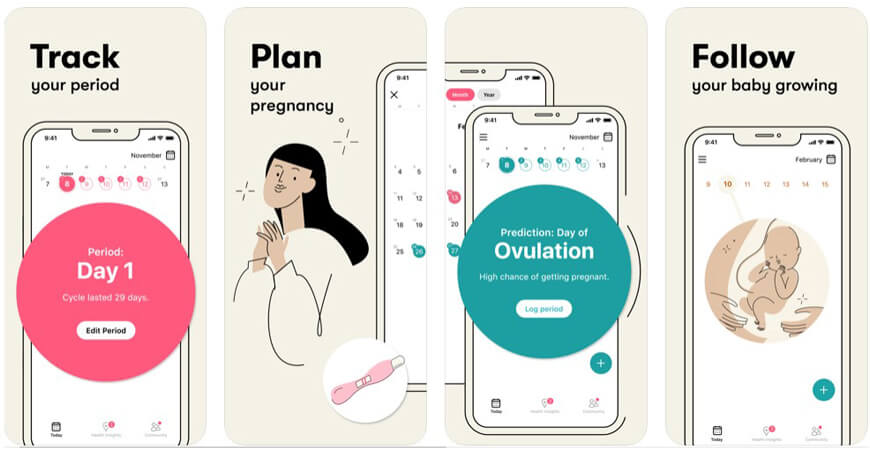 While Clue uses Machine learning, Flo makes use of AI. It is also a period, ovulation, and fertility tracker. Flo app is well-known for its accurate time tracker, ovulation calendar, and pregnancy calculator.
If a user regularly enters their data in the Flo app, it can give more precise information about the user's menstruation and ovulation cycles.
To say the least, if you want to keep an accurate track of your overall menstrual health then Flo is the app.
Natural Cycles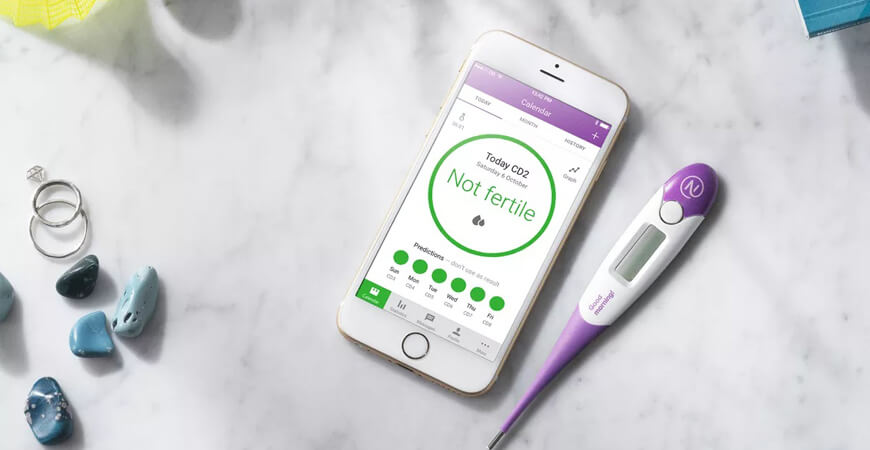 It is a cycle tracker and contraceptive app. The primary purpose of using the Natural Cycles app for women is to choose when they want to get pregnant and when they want to avoid one.
Other women's health tracking app measure the basal body temperature at one-tenth of a degree. Whereas Natural Cycles measure it at one-hundredth of a degree.
Conclusion
In the present conditions, when women have become significant contributors to the economy of the world, it is necessary to take care of their well-being too.
That is what a women's health tracking app is for. If you are interested in developing one then you understand the condition of women in the country you are planning to launch the app.
Understanding their needs will help you design a better application that will be eventually successful amongst the users as it caters to their requirements. You can also check out what your competitors lack to get an edge over them.
Whatever Android or iPhone app development company you hire for your project will definitely help you with all the research. Go ahead and make efforts to bring your dream app alive on the screens!
Do you want to start with your women's health app project right away? Our dedicated team of developers can help you! Tell us about your project on [email protected]!

More FAQ:
Which is the best women's health tracking app?
Clue, Flo, and Natural Cycles are some of the Best Women's Health Tracking Apps.
Which is the Best Fitness Tracker Watch?
Fitbit Versa 2 is the Best Fitness Tracker Watch.
Are Fitness Trackers Worth it to Buy?
Yes, fitness trackers are worth buying as they can help.
Which one is the Best Fitbit for Women?
Fitbit Versa 2 is the best Fitbit for Women.