12 Best Online Grocery Shopping List Apps of 2020
Are you looking for online Shopping Apps for 2020? We'll help you to find out the Best Online Grocery Shopping List App.
With changing times, grocery shopping apps are in vogue. These apps are simple and user-friendly and have changed the way we g about shopping our groceries from the convenience of our home.
Standing in longs queue at the stores, recollecting the items we need to purchase can be a daunting task. Noted below is the best grocery shopping list app of 2020 that will make shopping for the most essential commodities of our daily life vibrant and sparkly.
The best part of using these apps is that we always have your mobile phone with us and if you are unable to retrieve the grocery items in your mind, these apps will come as saviors.
As you carry your phone on you all the time, you can always want an app that helps you get your grocery shopping in proper working order, and whenever you need it.
Best Online Grocery Shopping List Apps of 2020:
1. AnyList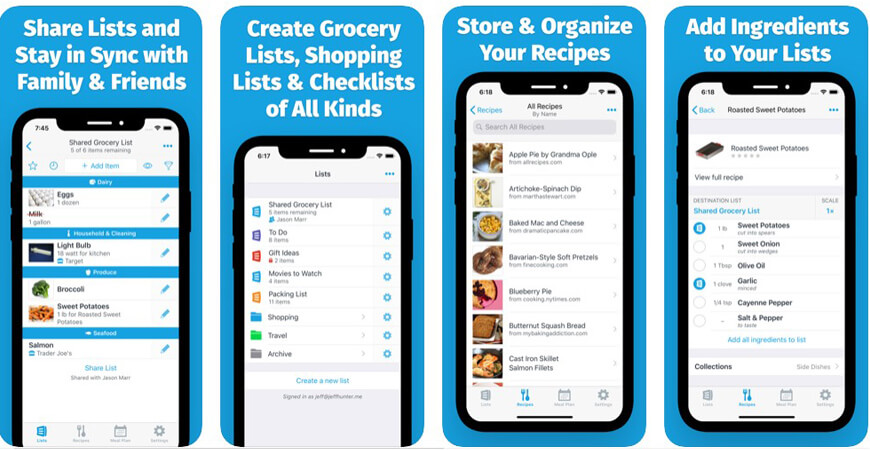 The name itself says everything. Any list provides an organized grocery list as per your choice. The moment you type the groceries it automatically shelves the items into different categories.
This grocery shopping app makes the list of recipes according to your meal plan.  This way you can enjoy your meal without any fuss.
The 3 best features of the app:
It is one of the Best Groceries Shopping List App. You can use your voice to add items in the list via Siri if you are an iOS user. You will never forget to buy something that you require.
Plan ahead for an entire week or month. You know the ingredients you need in your kitchen n a daily basis. You can simply tap on the ones you want and add to your list.
Be distinct and make shopping fun by customizing your list with themes, colors, and textures.
2. Grocery Pal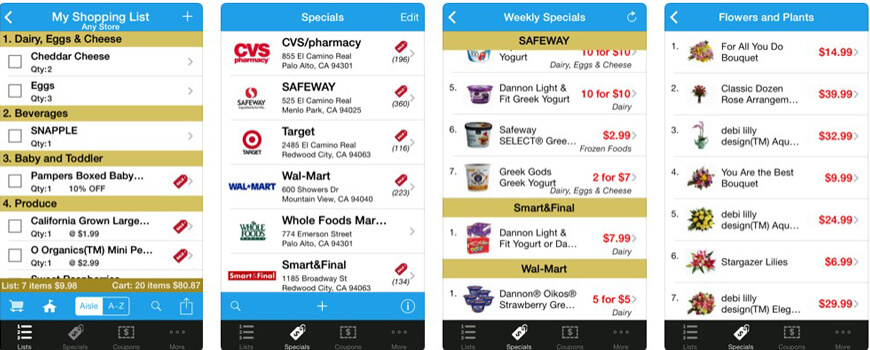 This app is perhaps the Best Grocery Shopping List App for bargaining customers. It allows you to purchase your items with a favorable price and discount.
The app easily adds items that are on sale to your final grocery list.
The 3 Best Features of the App:
The app takes you towards a weekly sale at your nearby shops and supermarkets and other discount stores. It even matches your shopping list items against products online at lower prices.
It can scan your list and match the product online at the lowest price and even free shipping.
The best app for comparing rates across stores and thereby saving money.
3. Instacart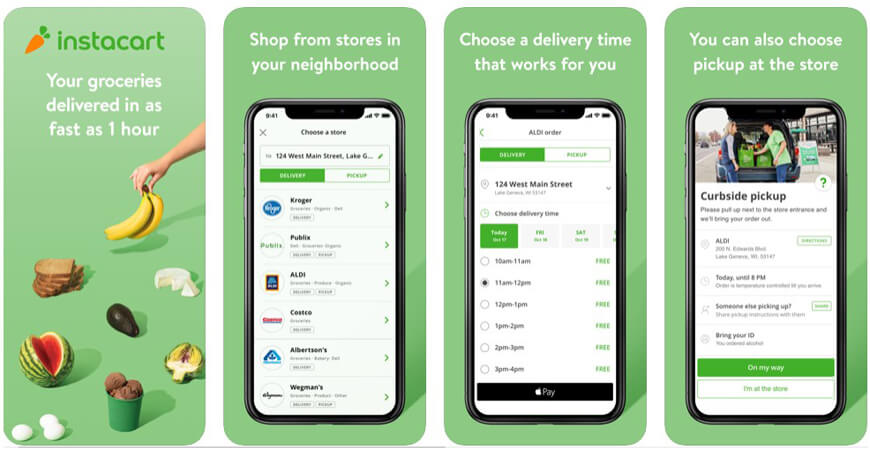 Shop all your grocery requirements online through Grocery shopping apps. You can buy items of health care, floriculture, and even snacks and beverages.
Some of the valued Essential Features of Instacart is:
Groceries can be home delivered within an hour
You get items from your favorite stores
Nutritional details and direct contact with the shopkeeper is made possible
Using group carts, one can easily shop with family and friends
4. Amazon Prime Now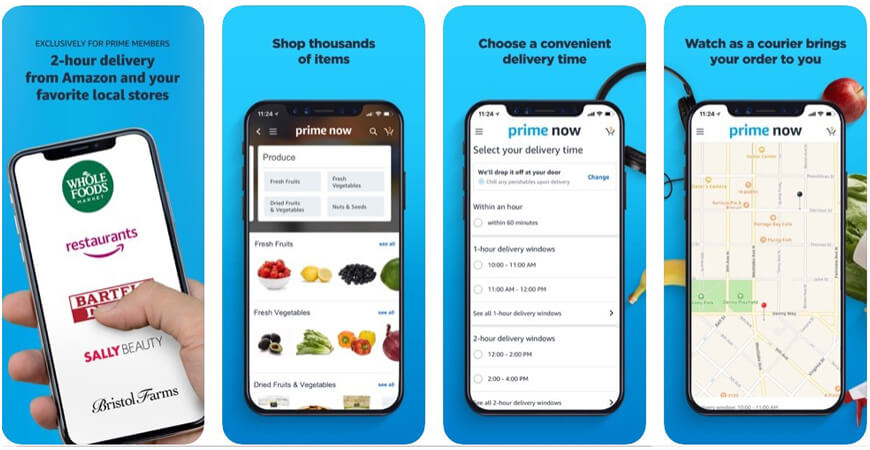 Enjoy the Amazon Prime app for online grocery shopping. You can order items of daily needs too, using this app.
Significant Features of Amazon Prime:
Two hours of rapid delivery or schedule your delivery
Offers in supermarkets are applied to the items on this app
Easy return policy
No subscription is required
Hire iPhone App Developer for a complete online grocery shopping list app development.
5. Mealtime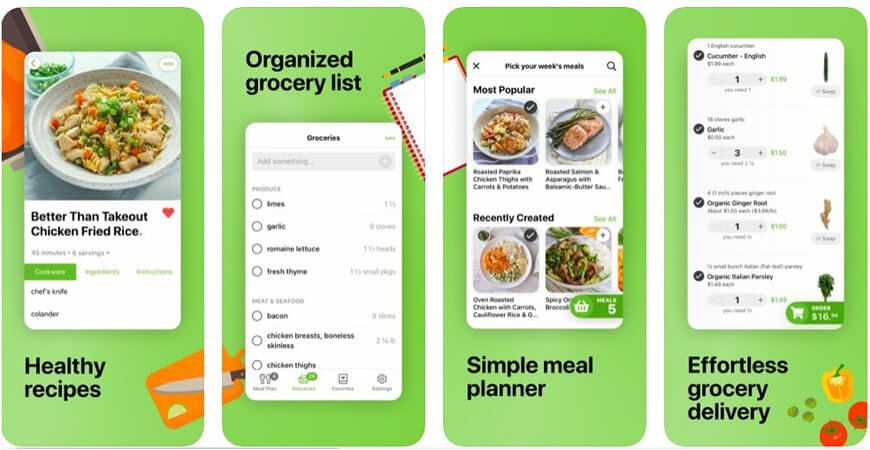 If planning a meal is a tough task for you, here you can get a customized recipe plan based on your dietary restrictions.
You can click to add all the ingredients together in one organized grocery list.  And, it's free for iOS and Android users and is also one of the Best Groceries Shopping List App.
The Top 3 Salient Features of the App are:
Plan your meal for an entire week in minutes.
Get instant recipe features to make meals exciting.
Organized shopping for grocery with the 'Done for You' shopping list.
6. Flipp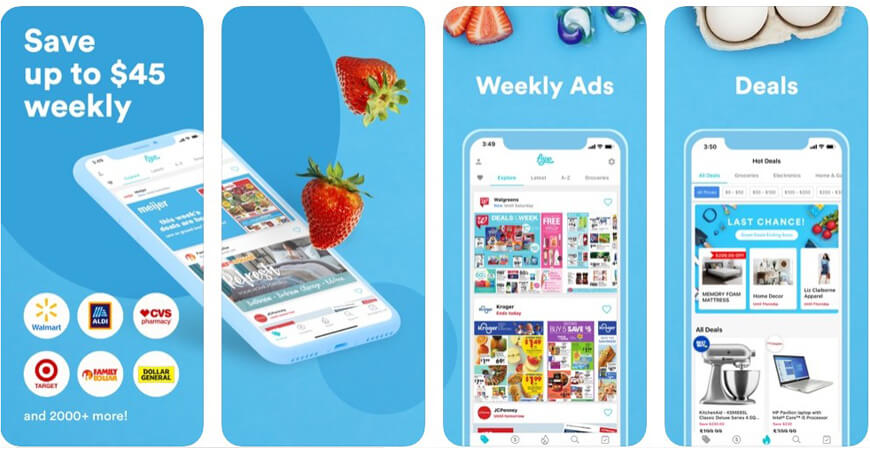 Users can browse and find the best deals on grocery items with this app. This hybrid shopping app will save your pocket and valuable time.
According to the reviews, this is rated as the best grocery shopping app.  It matches the local grocery deals as well.
The 3 Best Features of the App:
Find all deals and offers from stores nearby you.
Explore deals, offers, and discounts from more than 2000 of your favorite retailers.
Instant search and find items with its powerful search feature.
7. Bring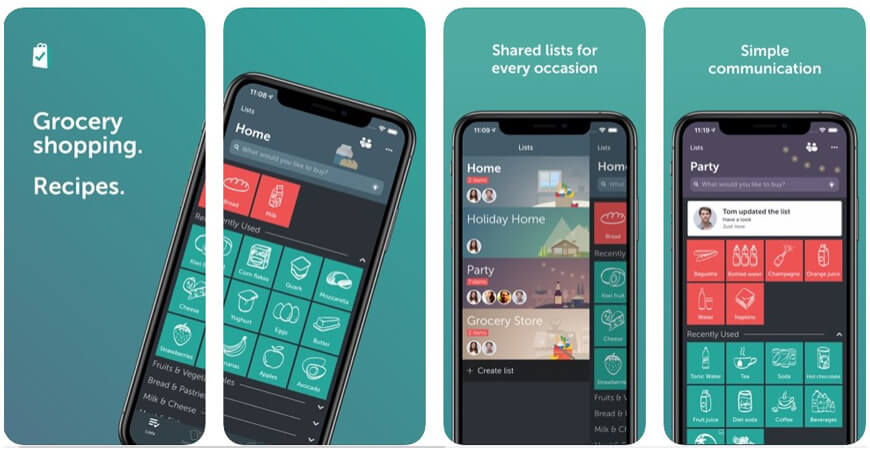 Create a dynamic shopping list with a feature that will send the generated message to remind the buyer of this best grocery shopping list app.
This grocery shopping app can be shared with multiple users. This app is the best way for users who prefer planning.
The Top 3 Features you will find with this App:
Saves time, money, and energy while organizing grocery shopping and even accompanies you through the entire shopping process.
It is just like a mobile supermarket in your pocket.
You will never buy the wrong product again: complete your mobile shopping lists with details such as quantities, descriptions, and photos.
8. Cozy Family Organizer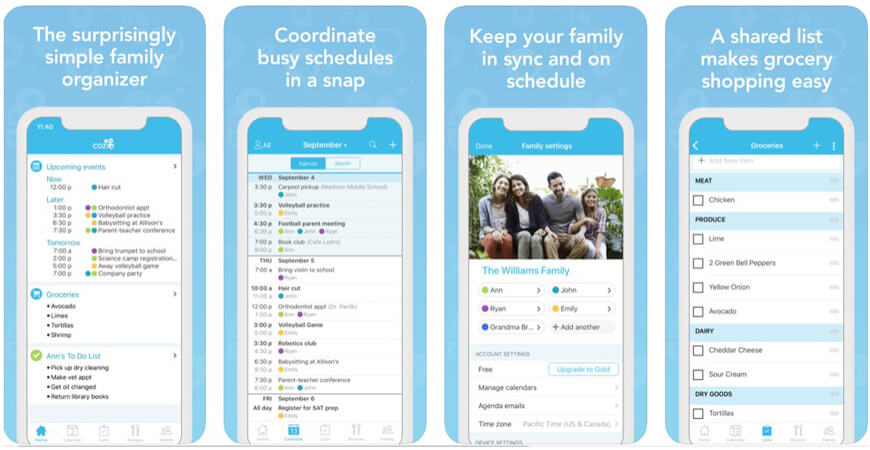 This app is specially designed for kids and it includes a color-coded calendar to keep the records and email reminders for all important events.
The recipe section includes no dim button, which will brighten up your screen at the time of cooking.
The Significant Features of the App:
Along with your grocery list, you can keep events and activities in one place.
it's free for iOS Keep, share and comment the grocery list in real-time.
Along with shopping for groceries, store recipes, and meal plans.
9. Google Express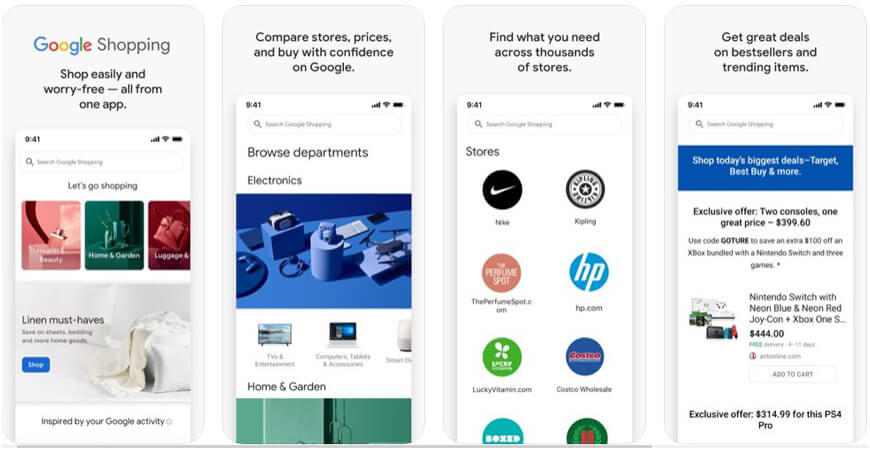 Google Express focuses to take your grocery shopping experience and online grocery delivery to the next level. You can shop from an array of grocery stores.
This also deals with other household items like electronics, health care, beauty, and more.
Their grocery delivery service is well equipped with shop curated collections and keyword searches, and thus, making it one of the best grocery shopping app.
Significant Features of Google Express:
Free delivery on minimum order without any subscription fee
Any time shopping over the app
Email, call and live chat facilities with customer support professionals
10. List ease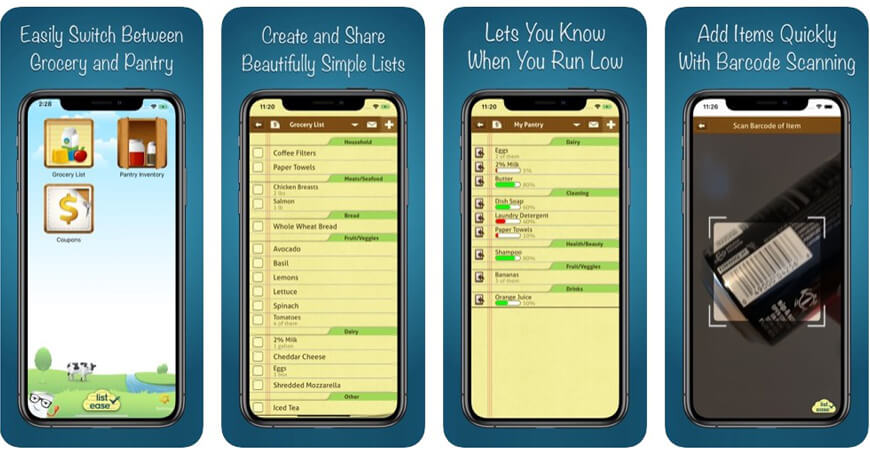 This is like a digital version of a schedule planner. Specially designed for the kitchen, here you can get grocery list ideas that allow you to create a stock list.
This app helps you save a lot of money and allows you to get a general shopping list.
This will help prepare for a customized shopping list for the next visit to your favorite store.
The Notable Features of the App are:
Share your list with all and everyone.
Create your shopping list without any efforts at all.
Access, modify or change the list from anywhere.
11. Big oven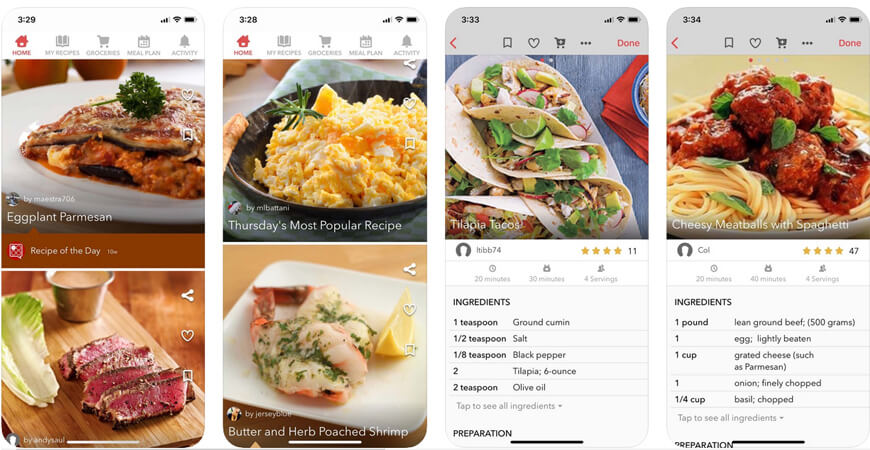 This is the grocery list app that simplifies home cooking for busy families. The big oven is loaded with 350,000 recipes and some important tips for planning any meal. This app is suitable for cooking at home.
Hire Android App Developer and get an App for cooking at home. You can cook a variety of recipes in the comfort of your home.
Salient Features:
Get exciting new recipes in your inbox.
Plan menus, meals, and recipes and find them all in one place.
Get notified of comments or questions on the recipes you've posted.
12. Wal-Mart grocery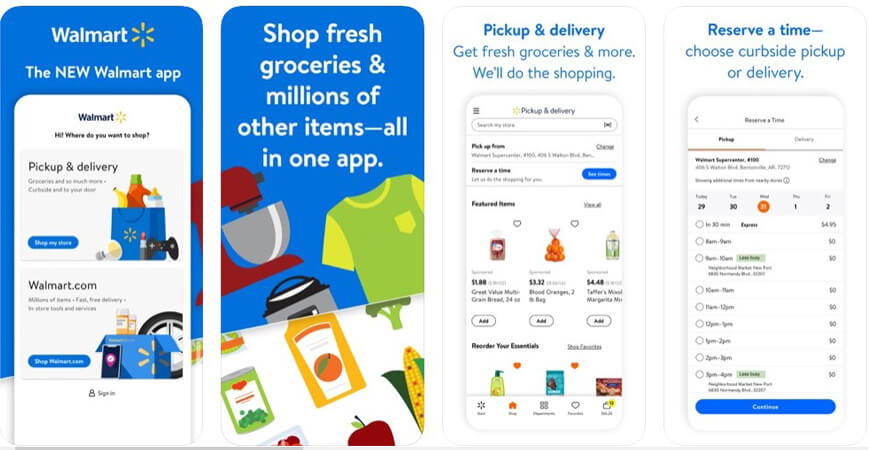 Wal-mart has one of the awards winning the grocery delivery app. It helps you to track your order with ease with this one of the best grocery shopping list app.
Ultimate Wal-mart Grocery Features:

This app consists of a wide selection of online grocery items
Get extra discounts on the existing store discounts
Instant ordering with your favorite option
Same day hassle-free delivery
Additional Grocery Shopping List Apps:
Grocery pal is one of the best grocery list apps. It manages all online grocery delivery. This app creates a shopping checklist and can use digitally. Online grocery shopping enables you to create an excellent shopping list.
Seamless is a great online grocery delivery app and keeps updating constantly to understand consumer demand. This app changed its service and accepts PayPal and cash. Famous cuisines feature on the home page and you can also search for the food you have been craving for.
Delivery companies are there to provide gourmet food. The gold belly is the best delivery service that provides local grocery delivery services. All foods are ready to eat and arrive with most of your favorite ingredients.
Whole Foods is a food delivery shop for organic ingredients and foods. You can create a shopping list for a convenient shopping experience. You can sign in with Amazon account and if you are a prime member you will score an exclusive saving at the checkout time.
The fresh direct app can deliver alcohol, frozen foods, and cleaning supplies. You can shop prepared foods with its unique meal delivery feature. You can check available timeslots to schedule previous orders or my shopping list for a quicker checkout.
Avacadolist creates a shopping list for friends, roommates, and family. You can include photos, comments for various entries in your list. It adds the prices and even calculates the cost of your list.
The shop list is the basic version of the premium shopping list. This version has many categories such as sort products to categories, units of measurement, and quick select products from the database.
Grocery List Apps available for Android Users:
That Shopping List has more than 800 grocery items that are translated into dozens of languages. It automatically detects the units, categories, and the amount when it is not used.
Listonic provides you selective products that will reflect over and over again on my list. This can sync with the people you shared through mail and contact.
Out of milk is the easiest shopping app. It keeps track of your shopping list. Whenever you go you can know every grocery present in the pantry.
Shopping lists voice input is based on voice. This app will listen to your voice and help to convert your speech into an absolute shopping list exclusive for you.
A super simple shopping list offers you to organize categories by color and you can choose each category accordingly. The app has limited features. It is very simple to use and is user friendly.
My shopping list the app has eleven thousand reviews. This interesting app also ensures the voice recognition category. This will dictate your shopping list while you are having a trip to your favorite grocery shop. You are allowed to have as many lists as you wish and use this app to organize more shopping in the grocery shop.
Soft list App adds unit, prices, and photos. It will easily calculate the cost in advance before you reach the grocery store. This way you can calculate the cost of your trip. Easily you can access the previous purchase information too.
Conclusion
Hopefully, reading this blog you will surely find various grocery list apps online exclusively designed for you and your household items. The best thing about grocery shop list apps is that it not only creates a shopping list but also gives you access to the web browser and your account. This way, you can make a shopping list and also access the list easily.
This will help you with all the information about the best online grocery shopping list app 2020 and explore any unique app to serve your requirements easily.
Using online grocery app you can save lots of time and make your grocery shopping list easy to access. If you like any of these apps, let us know about it and mention your views in the comments section below.
Your review as readers is highly commendable and you can mention your favorite online grocery shop app in the comment section.

FAQ:
Which is the Best Online Grocery Shopping Apps based on User reviews?
There are several online shopping apps. According to user viewers, the best is Instacart. This checklist app is the best 2020 App.
What is the Best Home Grocery Delivery Service?
The gold belly is the best home grocery delivery service. Pre-made orders can arrive according to your choice.
What is the Cost to Develop an Online Grocery Shopping App?
Shopping list app cost always depends on the features one wants to add in it. Certain features like the App Platform, Basic Features, App Design, Cart Feature, Position Tracking, and the App Size determine the cost of developing an app. A single platform will come to around $10,000 to $30,000. The more is the features the higher the cost goes.
Which online grocery shopping is the cheapest?
Grocery pal is one of the cheapest Online Grocery Shopping Apps.